Tuesday. 6.19.12 3:49 am
On 13 August 2011 ...
This date is our first official cultural training cum meeting. Some members from other states came to Kuala Lumpur to join despite fasting.
We are indeed very fortunate to have a team member, head of culture, who is a professional dancer who found us a studio and friends to teach us the basic Malay traditional dance moves.
Some of us who had never dance before find it challenging. I made mistakes too! It was my first time learning joget. I always get my steps wrongly!
Tidbits
: Joget is the most common Malay dance that is usually dance during happy occasion. It is actually a very easy dance, but I'm very poor with coordination, so I never get it right until today.
I'm not joking.
Comment! (0) | Recommend!
Pre-Departure Training 1.2
Tuesday. 6.19.12 3:47 am
On 31st July 2011 ...
On the third day of PDT:
The moment we ever waited has arrived. It's the voting segment! The moderator enlisted a lot of positions, and I believe we are all vying for the top positions.
The benefits of being the youth leader and assistant youth leader (AYL)is to meet a lot of huge VVIPs!
I never thought of getting any responsibility in the team, but since I was looking for new challenges, I daringly voted myself for the top position. And I got AYL post!
We left the premise at 3 pm, with the cats still scratching my bags!!!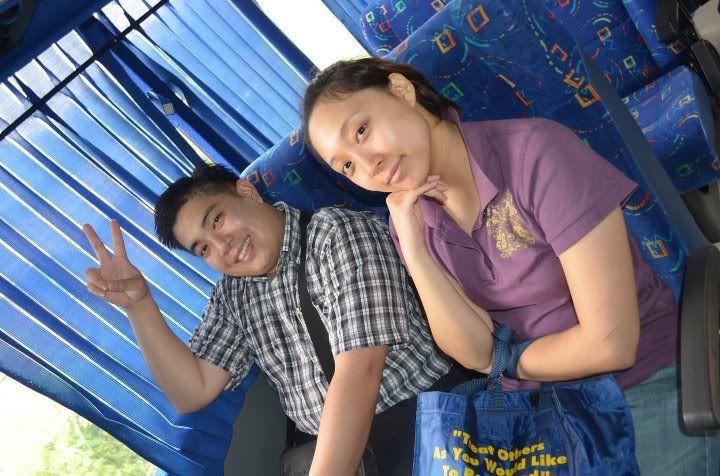 Tidbits
: Ah.. I got the scratches during our night hiking on the previous night. I am a klutz and almost trip several times if not for a team member holding my hand throughout the night.
Sadly, I don't remember who that was.
Comment! (0) | Recommend!
Pre-Departure Training 1.1
Tuesday. 6.19.12 3:44 am
On 30 July 2011...
On the second day of our PDT:
We are all briefed about the program structure and history. Ex participants were also invited to share some of their insights.
We are now very excited to step on the ship!
We are also asked to pick our discussion topics. I wanted to choose something different apart from environment, but that is the only topic I'm very knowledgeable about. So I ended up choosing Climate Change as my first choice. =)
This is what I did out of boredom after the briefing.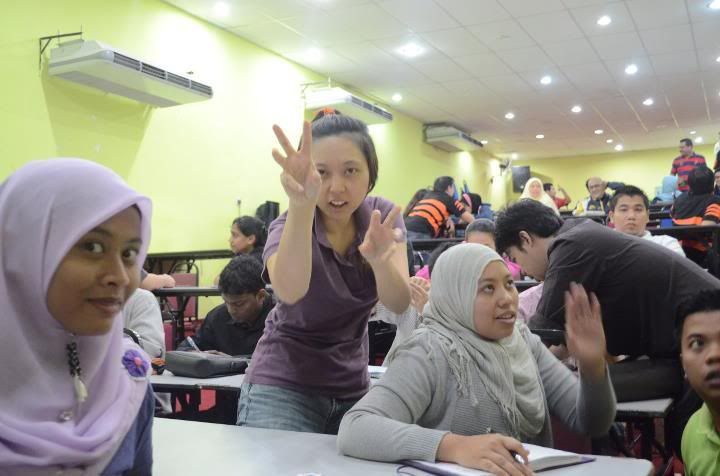 Comment! (0) | Recommend!
Tuesday. 6.19.12 3:43 am
On 29 July 2011...
It is the first pre-departure training! I was so excited to meet 3 my team members from selection camp again! And also my first newly made friend!
We were transported to a mini-resort in a rural area. I didn't sleep in the bus because I was busy catching up with my friends.
We had lunch before starting our ice-breaking activities. We put our bags in the dining area and soon... some of our bags were attacked by cats. A team member's bag often got scratched by the cats. And soon .. mine too. I wonder if our bags have catnip. They often came and scratched!
Here's the picture of the cat's new pillow.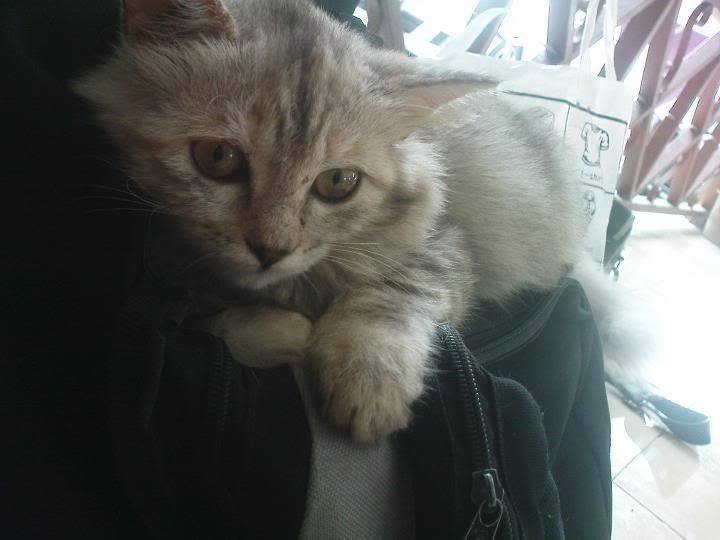 Comment! (0) | Recommend!
Tuesday. 6.19.12 3:36 am
Patience ...
Patience ...
Patience ...
Argh! I'm pulling my hair!
Many of us had already received news of being selected for youth events, however, there was still no news for SSEAYP.
We are almost giving up, as it's already July, and yet still no news. I don't think I was excited any more to know the news.
I guess god knows our patience limits, because I received a call from the ministry one morning at 9 am-ish.
I got selected. =)
Tidbits
: I received the call during my teleconference with HQ. It's been my policy to not answer calls during meetings, however, I was glad to pick up, because it's from the ministry.
I remember jumping with joy outside of the meeting room. Luckily the window on the door is too small for my colleagues on the tv to notice me jumping.
I was on the verge of giving up...
Comment! (0) | Recommend!
Thursday, May 31, 2012
The first new friend I made in the bus was a guy from Penang. It was his second time being shortlisted.
The venue was Port Dickson. The place was covered with bushes, but I could hear the waves beating the shore. This was where the 160 shortlisted applicants stayed for the next three days. My serial number was 100.
Upon arrival, we were given lots of assignments such as debate, group presentations, performance and public speaking.
The most unnerving thing I did was to catch up with my sleep during the debate. Everyone was putting up to his/her best behaviour as panelists were observing us. I slept throughout the debate. Haha.
Later in the evening, we have to come up with our own performance. Being a performer before, I had no problem in picking up the steps. In fact, I felt grateful to have a dancer in my group. He choreographed.
As all participants were given slots to perform, some choreographed to Justin Bieber's song. And at that time, I was addicted to that song because my colleague played it everyday throughout the day.
Guess that song? Baby baby... Ooh... Be mine...
And I managed to get one of my team members to sing along. In short, I was having my own karaoke at the backstage. It was even more hilarious to see one guy acting as a girl with that song? Creativity goes beyond infinity...
Public speaking was saved for the last day. And I could not wait to get back home since I was recovering from irritated bowel syndrome. It was a torture as I could not sleep and eat well. But I still have to work on my last assignment.
Everyone in my team was expecting me to talk about environment. Interestingly, I didn't. The environment topic is so broad and I could not find the right issue, or rather I do not have much concrete information to share. I find it challenging because we had to talk for two minutes in English and one minute in Malay. I was actually panicking because my malay is not fluent.
After a long thought, I decided to talk about money management. It's a topic I am very comfortable with since I like money. Haha. I never thought my love for money would be my saviour.
All participants were split into several group the next morning. While waiting for my turn, I could hear others started talking about their topic via microphone. It was nerve wrecking. It was even more in my group. The facilitators kept saying NEXT when they deemed not interesting. I introduced myself, my organisation and my topic: How to be rich.
Phew! They did not cut me!
We left the venue by mid afternoon with butterflies in our stomach.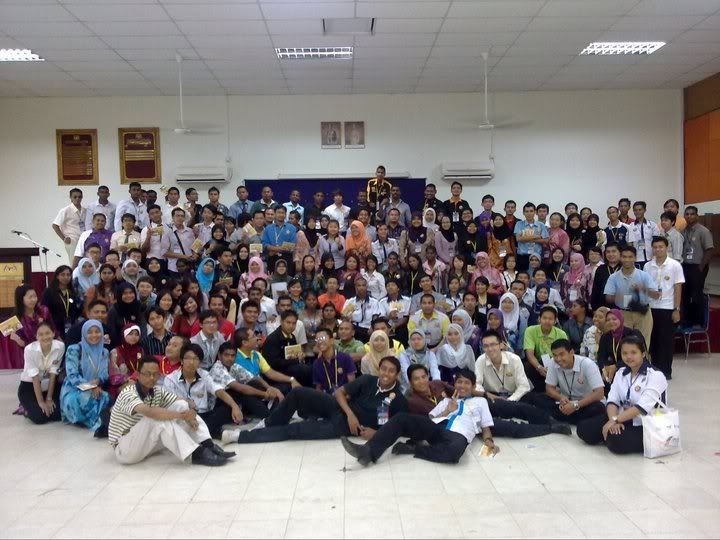 Tidbits
: One of the interviewers looked at me when I told him my topic. I was the only one that talked about money while many touched on environment. Phew. I made the right choice.
Comment! (0) | Recommend!