kneeling down
I scoop the water
of my fading reflection ...
Note: I'm now crying because I got no bonus this year so that poem is conveying my emotions.
Comment! (6) | Recommend!
Merry Xmas to everyone who drops by at my blog!

Renaye will be spending her holidays spring cleaning the house and her cluttered room. Hopefully she could find her way back to the laptop for updates!
Comment! (14) | Recommend!
My radar for earrings is on again. I'm now hunting for unique earrings online and I have spotted a very cute one from a co-op in South America.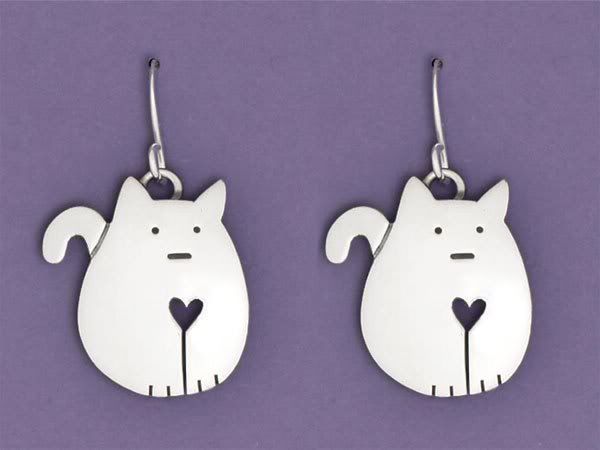 And personally I like cats so sometimes I would buy any jewelries that have cat design. I would like to buy this pair but they don't deliver to Malaysia. *sob*
But do check out their store called
Wedge Worldwide
They have other unique designs too. And it's also a green business!
Comment! (20) | Recommend!
I was doing some searching for environmental-friendly products and I found this site that has custom made rings for all occassions. The rings are so pretty!
And the best thing is the trees are not purposely harvested for the rings!
Take a look at the blog!
Wooden Rings from Touch Wood Rings
And it's so romantic to know the meaning of the ring's wood!!! Oh read up on that site if you want to know.
I have also added another green business link that sells organic tees from Africa. Their site is cool!
EDUN LIVE
:
Blank t-shirts
that help create jobs in Africa.
Check it out!
Comment! (7) | Recommend!
My body is now full of junk. Medicine junk. Doctor recently introduced me a new painkiller called Ibuprofen because the previous one called Cerebrex doesn't work. I took the former painkiller innocently until my mum was telling me the danger of Ibuprofen just now. I listened in horror.
The serious side effects:
chest pain, weakness, shortness of breath, slurred speech, problems with vision or balance;
black, bloody, or tarry stools;
coughing up blood or vomit that looks like coffee grounds;
swelling or rapid weight gain;
urinating less than usual or not at all;
nausea, stomach pain, low fever, loss of appetite, dark urine, clay-colored stools, jaundice (yellowing of the skin or eyes);
fever, sore throat, and headache with a severe blistering, peeling, and red skin rash;
bruising, severe tingling, numbness, pain, muscle weakness; or
fever, headache, neck stiffness, chills, increased sensitivity to light, purple spots on the skin, and/or seizure (convulsions)
Ok the less serious side effects:
upset stomach, mild heartburn, diarrhea, constipation;
bloating, gas;
dizziness, headache, nervousness;
skin itching or rash;
blurred vision; or
ringing in your ears.
Lest not these less serious side effects stop you from continuing this medicine? My god. I'm stopping it immediately!! No wonder after eating this pill yesterday, I don't feel anymore pain the rest of the evening and night. But late at night, I had a very terrible stomach upset but I didn't tell that to your mum 'coz I consider this symptom quite serious!!!
And below of the list of the side effects on the source it is stated "This is not a complete list of side effects and others may occur. Tell your doctor about any unusual or bothersome side effect."
OMG. Anyway, if you want to know more of this dangerous painkiller, visit the source where I got the side effects at http://www.drugs.com/ibuprofen.html.
Comment! (12) | Recommend!