Friday. 11.10.06 11:07 pm
This story is dedicated to
Randomjunk
, haha.
Once upon a time, there was a camp. It was called the Cove Camp. It was an exciting retreat for christians, with swimming and hiking and chugging of gravy. But that's another story.
Anyway, our heroes, Middaymoon and a certain Gamecock fan (let's call him Cunty) were in Cabin 8L, which was a boy's cabin for ages 12 and 13. Our cabin leader was an amazing dude called John. Our cabin name, if I recall correctly, was "Dr. Phil's Therapeutic Acts of Random Monopoly Players". (I am not kidding).
One day, near the end of the week, a boy from 8R (cabins 1-4 were girls, 5-8 were boys. Left and Right, get it? Right side was always a year or two older than Left.) came to our door. His cabin had run out of toilet paper, and he wanted the use of our bathroom.
Our cabin was only really one room, with a wall halfway through the middle. There are bunk beds on one side, and a bathroom/locker room thing on the other side. Wait, lemme draw it on Paint...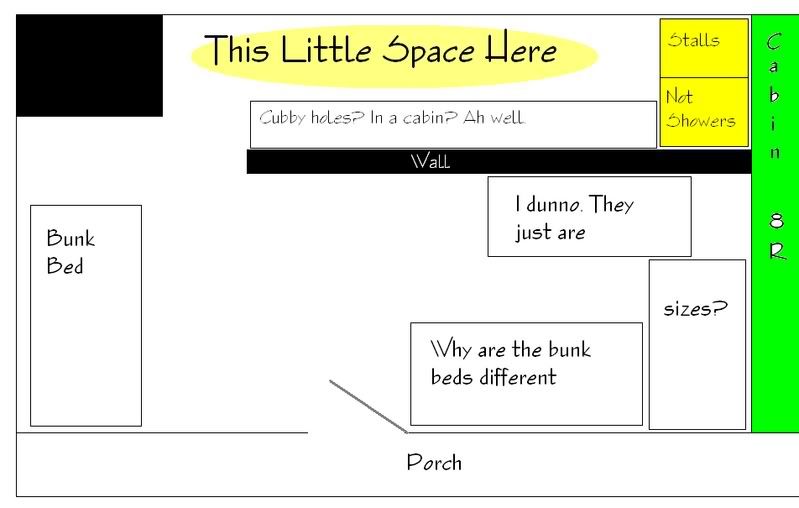 Yes, I know that it is horribly disproportional, and there were showers. I just forget where. Click it for a bigger view. Anyway, that was the basic layout of our cabin, and you can see the cabin next to us. This boy, Alex, I think, wanted to poo. Now, imagine him in the stall, doing his buisness. Now imagine enough kids two fill up 3 bunk beds and two cabin leaders in that little space there. Now imagine that there are two guitarists playing a happy tune, and one John singing a song about pooping, making up the words as he goes. And all those people crammed in there are singing along, and laughing, and dacning, and banging on the door whilst Alex tries taking a crap. He left smiling.
Moral of the Story: While looking for something to wipe with, it's always more fun to visit your neighbor than to wipe with your hand.
Comment! (3) | Recommend!
Thursday. 11.9.06 8:38 pm
I was messing around with with different editing programs, and an old picture. Here's the crappy, hasty, and funny result.


Ladies and gents, I present The Auto Butt-Rape!

This is my little brother from, like, 4 or 5 years ago. He was excited about his cool new pajama pants. He still wears them, even though there's a huge whole in the crotch and he sleeps Commando. (Bad images)
Comment! (24) | Recommend!
Professional Regurgitator
Tuesday. 11.7.06 3:40 pm


Fine, I changed it. Will you watch it now? Lol. While I was on Youtube I also found this less-experienced regurgitator. He swallows a ball of bread, then you can actually see it come up his throat. Then he chews it up and eats it, Lol.


Comment! (10) | Recommend!
Saturday. 11.4.06 11:14 pm
It's the Harvest Moon tonight, and I'm happy. I don't know why; tonight just seems like a crossroads of all my favorite events. I love full moons, I love fall, (I lvoe winter more,) and I just got back from a party. With about 10 girls. We had a blast, playing a word game, messing with the squishy toilet seat, jumping on the trampoline in the bitter cold, and just being wild. I think that girls are awesome when you aren't dating them, then more awesome mixed with teh suck (thanks for the phrase
ikimashokie
!). Lol. Alas, I do not have pictures from this event. I did, however, post about this event from last year;
here
's the link.
So, I did a bit of research. It turns out that being a werewolf isn't the only thing connected with a full moon. It is also connected with crime, suicide, mental illness, disasters, accidents, birthrates, fertility, and even the stock market. Although studies have been made, the things scientists find have nothing to do with human behavior. For example, during a full moon the average global temperature goes up the tiniest fraction. But nobody can figure out why the moon affects human behavior. Pretty weird. Read this and more at
http://skepdic.com/fullmoon.html
Since there were no picture today, I leave you with an amusing story. I was watching CN2 at 6:30 today, (don't ask) and I noticed that the clip was being played over and over. I quickly got out my camera and filmed about 5 minutes (20 freaking replays) of the affair; if you're interested, you can watch it below. This went on for at least half an hour; when I got back from the party at almsot 11 tonight we turned it on to see the clip finally play all the way through. Had a good time under the full moon, how bout ya'll?
[video will not uplaod]
Ok, so somehow I filmed ten minutes without realizing it. And photobucket will only upload 5 minutes videos, which is a dissapointment. I don't want to host it anywhere else because those are public sites, and, well, I don't want a 10 minutes bore fest associated with me. I'm already a bit un-popular on you-tube...
And I just realized that I like the new moon too. It's pitch dark in my house, which is always fun. Plus, you get a full moon during the day. The Mid-day Moon! Since I didn't keep my promise about the video, and it would have sucked anyway, here's something I found my myspace:
Gummy Bear Dance
Add to My Profile
|
More Videos
Comment! (16) | Recommend!