Thursday. 6.3.04 7:29 pm
Yesterday it was Canada Day, so Katherine and I had our annual celebration of eating a grape for every Canadian Province. It was marvelous but we forgot about New Brunswick and The Inuit Territories, so we had to consult the Atlas. One of these Canada Days we'll get 'em all. Hooray for Canada day!
Comment! (0) | Recommend!
The MAN is keeping me down, giving me money
Sunday. 5.30.04 11:35 am
Smitty "does not do tires". Well, that's what I previously thought, but one day he decided to help us unload. When I asked him what had caused his sudden change of heart, he said that it was the fact that these tires were very small and light, in effect "Smitty sized tires". In the picture below, I have Laura-sized tires, on the left (used for Hummers) and Smitty(Sugarbear)-sized tires on the right.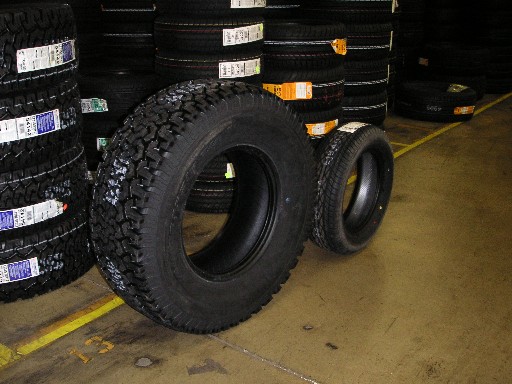 This is a picture of my baby. It's a little blurry, but you can see how he has adorable orange pigment all over his front wheel.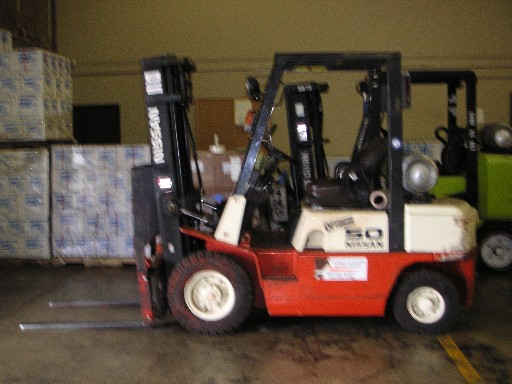 Comment! (0) | Recommend!
I never liked the rain until I walked through it w
Sunday. 5.30.04 11:24 am
Let's talk about the rain.
Yesterday it rained so hard that I opened the window and let it rain all over my floor. I wanted to hear the sound of the rain falling and more importantly, I wanted to smell the rain. The rain here smells different than in California. I love the rain in California and Colorado, but they are completely different experiences. There, the rain is soft and warm. It comes down in big, sloppy drops like you would imagine the tears of a puppy might be. The California rain is for disappearing for hours. It's for walking slowly home, it's for looking mysterious in the night- it's for dancing. There's nothing more calming than the California rain.
The Colorado rain is cold and hard. It comes down in small, hurried droplets, racing each other to get to the ground before they must turn to snow. The wind whips it about in a frenzied gale. It's sporadic and unpredictable and always heralded by lightning and thunder. On Friday it was pouring down rain between Mississippi and Alameda, but on either side of those bridges, there was nothing. You can drive into a Colorado rain storm and drive right out the other side, so that all the cars on your side of the road have their lights on and those on the other side do not. At the Air Force Academy in the summer, it rains every day at three o' clock for about fifteen minutes. The Colorado rain is for staying warm inside. It's for dashing about. For the five minutes it is torrential, it's for kissing. The Colorado rain is the kind that you can see falling on the horizon miles and miles away, as if the clouds were made of grey cotton and someone has plucked a piece and stretched it wispily to the earth.
Comment! (1) | Recommend!
Wednesday. 5.26.04 9:12 pm
I was listening to this song to today and she was talking about how every piece of a puzzle doesn't have to fit exactly right. And I was wondering... what kind of crappy puzzles has she been doing? What does she mean that not every piece fits exactly right? Did they cut it apart with a jagged rock? I know she was just saying that so she could compare it to love, but then aren't you sort of saying that love is just like a second rate way to pass the time when you are drinking wine/cranberry juice and watching Star Trek late at night? (which would be first rate if only the pieces actually fit together?)
Not that I don't like the song. Great song. Y'all should listen to it. And I say y'all cause it's country.
Warehouse quotes:
"Sometimes this thing is as slow as dirt."
-She-Who-Must-Not-Be-Named
(mental note: find out how slow dirt is)
And one from the classic quote archive:
"Could you give me the hand-job? Er... um... I mean... the (pumps hand up and down in explanitory motion) the jack? the HAND JaCK!"
-Jughead, the first day he met my sister, aka the boss' daughter, asking her for the pallet jack aka the hand jack
LaouraGoogoush: I know. I played an awesome corpse
CarolineAC: i can only imagine
Today I woke up to my alarm and I tried to think of a really good reason to get out of bed.
But I couldn't think of one.
Not even one.
Finally I got up because I need money. What a terrible reason to wake up in the morning, but I bet a lot of people do it. Look there- "I bet" ... there I go with the money again.
Woah, I went to Abercrombie and Fitch and they had the most amazing sale- it was like a dream sequence.... a shirt from Abercrombie for $1.45? WHAT?! My sister got some underwear with a moose on it!
Sweeeeeet!
So if your husband cheated on you, would it make a difference if it was Britney Spears that he cheated with? How would that change how mad at him you were? Just wondering.
Sigh for work... this sums it up....
"Don't tell me how to do my job. Just get out of my damn way and let me do it."
-The Anon. Co-worker "Marka Stewart"
listening to:
10 rounds of Jose Cuervo
mood:
jolly
phrases i am not particularly fond of
sippy cup, carrot top, pet peeve
Comment! (1) | Recommend!
Sunday. 5.23.04 4:24 pm
How do you beat a humongous snake? ... get a bigger snake...
Comment! (0) | Recommend!
Saturday. 5.22.04 12:23 am
Warehouse quotes o' the day, chronicling the undying hatred of She Who Must Not be Named and The Other Anonymous Co-worker:
"I like to hang my walkie-talkie on there- just in case Satan calls."
"Did she have to radio me to tell me that? 'I'm going to put an order in the box in a second.' That's like saying, 'Hi Mark, I'm going to go to the bathroom sometime today.'"
"She's pretty good around your dad and Rusty, but when they're not here, when Scott's not here, she gets
crazy
... fire shoots out of her eyes- her head spins around, it's scary."
And the rebuttal:
"This is an easy system. Any moron could use this system- well, not every moron... there's a moron out in the warehouse who is too stupid to understand it..."
< followed by an "unrelated" story about Mark...>
Other quotes:
--I don't know if [Scott's] leg's really broken. I'm going to have to see the cast.
--But didn't you just see that x-ray!
--... that could be
anyone's
x-ray... I'll have to see the cast... make sure it doesn't have a big zipper on the side...
Smitty (very suspiciously) and Mark
"Sometimes it gets like this- we just get Nobles up the butt!"
-She-Who-Must-Not-Be-Named
And the classic: "I ain't never been surfing. You ain't never seen a brother surfing. Brothers don't surf."
-Mark
I saw Troy tonight and came out with the same opinion I had coming in- I'm in love with Hector... hooray for Troy! Odysseus can come and live in Troy, Helen and Paris can be cast from the walls along with Nestor or whoevertf, Achilles can go home and be indignant and sleep with Patroclus, and King Hector can rule the land for all time.
Favorite part: Prince Hector being awesome
Most heroic part: How long I lasted before having to go to the bathroom... call me Paris, but I ducked out about halfway through
mood:
good
listening to:
the beastie boys just aren't any good, I've tried to like them for long enough
watching:
TROY
Comment! (0) | Recommend!
Touring the facility and picking up slack
Thursday. 5.20.04 8:13 pm
Sooo... first day o' work! Oh how I enjoy reorganizing bins of tires.
Here are some quotes:
"If you're still driving that slow by next week I'm going to stop calling you Laura and start calling you Miss Daisy"
-Mark
and
"I wouldn't go over there if you paid me to go to France."
-da Bossman Walker
Well, I spent most of the day humming to myself and hoping that I had appendicitis, but since that's pretty much what I did all of last summer, it was not particularly novel. I met a UPS guy named Roly ("as in Roly Poly", says he) and Gary gave me a friendly warning about my co-worker,
"Man, oh man, is she going to be a total bitch this week."
I was thinking about tires today... funny coincidence, isn't it, seeing as I was stacking them for 9 hrs in a row...
After you work in a warehouse for a while, you get to know your tires and pigment numbers like they are your old friends. I bet I could even wager a guess as to what part number the tires on your car are, as long as they are a part we carry. So I wonder if suddenly someone said, "Oh no! the 86142s fell on Scott!" if I would then be able to say, "Holy crap! those are some of the heaviest tires we have for their size! They are in bin 010100700!"
I bet my knowledge could
save lives.
That would be the kind of thing that would happen to Scott. Poor guy never catches a break. Except for when he's walking through downtown Denver, trips on a parking lot chain, falls into a gutter, and breaks both bones in his lower leg so that his foot is facing the wrong way followed by no one responding to his cries for help, followed by finally getting out his cell phone and dialing 911 himself. Today we get to see if he gets surgery!
<----
listening to:
Dancing in the Dark -Bruce Springsteen
mood:
in the mood for chinese food, baby
Comment! (0) | Recommend!
Wednesday. 5.19.04 1:31 am
Wow, Ranor was right, this Nutang is the greatest thing since sliced bread. Even better than George Bush, ya might say. Maybe George Bush and sliced bread have a lot in common... who knows.
Here's something sweet though- I went to Zion National Park and we hiked to the Emerald Pools where there were these tiny frogs that sounded like really loud bleating sheep. mBaAa! mmmbaAAaaA! They were in a pool at the foot of a gigantic U-shaped sheer vertical cliff that surrounded us on three sides. The waterfall above turned into vapor about five feet off the rock and so didn't really make it to the bottom. There were these random deer hanging out there eating grass, and it seemed like one of those enchanted forest gigs that are in B-movies and you're like, "yeah, like that would ever happen in real life." Well, apparently the cure for some skepticism is just to get out a little more. We were thinking it would be good to put that pond in a fantasy novel, and the character would finally reach the top of the hike and there would be this little random magical pond and then just as something magic/suspenseful was about to happen, those noisy-ass frogs would go eerily silent.
Think about it.
Oh yeah, and Callisto arrived alive. :D
Gotta love Juanes. Oh faint.
---
watching:
the gilmore girls are whores!
listening to:
the silence
mood:
sleepy
Comment! (2) | Recommend! (1)