Sunday. 6.20.04 11:17 pm
Someday I shall play the flamenco guitar. And I shall strap the guitar I made for myself (or the guitar makers of my village made it, perhaps, as a gift) to my back and I shall climb to the top of a building and pick out the sad and haunting notes that will ring through the square and remind all that hear them of my loss and tortured past.
Well, maybe I can do without the loss and tortured past part, but the notes will sound like that anyway.
That will be when I am still young and filled with the pain of youthful passion.
When I get older, I'll pick up the harmonica and I'll sit out on the porch while my grandchildren are catching fireflies and I'll play the Blues. I'll have such rhythm and soul that the night will absorb my echos and weep in great blue-gray curtains upon the distant plain.
Hmm. I know the bagpipe figures into this somehow too, but I can't decide where. Maybe they'll play it at my funeral, and the sound will find and fill every corner of the land, and buoy my spirit as it radiates outward. It will be a long time before the memory of it dies.
In other news:
Today I was looking for gravy and I picked up butterscotch sauce. Kind of made me wonder what mashed potatoes and butterscotch sauce would taste like. Sounds gross at first... but would it be?
think about it.
---
watching:
Dragonheart, Streetfighter
listening to:
the tango from True Lies, Por Una Cabeza
mood:
itchy
Comment! (3) | Recommend!
Sunday. 6.20.04 1:59 am
Yey for today. Seeing Carol, going to the mall with Katherine, running in the mist, though not in that order. :)
Comment! (0) | Recommend!
Thursday. 6.17.04 11:09 pm
Quotes:
---
::listening to the description of the Native Son sex scene on a book-on-tape::
Me: Wow, that's a hell of a lay
My little sister: I've heard better
---
Marka Stewart: You're like the son your dad never had- only prettier and with less facial hair.
---
Smitty : That's the thing about lying... when you're an old man everyone knows you lying so you can lie all you want.
Me: I'll remember that for when I am an old man.
---
Warning label: Never mount a 16" diameter on a 16.5" rim.
---
Me: Look! It's a coyote!
Katherine: That coyote seriously needs to be brushed.
---
Katherine: Well, you know her parents- they smoke like haystacks.
---
Things I recently discovered that I like: the phrase "Rountine bin maintenance", people whose middle initial is H (George H. Bush, William H. Macy, Jesus H. Tap-dancing Christ), and sleeping with the window open. Cool thing in the last little while: Got to see my buddy Laur Jones, with whom I went out to breakfast where we ordered the same thing and were generally pals. She's lookin' good and sexy and it seems like she's having fun. YEy for Laur!
watching:
The Chronicles of Riddick
listening to:
The Beach Boys
mood:
generally placated
Comment! (3) | Recommend!
Sunday. 6.13.04 1:01 am
What a wicked thing to do
To make me dream of you
Comment! (4) | Recommend!
Saturday. 6.12.04 11:50 am
Isn't a funeral a strange thing? What if you were dead, and you were watching your funeral from a wisp of cloud in the sky, and you'd hear all the nice things that people had to say about you, you'd wonder why so-and-so wasn't there, why this person or that person was invited. Then they'd file by your coffin, talking to the wood, patting it as if they were saying, "poor poor thing, it's going to be ok" and you wouldn't know if they were talking to you or themselves. I think it's always sad to see the wife of a military man receive his folded flag, and she clutches it like it is all that is left of a man she loved, a small triangle of folded fabric that embodied an entire lifetime of service. My grandfather's is sitting on my dad's shelf. I wonder if he can look at me through it and tell me not to play the piano while he's sleeping, just like in real life.
But when the funeral was over- and no matter how many people loved you, it would eventually be over... they'd leave you there and go home and you'd sit there amid the grass for a little while, mulling over what you'd heard that day. Maybe you'd get a little lonely, and someone would come and cover you with dirt. But no matter what, you'd end the night alone. People would wonder how long was "proper" or "respectful" to stay, and then their dues would be paid and they'd get to run home to their warm houses and talk in subdued voices and thank God it wasn't them.
Maybe that's why I want to be cremated. So at the end of the day the wind will come and I'll be the one leaving, in body and in spirit. I'll slip the surly bonds of Earth and touch the face of God.
Comment! (0) | Recommend!
Relax, it's doughnuts and FedEx
Wednesday. 6.9.04 10:48 pm
I'd like to take this moment to thank Krispy Kreme and the good people at FedEx for making this splendid day possible.
Warehouse quotes:
"I'd never buy a Ford. I'd smoke crack before I bought a Ford."
"You youngins are pretty good. Well... some of you you'd put two together and get 25 cents."
"She had a great big Cadillac, the kind you have to throw an anchor out of it when you park."
----Marka Stewart
Old quote:
Driver : "You know smoking will kill you."
She-who-must-not-be-named: "I'm going to live forever. I'm too ornery to die."
We have a new forklift. Its name is Tweety, christened by my sister. It's yellow, annoying, and noisy as hell. Its secret name is

That's because it's evil. Very evil. At first it wasn't working at all,
"Obviously it's a lemon, that's why it's yellow!"
-Smitty
But now it works well enough. It used to stall all the time, but we fixed the fuel injector, and now all it does is stall at strange times and rattle. RATTLE RATTLE RATTLE with no end, no pattern, just sporadic RATTLE.
Ok, ok. I shouldn't get down on Tweety. I just miss Forky. They took Forky away on Monday. My sister washed him and made him look beautiful before they took him away- I wanted to wash him but I couldn't, I just quickly kissed him goodbye and didn't watch the man tie him to the truck and drive away.
And one cannot really judge Tweety... there was The Accident, after all. Tweety was a forklift for a long time in another state, many hours, which is how forklift life is measured (coffee spoons?). I suppose he was

then. Before.
When he was very old he was purchased by MSL. He was loaded onto a truck and he began the long trip to Colorado. Suddenly the semi-truck got into a terrible accident on the highway and

went flying forward. He had been loaded on the truck backwards, so he went through the front of the truck forks first and right into the cab, narrowly missing the driver, who walked away unscathed. (Next horror movie: Forklift Frenzy of FEAR!)

, on the other hand, was not ok, and they took him to Kansas City for some rest and rehabilitation. They repainted him, they gave him new forks, a new cage, and snazzy new stickers. When he arrived, he was given his new name. But deep inside his newly painted exterior still lies the old, broken soul of

.
Maybe if we knew everyone's life story, we would give everyone a break and love them despite their faults. Speaking of brakes, Tweety's are quite sensitive.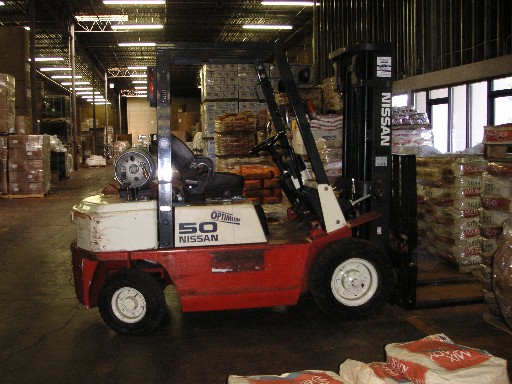 Oh, how I miss thee, Forky.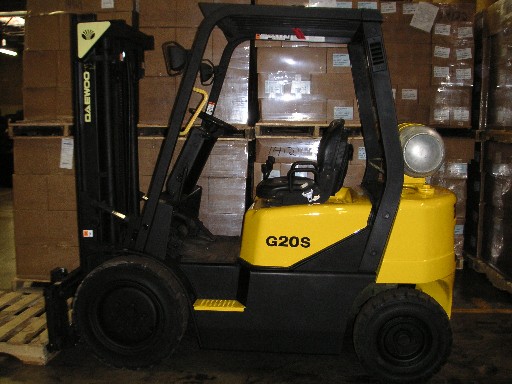 Oh, I shall yet give thee a chance, Tweety.
Oh, and besides FedEx bringing us Krispie Kremes and this day being awesome and having a good conversation about the guy who flattened Gramby with a tank (the second time someone flattened a Colorado town with a tank!), this conversation also made me happy all day:
Gary: "LaAaAaauuUuuUurRrRaAa!"
Laura: "Yes?"
Gary: "Oh, nothing, I was just singing your name."
---
watching:
5ive Days Til Midnight
listening to:
It might be a little bit loco baby, but it keeps me from losing my mind
mood:
happy
Comment! (3) | Recommend!
Sunday. 6.6.04 9:45 pm
When I was young, I always thought that God lived in the space behind the organ pipes at the back of the sanctuary. It has little wooden bars on either side of the pipes and the pastor would spread his hands and evoke him from his little loft from whence he would watch our ceremonies. I always wondered whether or not I would like living there. It wasn't a very large place to live, of course, but it was high up and anything that required climbing to get to was exciting. I thought of how the sun would slant through the bars in the late afternoon and God would lie on His back with His head on a pillow and read books. It would really be the perfect place to read books. I suppose He'd read adventure stories and mysteries, and He'd never have to read the Bible because He wrote it and He already knows what it says. The service would be the most exciting time of His week, and He would lay down His book and lie on His stomach and prop up His chin under His elbows and see who was doodling and who was chit-chatting and who was listening to the sermon. I was usually doodling, but I didn't think He'd be angry with me. If anyone could understand what a kid has to do to make it through a Lutheran sermon, it would be Him. I always imagined Him watching from his black darkness behind those bars, smiling. His love would emanate from there just like the organ music, which He liked to listen to all the time, which is why He lived so close to the pipes.
Comment! (3) | Recommend!
Love and Other Forgotten Things
Sunday. 6.6.04 3:33 am
Once we watched a movie in Archaeology and I wondered the whole time whether or not someone ever loved that little 80s-era archaeological scholar woman. Whether the mere sound of her name made someone's ears perk up. Whether he would non-chalantly ask about her career, her work, anything about her. Whether he would wander about for the rest of the day savoring these tiny bits of information because it made him feel more connected to her, made him forget how long ago it was and how far apart they've become and everything in between that went wrong. Maybe, if she's lucky, his thoughts aren't so bittersweet. Maybe he thinks of the first time they met and how it felt when she wanted him too and their children and he'll hope that he dies first so he won't have to live in the world without her.
I wonder what she would say if I asked her if she had a person in the back of her mind whom she used to think about constantly, such that if she went one busy, distracted day without thinking of him she would feel as if she had won a contest of will and strength. She would say to herself that evening, "why, I haven't thought of him all day!" and this revelation would be followed by a sudden guilty realization that she thought of him just then with her revelation, and all of the ground that had been covered that day was just lost again.
Perhaps if I asked old, well-worn nursing home inmates they would be angry with me. They would start guiltily at my question- they would feel as if I was asking them to break Lent... but it would be too late. They would have already rested their mind upon that single person (or two?) and whether or not they ever intended to tell me about it, my mind-reading machine would already know everything. The story of a moment or years, the precious seconds they spent almost achieving fufillment- the eons it took to learn to cope with never actually achieving it. They would have crafted their walls through years and years of carefully reining in their thoughts. Maybe they had succeeded and shut that person from their minds completely.
Ah, but one question would ruin everything, it would bring back pain and joy and longing and daydreaming and agony and everything they'd spent their whole life ignoring, like a begger outside your car window.
Think of it. Some guilt, shame, suspicion. If you act you don't know what will happen... it could be wonderful. It could be that you saved someone's life. It could be terrible... you could be hurt, you could be duped! It could be something quite indifferent. He could take your money and you would never know how your life had affected his, if he remembered you at all. So most of us sit in our car and feel uncomfortable. Are the doors locked? Is the light green? Ah, but the radio must be attended to. That scrape on the far sidewalk is very interesting. Ignoring the fact that he is there may be just as painful as acting upon it, but it's much, much easier. You aren't about to be duped. You aren't a fool.
I suppose the little 80s archaeologist is still fighting with developers and writing letters to the historical societies. Marrying an archaeologist is a great thing, my sister reminded me- the older you get the more interested he is in you. So maybe she is married and she appreciates him more with every day. Maybe when he dies she'll preserve his body so that archaeologists of the future will find him and know that he was loved. Maybe she'll burn his bones to ash and scatter them to the four winds so that some future archaeologist won't be able to please herself by setting his skull upon the corner of her desk and looking at his marker-labelled teeth through a magnifying glass.
mood:
2:30 in the morning
listening to:
where did I go right
watching:
The Alabama, Secret Lives of Dentists
In other news, may Zach's cat and Ronald Reagan rest in peace.
Comment! (2) | Recommend!