Monday. 11.27.06 11:02 pm
I was ambushed yesterday. It was during lunch after church, and our mom had just made us a delicious lunch of leftover mac+cheese and some steak, yum! Afterwards, I felt weird, so I went to the bathroom.
After scarring the poor toilet for life, I went to lay down for a few minutes. When I woke up, I was in a white room. Nothing on the walls except blazing white-ness. The floor is bare, but also white. I'm tied to a chair that's bolted to the floor. My head is somehow completely immobilized, so I can't look around to see the rest of my surroundings. Suddenly, my mom appears, and I try to scream through my gag.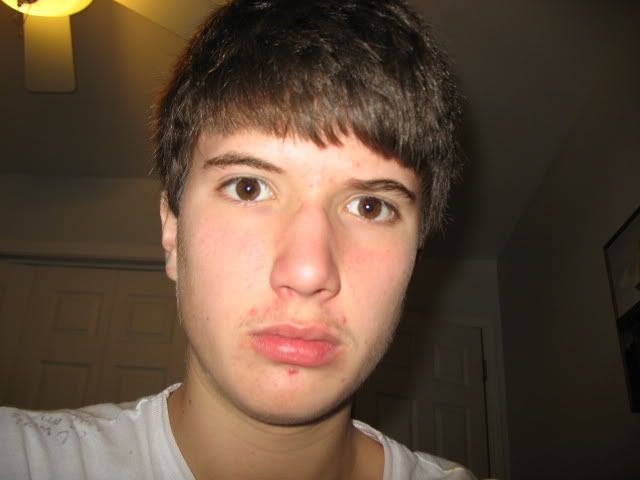 She cut my hair.
On a lighter note, I now have a Razr phone, silver, very nice, with V-cast. I love it, and have spent my first school day back collecting girls' numbers.
I leave you to decide whether my story is true or not.
Comment! (12) | Recommend!
Monday. 11.20.06 5:09 pm
I'm leaving in a few minutes for Myrtle Beach. Can't really elaborate. Maybe I'll come back with pictures, but I'll probably be too lazy to share. Anyway, here's the final video that we turned in to our social studies teacher.
I know we're horrible actors, who can't memorize a script (or even write one correctly,) but I think we still had a good grade with it. I put it together, lol, so that's ME singing.
Be back in a week!
Comment! (6) | Recommend!
Monday. 11.20.06 12:06 am
It's true: the newest razor around can shave a man's....anywhere. See for yourself at
http://shaveeverywhere.com/
. Lol, it's pretty funny
Comment! (3) | Recommend!
Sunday. 11.19.06 2:37 pm
I can't get a picture to show up. It's really annoying me.
Who likes my new background image? Thanks to
Bilingual
, I got the colors to stay intact, without getting all messed up in the uploading proccess. Thanks!
So, about this new account. It's almost all set up, except for said picture. It's a banner. It just won't show. Anywhere. At first I put at the top of the Header in Customization, but then I tried moving it to a module, and still nothing. Then i clicked the picture in my photobucket account, and it still won't come up.
Who here remembers my attempt at making a movie? Well, I do. The thing is, I lost all enthusiasm about halfway through. I still have the clips and pictures, but I never bother with it.
Ironically, I have to make a A+ movie from a bunch of randomly ordered clips. It's a bunch of fun, but our acting skills were horrible. Like, we seriously suck. Still, We're pretty funny, so we should make an OK grade.
Comment! (4) | Recommend!