Saturday. 2.25.06 10:52 am
literally.......................
went east coast and tried..... for the first time ever.......*drum roll~~*
blading. muhahahaha~
landed on my butt way too many times and now its really tenderized. probably fit for cooking. lol
already highly deficient in motor synchronizing skills and balance, i landed on my butt for almost every 5 min avg. thats abt a dozen times for one hour. sheesh. completely pissed at myself at my incompetance. D picked up much faster den i did. and out of the entire grp of pple whu went, 3 couples(ww-jy, ben-dawn, me-d) and 3 gers(lindy, jieying,waiyin) i am definately the worst. haiz. sad~~
hmmm.. and did i mention i was late for one and a half hours? lol.
anyway.. ended up with perfect timing coz when we ended the blading session it was time to EAT~!
went to HongKong Cafe..
http://www.hkcafe.com.sg
... the food's pretty good~! will post pix when i upload them. the french toast is heavenly~! super nice!. my hkcafe baked rice special is pretty good too~ its one baked rice with half seafood n cream and the other half tomato based chicken chop. so u wun get too sick of either one of them. other recommandations: the spicy salt and pepper ribs, sichuan soup, curry pork cutlet rice, ding mian,
yuan yang
.
the con side is that its pretty much overflowing all the time and u might have to wait for a while for both food and table. the waiteress used walkie talkies to take orders sia~.lol... service is rated so-so... wonder if they inherited the service attitudes of the waiters/waiteresses of the cafes in HK. muahaha
went to a fren's hse nearby and played some mahjong... been eons since i played. now, kinda itching to play sia~~~
Comment! (0) | Recommend!
Friday. 2.24.06 9:29 am
just got D to upload all my photos from my old phone to a pc.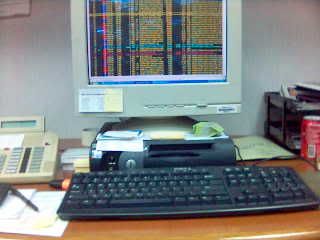 my desk.... think there's a coke somewhere in the picture. lol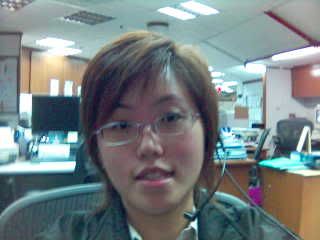 me at work... i like the headset sia~ my butt is resting on a 2+kc chair.. muahaha~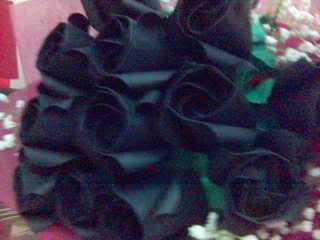 THE black roses...he even managed to wrap the bouquet himself..keke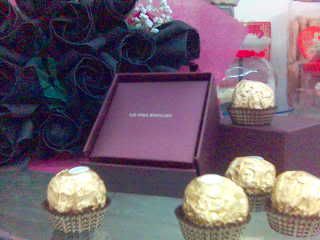 nice presentation and photography skills right?
thats all folks~!
comp super slow can't stand it anymore. lol.
Comment! (0) | Recommend!