Monday. 6.28.04 1:37 am
These days, it's kind of hard to leave someone and say, "Well, looks like I'll never, ever EVER see you again. Have a nice life."
I mean, it's not like you can just go to the harbor and get on a boat and sail into the sunset across the sea to the land that never dies or something like that.
You'd be like, "hey, I'm leaving on this ship for the other side of the world." and your pal Samwise would be like, "hey, shoot me an IM when you get there, k?" and you'd say, "k", and it'd be like you were never really apart. Sam's life would still be split because he'd spend half of his time on IM being like, "i miss u! :p" and his wife would say, "get your fat hobbit arse off that swiveling office chair and help me with these fat children of yours."
Now it doesn't mean that you will in fact never see that person again, but no one says that anymore. They're like, "hey, see you again some day soon" and some day soon translates to never or "I'll write you an email" and then the email just never gets written and it's kind of sad because if you had only known that "I'll write you an email" was a total crock then you might have spent just a little more time saying goodbye and meant it a little more when you said that you'd miss each other and maybe said somethings that you'd always meant to say.
But no one likes to believe that forever is real when it comes to goodbye. Maybe we could even say, "Well, it's incredibly unlikely that I will ever see you again, my friend. You meant a great deal to me in the limited time we had together. I will think of you often." And a hug, to seal the finality. Case closed.
No "I'll write you from Istanbul" or "I'll come to Zimbabwe one of these days and we can have lunch."
Maybe everyone really does mean it at the time and then events and circumstance prevent them from ever reuniting. I guess in that case it's not so bad.
I liked the way this senior from my Adventure Class put it,
"Hey Laura,
We always wanted to do the Bolsen's Loops again, didn't we? Too bad.
I hope I see you again someday, down the road."
That's kind of like a goodbye forever, but it also incorporates a nice "it would be a lark to see you again". I think it's the "hope" and the "down the road" that I like best. I actually did see him one day, down the road, but I wasn't sure he'd remember me so I didn't even say hello. Now isn't that a shame?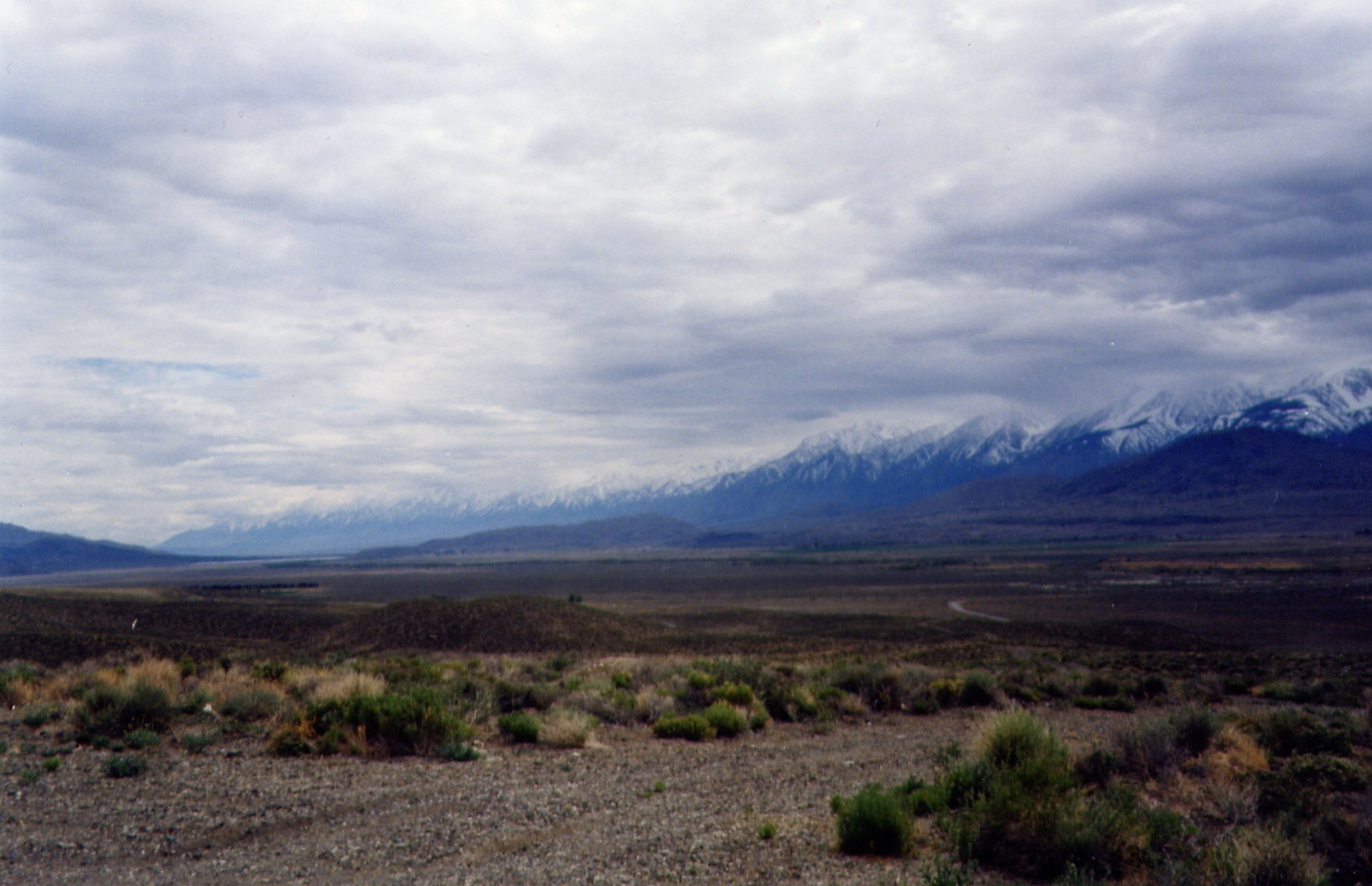 the Inconsolable Range
Comment! (0) | Recommend!
Saturday. 6.26.04 12:17 am
Warehouse Quotes:
"See, I don't need a radio, I just always need to be standing next to you when they call me."
-Gary
Gary: Could you take care of that? I'm going to go get drunk. Eat dinner, start drinking.
Me: Sounds like a good Friday night!
Gary: Well, you know... or maybe you don't know. or maybe you
do
know.
"Boy, do I love a woman in overalls. Is that sexist?"
--Kreepy, kreepy Ken
"This is the Aurora tornado-warning system. Please take shelter immediately."
--The Aurora outdoor tornado warning system, which I didn't even know existed
"I think Rusty should start keeping paper in his backyard. He could put a tarp over it, have a little track that goes through by the fence, keep a clamp truck on his patio."
--Marka Stewart
Caesar: Do you have a boyfriend?
Me: How do I say, 'I have too much work'"
Caesar: 'Yo tengo mucho novios'
Address that was making me soo hungry:
Hershey Chocolate USA
19 East Chocolate Avenue
Hershey, PA 17033
This address was making me very suspicious...
9/10 OF A MILE FROM ELMSPRING CAFE
AM DELIVERY
DELIVER TO CHICKEN HOUSE "B"
CONTACT TONY 479-636-1804
and!
::she-who-must-not-be-named, pouring blue packing popcorn into a box::: I'm an alien! I'm laying eggs! WheeeeEEEEEEEEEEEEEEEEEEEeeeeeeeeeee!
I decided that I looove the tool shed. I don't know whether it's the lawn mower or the tools or the spray paint, but something in there smells mighty good. I would put it on my 47 best places to make-out in the warehouse list, if I had one. Which I don't even though if I did it would already have two places on it. Three.
This work stuff has to stop, I'm losing my mind!
Comment! (1) | Recommend!
Inside, I am a burly man. ...a burly gay man
Friday. 6.25.04 9:16 am
What I apparently look like to truckers --->
What I actually look like --->
Note to truckers everywhere:
No, I do not need any help. Do you have a ticket?
Because there is about to be a gun show.
Comment! (2) | Recommend!
The Great Dentist in the Sky
Thursday. 6.24.04 8:45 am
I always thought of Judgment Day as being kind of like a trial, and you'd stand up and the evidence for and against you would be read, and then you'd hear your eternal sentence. Yesterday I changed my mind. I was in the dentist's office, listening to "positive and encouraging k-lov" (the christian station) which they were playing on the office radio, and I realized that in my present position it was impossible for me to be positive or encouraged... but I was praying. I think Judgment Day would be like the Great Final Dental Cleaning, and Jesus would get in there first and ask you questions that you couldn't quite answer because your mouth would be full of Heavenly Dental Tools and smile and asked you if you flossed, and you'd remember that one time back in the day when you flossed or went to church or believed in God or thought about it for a minute and you answer would be, "sort of". Jesus would do you the favor of clearing up all the little stuff, that time you took the Lord's name in vain yesterday or when your mother-in-law was late and you hoped she had driven into a ditch. Jesus could make that look like it never happened with a flick of his cleaning instrument, especially if you used anti-cavity toothpaste or apologized for the fact that you came here straight from work and you hadn't had a chance to brush your teeth and looked like you were really sorry. He'd say each sin as he removed it and wipe it away on your paper bib for all the office to see. Then the real exam would begin, and God would come in tugging on His gloves, and you'd exchange pleasantries until God would say, "Let's see what We have here." and He'd lean you back even further in your chair and He'd pull down the Great White Light and you'd hear K-LOV in the background singing his praises in the modern Light Rock and he'd flick down his God Glasses which made Him look like a spider and allowed Him to See Everything. He'd comment on your past dental work- maybe early in your life you didn't brush so well and you had lots of cavities, but depending on how repentant you were and how could your last dentist was, most of those were all patched up and you were forgiven. He would poke your tender gums to see how easily they bleed, he would poke between your teeth to see how deep your pockets were, he would gently remind you that through a regular program of praying and going to church a lot of this damage could have been avoided. He'd drive his instrument into each of your teeth looking for cavities... and he'd probably find them. Your teeth had been hurting and you didn't want to go to the dentist before because you'd rather ignore the problem then go through the painful ordeal of finding out how extensive it was and fixing it. He'd analyze your deeper sins, the ones that couldn't be removed easily. He'd announce them in an analytical voice to all of Humankind and to Jesus, who had been willing to overlook or not trained enough to see them. He'd say, "There's a betrayal on number 9... and a lot of hypocrisy here in the back..." He'd dig His instrument into your sins and chuckle a little as he asked if it tickled, when in actuality it hurt more than anything you had ever felt. He'd blast you with water and air and you'd hold back tears and try to tell him that your teeth were sensitive. But He already knew that- He knows Everything- but sometimes the revealation of things you've so long ignored is painful. Jesus would spare you the pain. He needed to dig right to the root of the problem. He'd tell you that if your insurance had covered it (and it would if you were Catholic) your parents could have bought you a sealent or indulgence or told you to do good works and this could have been prevented. You wonder in the back of your mind if He's just saying you have a cavity so that He would have been right about wanting you to buy the sealent. Finally, he'd sum up your dental exam and leave you to Jesus to wash the blood from your gums and wipe it all over the bib that you thought they put there to protect you. He'd leave you with a comment like, "My, you have an unusual amount of saliva" which you wouldn't know if it was a compliment or an insult, so you'd say nothing. Then God would turn you to the Right side or the Left, and the Left would mean Heaven because God is most certainly Left-handed, despite what they say. The Left would be the equivalent of "We'll see you again in six months" and the Right would be the equivalent of "We'll have to get you in next week for a root canal/drilling/tooth extraction/crown fitting" And that, my friends, would be Hell.
Comment! (1) | Recommend!
Sunday. 6.20.04 11:17 pm
Someday I shall play the flamenco guitar. And I shall strap the guitar I made for myself (or the guitar makers of my village made it, perhaps, as a gift) to my back and I shall climb to the top of a building and pick out the sad and haunting notes that will ring through the square and remind all that hear them of my loss and tortured past.
Well, maybe I can do without the loss and tortured past part, but the notes will sound like that anyway.
That will be when I am still young and filled with the pain of youthful passion.
When I get older, I'll pick up the harmonica and I'll sit out on the porch while my grandchildren are catching fireflies and I'll play the Blues. I'll have such rhythm and soul that the night will absorb my echos and weep in great blue-gray curtains upon the distant plain.
Hmm. I know the bagpipe figures into this somehow too, but I can't decide where. Maybe they'll play it at my funeral, and the sound will find and fill every corner of the land, and buoy my spirit as it radiates outward. It will be a long time before the memory of it dies.
In other news:
Today I was looking for gravy and I picked up butterscotch sauce. Kind of made me wonder what mashed potatoes and butterscotch sauce would taste like. Sounds gross at first... but would it be?
think about it.
---
watching:
Dragonheart, Streetfighter
listening to:
the tango from True Lies, Por Una Cabeza
mood:
itchy
Comment! (3) | Recommend!
Sunday. 6.20.04 1:59 am
Yey for today. Seeing Carol, going to the mall with Katherine, running in the mist, though not in that order. :)
Comment! (0) | Recommend!
Thursday. 6.17.04 11:09 pm
Quotes:
---
::listening to the description of the Native Son sex scene on a book-on-tape::
Me: Wow, that's a hell of a lay
My little sister: I've heard better
---
Marka Stewart: You're like the son your dad never had- only prettier and with less facial hair.
---
Smitty : That's the thing about lying... when you're an old man everyone knows you lying so you can lie all you want.
Me: I'll remember that for when I am an old man.
---
Warning label: Never mount a 16" diameter on a 16.5" rim.
---
Me: Look! It's a coyote!
Katherine: That coyote seriously needs to be brushed.
---
Katherine: Well, you know her parents- they smoke like haystacks.
---
Things I recently discovered that I like: the phrase "Rountine bin maintenance", people whose middle initial is H (George H. Bush, William H. Macy, Jesus H. Tap-dancing Christ), and sleeping with the window open. Cool thing in the last little while: Got to see my buddy Laur Jones, with whom I went out to breakfast where we ordered the same thing and were generally pals. She's lookin' good and sexy and it seems like she's having fun. YEy for Laur!
watching:
The Chronicles of Riddick
listening to:
The Beach Boys
mood:
generally placated
Comment! (3) | Recommend!
Sunday. 6.13.04 1:01 am
What a wicked thing to do
To make me dream of you
Comment! (4) | Recommend!