Saturday. 12.9.06 11:13 am
Well, winter has definitely gotten down to South Carolina. Yesterday on the way inside at school, I felt like I was actually being pushed around by the cold. Trust me, it feels weird. So yeah, it's pretty cold out here, with everyone complaining all the time.
But my house is a tempertaute war-zone. In some rooms it's just a bit cool. Some are completely closed off, so you walk into one and the heat hits you like a wave. It isn't even humid, just hot. And of course, there is a room or two that are so cold. No reason, but nobody ever goes into the play room in the back of the room. It is plain frigid.
My toes are notorious for poor blood flow. This is the time of the year that I have to make sure I don't get frostbite, or gangrene or something aweful. At least two of my toes are perpetually numb and blue. This makes swimming interesting, of course. Birthday on the 30th, by the way. Whee!
Comment! (14) | Recommend!
Thursday. 12.7.06 12:03 am
Sneaky Ninja!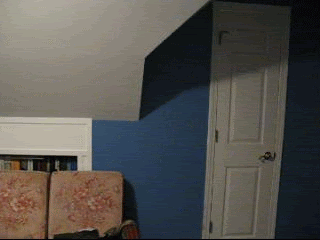 Sometimes I drop my homework and get freaky.
Comment! (9) | Recommend!
Saturday. 12.2.06 10:11 pm
Not only that, but I uploaded it. Ladies and Gentlemen, I present:
The Bathroom Chronicles
OMG I DID NOT MEAN TO RECCOMEND MY OWN ENTRY, HOW SHAMEFUL! I was just trying to see who had done me the honor. Thanks, by the way.
Comment! (15) | Recommend! (7)
Saturday. 12.2.06 8:57 pm
I went and wrapped up my movie, the one I was originally working on. I spent about 10 minutes on credits and stuff, and the program crashed (not the first time). The kicker is that now it won't even open. And I don't know how to use the safe mode. Help?
Comment! (1) | Recommend!