One More Week of Warehouse
Sunday. 8.8.04 11:40 pm
Quotes:
Gary: I actually have a really good sense of smell
T: You should be a Nose
Me: Yeah, you could live in France, smell perfume all day
Gary: But then everyone would pick on me
Friend 1: Mark, you should throw away that fan.
Mark: Hey now, this fan is special, I got it for my birthday last year! Just because it's broken doesn't mean I should throw it away.
Me: Yeah, come on guys, that is Mark's biggest fan.
Mark: Yes... yes it is, actually.
On Friday I started the day by running after a semi-truck. I sent him over to T's warehouse with the direction that T would flag him down, but she didn't quite get out there in time because I was handing her the paperwork through the rail door, so I trotted down the rail tracks only to see him zip by, and I took off after him, T radioing me to tell me that he'd gotten away. She told me that I had good form and I told her I was merely out for my morning jog. I finally caught him as he was turning about to make sure he hadn't missed it, and I caught a ride back down the road on the side of the semi, holding onto the side mirror, wind in my hair, roar of the engine in my ears. And that's when I knew that my favorite color was chrome. ;)
Tig radioed us to tell us that she wished she had a camera. It was a marvelous way to start a day.
It reminded me of the time that I forgot my money purse at the golf course and I tried to run after my sister to flag her down and ask her to go get it for me and I chased her down four holes or so but she couldn't hear me over the racket that the cart made. I like running, if it's for a good reason, like saving a goal or your job or your life. It's running for no reason that really gets me. That time wasn't as fun because I didn't get to ride back in style, I got to walk.
Here's a joke courtesy of my favorite math/english major (the best kind), Auggie:
So this boy comes up to a nun and he says, "Excuse me, Sister, I have always wanted to kiss a nun... can I kiss you?"
and she says, "Yeah, sure, but don't get into the habit."
Auggie knows just what I like.
Comment! (0) | Recommend!
Thursday. 8.5.04 9:36 pm
"Don't let Democracy Take a Dive. Let Nader Debate!"
What interesting organizations support this nutang site. Maybe instead of "signing an open letter to Bush to let Nader debate" people should stop the Democrats from doing everything they can to throw Nader off the ballot in every state they can. Whatever. Nader deserves his shot.
I got back from Maryland, and the entry that I wrote while I was there seems to have been heinously erased, but no matter. I had an excellent time walking to and fro between our condo and Delaware. Delawhere? Delaware! That's what my postcard said, anyway. They don't have sales tax there you know. That's right. It's like Oregon only with warmer beaches, fewer greenies and a lot more fudge, in my experience. I wonder if you compared annual fudge sales in Delaware and Oregon, who would win?
Now that I am back, the Great End-Of-Work Countdown has come. I have 6 days remaining. SIX. DAYS. Here are some quotes:
"These girls make better men then most guys I know."
-Marka Stewart
Uncle Sugarbear: He won't watch Lord of the Rings because he's afraid of wizards
New Guy: I'm not afraid of wizards... it's just, you know... witchcraft! I don't need that stuff filling up my head...
Marka: how old are you?
New Guy: ...when I could have other stuff filling up my head like... pigment.
Marka: I... you... I have absolutely no response to that.
Big Fat Trucker: So, what are you studying in college?
T: psychology
Big Fat Trucker: Oh, you are going to get really fat in your office. You should stay at this job so that you don't get fat.
T: Well, I'll be a sports psychologist, so maybe I'll get some exercise in.
Big Fat Trucker: Oh! You don't want to do that. Haven't you seen the Kobe Bryant case? They're dangerous!
T: Not as dangerous as truckers
Truckers, as you can see, are almost as good at flirting with T as your average golfer is with my sister. Choose your poison.
---
mood:
tired
listening to:
JUANES
Comment! (0) | Recommend!
Tuesday. 7.20.04 12:08 am
Today a young sparrow flew into the warehouse and tried to eat a little piece of fertilizer off the floor. They are little orange glassy spheroids, and they are all over the dock these days of fertilizer mobilization. He was clumsy and silly and didn't run away when I came to see what he had in his mouth. Finally he skittered away across the slick floor and fell right off the side off the dock onto the asphalt. I told him to drop that fertilizer if he knew what was good for him and he finally did, chirping merrily although no one was answering, until finally I had to go back inside and he walked/flew back under a dropped trailer to chatter with a dour and impatient adult. That must have been one of the dumbest, clumsiest little birds I have ever seen. And also the one that I had most desired to see again.
Maybe my little darling wasn't killed after all.
Comment! (3) | Recommend!
Sunday. 7.18.04 1:30 am
I think She-Who-Must-Not-Be-Named may have killed my little clumsy bird.
Comment! (0) | Recommend!
Sunday. 7.18.04 1:12 am
People tend to remember different sorts of thing more vividly than others. Some people remember the best steak they've ever had, and where, and exactly why it was wonderful and how it tasted, but they might not be able to remember with whom they ate it or why they went there in the first place. I remember every soccer field I've ever played on. I also remember the times when I've seen the very best stars.
The stars in the Rockies are amazing. Once or twice my dad woke me up and we went outside to watch the meteor showers- there's little I'd rather do than watch a meteor shower- when the Leonid shower came Andy Lin encouraged us all to go out and Ann's sister brought hot chocolate and it was beautiful.
Once we lay on the hood of my dad's old Toyota where the engine was still warm and just watched it seemed for hours. When I used to go to tae kwon doe I'd spend a lot of time lying on that car hood staring up there, into the Heavens. More often than not, depending on the time of year, I'd see at least one falling star
When I went sea kayaking in the Channel Islands, I saw some of the most amazing stars I've ever seen in my life. They were brilliant, infinite, sparkling, breathtaking- everywhere. The Milky Way arched across the sky and you could actually see it as an arm of a galaxy as supposed to a smudge in the darkness. The first night we slept up on the cliff, and after watching the most amazing sunset in my life sending dusky rays of light across the shimmering sea and turning the other islands to fire and ash before my eyes, the stars came out. We were an hour's speed boat ride across the Channel and none of the islands had electricity. The moon had not risen yet. I had some pains in my chest as I lay in my sleeping bag and I imagined that this was my very last day on Earth, and when everyone awoke the next morning I would be dead. As I lay speculating this disaster, I realized that to die on this perfect island, among these fascinating new people, after that perfect sunset, beneath these breathtaking stars... wouldn't be too bad of a way too go after all.
But then, I hadn't been kayaking yet... I haven't been to Africa or Asia... my parents deposit for my tuition at college probably couldn't be redeemed... it would put a bit of a damper on the rest of the student's OA Adventure... so I figured maybe I shouldn't die without meeting all the people that I was going to meet in college. Not that dying or not dying is my choice. So I said a prayer and made my peace with God and told Him that whatever He thought was best was fine with me.
It was a beautiful morning.
Comment! (0) | Recommend!
Wednesday. 7.14.04 10:13 pm
My job is rather strange, if you think about it. What a weird job I have. Like the other day we were happy that a truckload of drums of glue never came in because that meant we had more room for the dog food boxes that had come in earlier. hmm. drums of glue? Never have the same day around that looney bin. Today I told one of the drivers that I didn't want him to bring me dog food anymore, that I wanted something yummy instead, so when he came back he said that he'd brought me chocolate. That is.... a whole truckload of Nestle wrappers! After that I stacked a bunch of sewer man-hole ladder steps and moved around some sump pumps.
How would you feel about eating those Rolos if you knew that their wrapper was right next to a bunch of sump pans in its previous life! how about a Nu-Go Nutrition bar that was chilling out next to the cement pigment and driveway salt? Mwahahahaha. I got to finally try a Nu-Go bar. They sell them at Costco. I would recommend the Chocolate Banana ones but not the Chocolate Blast. What if I told you that the American-made motorscooter you are buying was actually made in China, made into an American bike by razoring out the "Made in China" part and subsequently buried behind a pallets and pallets of cat food boxes before finally being sold to you!
Yesterday I bumped this truck when I was putting a dock plate in and this little baby bird fell down from above right under my forklift wheel. I slammed on the brakes and herded the little fellow towards the exit (he had wings and feathers and could hop with them, but he couldn't fly yet and still had his wide baby mouth). So he hopped around clumsily until he fell between the dock and the truck under the truck, so I went to see if he was ok. He was a little sluggish so I tried to scare him to make sure he hadn't broken anything and he skittered about on his too-large feet and wedged himself under the truck tire to hide, beak first. Knowing that any weight on the truck about would surely crush him and that Smitty was about to come along and drive his clamp in there, I ushered him out from beneath the wheel and he hopped crazily into the grass where there was an adult sparrow chirping shrilly and hopefully she was his mother. She was very nervous and urgent, but the little man himself was quite happy and was chirping merrily all the way through his crazy ordeal. I'm not sure he'll make it, as clumsy as he is, but if you ever got any points in the animal world for being cute and good-natured, he would come out on top. I wish I could have scooped him up and made him mine, but as any republican will tell you, sometimes the best way you can help someone succeed is by leaving him alone! (especially if you smell like human being and his mother doesn't like that smell!)
one sighting among many!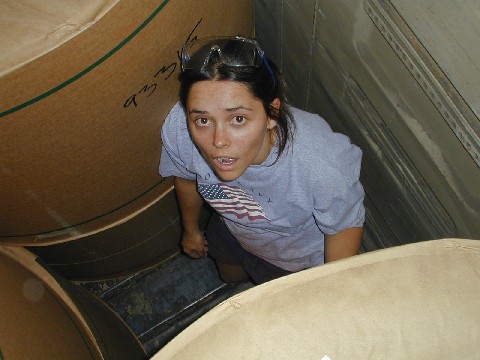 I got stuck in a rail car!
Comment! (4) | Recommend!
Monday. 7.12.04 10:34 pm
I love my basement. Every time I go down there it smells like Kid Pix. Ah, but Kid Pix is a computer game, and so therefore has no smell, you say, you clever thing, you. But when I was younger I used to go down there during the summer and play Kid Pix to my heart's content, back when there was no warehouse and no summer reading and no worries at all.
So whenever I smell that summery basementy smell, it immediately makes me recall Kid Pix. Smell is my strongest memory-sense, as they say is usually the case with most people, so when I smell an old smell that I hadn't been around for a long time, the memory comes back with such force that I am completely transported to that time and place long ago. So it is with my basement.
I used to spend a lot of time down there, doing all kinds of various and sundry things. I used to do my homework down there, and I used to close the door softly behind myself and then throw my back pack down the first flight of stairs and I'd throw myself down after it, and I'd hit the turn in the stairs with a WHAM! and then I'd pretend that I just woke up from being unconcious and I'd pretend I didn't know where I was and sometimes my leg would be broken and sometimes my arm or collar bone and I'd discover it as I was trying to get up to look around at this strange new place. I'd have to favor it and try to not use it as I levered my tired body enough to look around. Sometimes it was a prison, and I'd run to the top of the stairs just to pretend that the door was locked and there was no way out. I'd pretend to pound on it, but not really because then someone in the house might have actually heard me and come to see what I was doing and there was no good way to explain that ... . Sometimes I'd pretend that I'd been transported into another world where I had spent many years and had many adventures and then suddenly, inexplicably, I was back in my old childhood basement and no time had gone by at all, like in
The Lion, the Witch and the Wardrobe
. If this was the case I would see my backpack on the ground beside me and I'd go through everything inside like I hadn't seen it in a million years. My old stapler! My old desk, new again! I would have completely forgotten how to do complex division, of course, because no one uses that in real life, but I'd have an entire assignment on it that... my god! was it 1999! I was in highschool! It was due tomorrow! Then I sit at the desk and do my homework and marvel at how I still remembered
My Antonia
even though I had only half read it many years and many memories before. If it was the prison scenario, I would get bored of shouting, "I'm innocent!" and I'd wander down the stairs to see what the deal was. There I would see that I was being well kept, there was a piano and a foosball table, and I'd tinker with these before I discovered the backpack- which was full of history assignments and science worksheets that some lazy student (who could it be? the last inmate?) had never done. Knowing that I was going to be here for a while, and enchanted that I knew all of the answers as if I had just been studying this stuff that very day (how convenient!) I would occupy myself by doing the student's homework for him or her.
Sometimes I'd lug my dad's legal dictionary into the basement and pretend that I was afraid to open it because it was
dangerous
. Instead, I'd run my hand along the swirls that the pages made when the book was closed and pretend that the magic was tempting me to open the book... it was irresistable... I must open it! BUt NO. I put it away. My will was stronger than that!
le sigh. I never pretend like that anymore.
Ah the basement. Cool- musty- strange dead bugs in dusty corners. You can hang up a Sky Chair under the deck and trail your hand along the rough cement and absent-mindedly pet the dog. Find picture albums from Super Bowl Sunday of 89, that model plane I started making but never finished, the canvas that Carol and Katherine and I painted of a swamp just because everyone else was painting something happy and we wanted to be contrary, a framed drawing of a fish. Just messy enough to be interesting.
Comment! (0) | Recommend!
Saturday. 7.10.04 1:53 am
in an unrelated story, here is my geo prof, apparently very thirsty: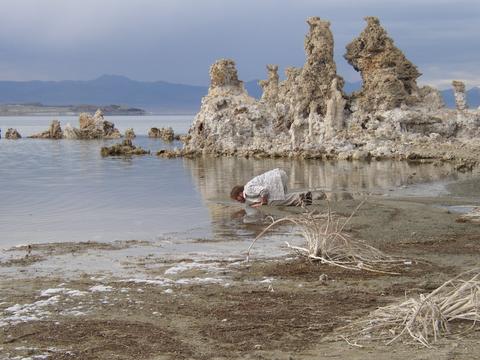 ;)
Comment! (1) | Recommend!