Tuesday. 12.19.06 5:24 pm
It's about that time. Time where I update! Here are a few things I've been wanting to say...
I don't really like oranges.
However, I
do
really like orange juice.
Guess who finally got conacts? ME!! Yup. All of a sudden I have "pretty eyes". (That's what a group of girls told me today.) I'm really happy, and they really don't bug me that much.
In other news, we had a poetry reading in Creative Writing today. I read my free-verse, and it was a nice break from the sad or emotional poems everyone else was reading. It was a very nice hit. We got to bring our parents, and we ate and drank in class. I also worked the camera because it was going to be taped so the teacher could worry about grading the presentations later. I stumbled a little bit on one part, but over all I think i did pretty well. Then someone's mom told her daughter "That boy has pretty eyes," or something, and all of a sudden a little group wanted me to look at them. That made my day.
I'm trying to not type "LOL". I'm so used to it...it's what I put when I think something is funny, even if I'm not laughing out loud. After the last line of the last paragraph, I wanted so badly to type "LOL". Does anyone have something to replace it with? Because I also don't want to type "haha", or anything like that. I would use a smiley, but those who read my blog from my AIM profile wouldn't be able to see it. Maybe ":D" or something?
Comment! (5) | Recommend! (1)
Wednesday. 12.13.06 12:00 am
The talk in the shout box reminded me of this girl at my school. Her name...well, let's keep that a secret. Anyway, I've known her since....third grade? Before? Sometime in elementary.
We were really never friends. I was the social outcast of sorts...I made pretty good grades back then, and that set me apart. She was the cheerleader brand...really popular, I guess, and she could be a real snob. At least, that's how I remember her. While I was doing some sort of funny skit in the Talen Show, she'd do a gymastic routine. After a while this is all that remained of contact. Of course, that just isn't my thing, and I was bored with it, and that probably influenced how I thought of her. In fourth grade, I stopped thinking about her. Kind of like when you were young. I, for one, didn't think of sex or anything like that. I've watched Ants, a family favorite, recently, and I noticed all the cussing. What the heck? I also appeared to have censored out thoughts of nudity, which I also NOW recal.
Anyway, she disappeared. This year, she sits behind me in first period. We didn't talk much, but my personailty is a bit more pronounced these days. Now we talk some. She puts up with me, and I figure I'd have gotten beaten up by now if she didn't. I MAY have taken advantage of her laid back personality a few times, as I've been known to do.
BACK TO THE POINT! (I'm rambling.) She was showing some pictures a few days ago, and that girl was pretty chubby. I mean, I said, "Wow, that is NOT how I remember you..." (cause remember, she'd dropped out of my head un-noticed.)
She openly admitted to getting chubby (when she quit gymnastics for a year). She wasn't obsessing over it, but when I said, "Hey chubby" before school she just grinned. She's pretty cool with it. She thinned back out, of course.
There's no real point to this story.
Comment! (19) | Recommend!
Saturday. 12.9.06 11:13 am
Well, winter has definitely gotten down to South Carolina. Yesterday on the way inside at school, I felt like I was actually being pushed around by the cold. Trust me, it feels weird. So yeah, it's pretty cold out here, with everyone complaining all the time.
But my house is a tempertaute war-zone. In some rooms it's just a bit cool. Some are completely closed off, so you walk into one and the heat hits you like a wave. It isn't even humid, just hot. And of course, there is a room or two that are so cold. No reason, but nobody ever goes into the play room in the back of the room. It is plain frigid.
My toes are notorious for poor blood flow. This is the time of the year that I have to make sure I don't get frostbite, or gangrene or something aweful. At least two of my toes are perpetually numb and blue. This makes swimming interesting, of course. Birthday on the 30th, by the way. Whee!
Comment! (14) | Recommend!
Thursday. 12.7.06 12:03 am
Sneaky Ninja!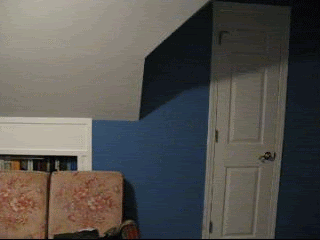 Sometimes I drop my homework and get freaky.
Comment! (9) | Recommend!