Wednesday, June 20, 2012
On 9 September 2011 ...
I looked up in the rain and wonder how life would be on the ship. I wonder what will I be doing now have I not being chosen for SSEAYP. I wonder what challenges would I be experiencing now if I were not AYL.
I ponder for quite some time before finishing my dinner in Bukit Bintang.
Although I was sombre, I was slightly elated to have bought a branded shoe below RM50 and a pair of sunglasses at a discounted rate.
My shopping list became shorter as of today, so are the number of days to Japan.
For the last time, I looked out at the window in the train and asked myself how life would be after the trip.
I reached home at night with no lights welcoming me back. For a moment, I felt like a stranger at the familiar door...
Comment! (0) | Recommend!
Wednesday. 6.20.12 3:54 am
On 3 September 2011 ...
We resumed our gathering activities after Raya. We changed our venue from the city to an urban area, which is near to my home.
Members who lived in Kuala Lumpur and I made preparations for the next gathering.
Our team member who got us the place shared with us that the owner of the premise quickly installed air conditioners during the public holiday so we would be able to stay comfortably. And we were the first occupants of these newly renovated rooms. We were very happy to see all rooms with brand new bedsheets.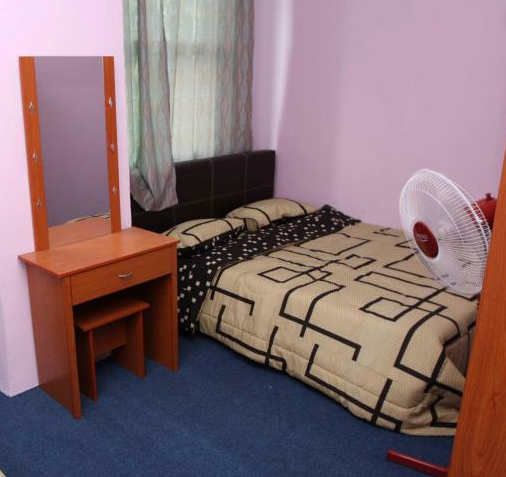 Although we didn't get the rooms for free, we were very grateful for having to pay at a reasonable price for such comfortable ambience.
This venue became our second home for the month of September.
Tidbits
: I got a single bed room. =)
Comment! (0) | Recommend!
Wednesday, June 20, 2012
On 13 August 2011 ...
"I want my Char Siu Fan!!!" said one of the youngest members.
It was the fasting month, so the non-muslim members went out for lunch while the rest napped at the studio.
I replied "Can you not have pork for a day?"
"I cannot live without pork la~"
I smiled at his antics. So the Chinese team members went to Petaling Street for lunch. I was the only one ordered Wan Tan Mee (dumpling noodle), while the rest ordered Char Siu Fan (BBQ pork rice).
We talked and laughed at each other's joke. We enjoyed each other's companionship even though we sat together for just one hour.
I knew this will be the first and the last time we sat together like this for a meal despite coming from the same country. Nowadays, we are all so engrossed with our daily life that we no longer have time for yum cha (coffee session) with friends.
I will always cherish this moment.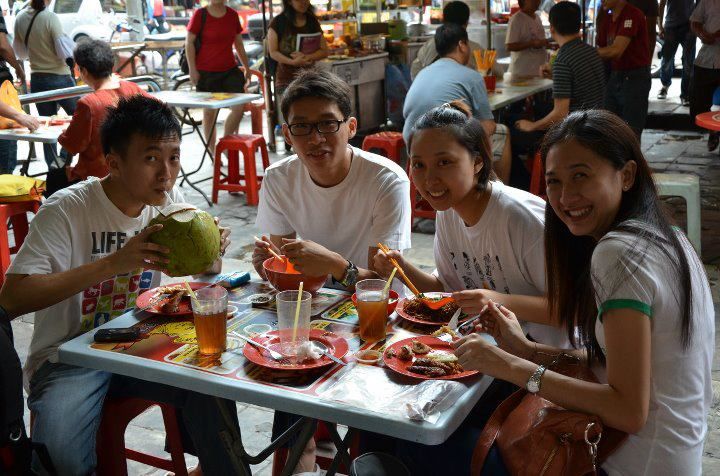 Tidbits
: I always recall this picture whenever I pass by these stalls. The only changes made to these stalls were there are fewer stalls now as one of the shop lots is used for a non-food business.
The guy who cannot live without pork is the one holding the coconut.
Comment! (0) | Recommend!
Wednesday, June 20, 2012
Somewhere on a fine evening in August 2011 ...
It's August.
But, I have two months of preparation for the trip. Looking at my schedule, I knew I have to get all the items by mid-September. If not, I won't have time to gather everything as I have to organise events in September.
I decided to go on shopping with the friend who introduced me to SSEAYP. My invitation on the phone was simple: Toiletry shopping.
I told her that we will be entering and approaching every skin care counter in the shopping malls. She was amused. Don't we not just buy from one or two brands?
I had plans to buy but due to financial constraint, I decided to collect samples. I told her this and her jaw dropped.
She was sceptical that I won't be able to get as many as I needed. Being an experienced free-loader, getting such items is not a problem at all. So I replied to watch me.
We went to almost every skin care counter, and I managed to get a lot of varieties ranging from facial cleanser to shampoo to serum. I also managed to get samples for her too!
I was satisfied with the amount of samples I obtained, and she learnt something new about me, which I'm quite embarrassed to let people see how stingy and free-loader I am. But ... given my current circumstances, I had to be creative in managing my resources...
Tidbits
: I obtained so many samples that I haven't finished using until today. I used them during homestays and on the ship.
Comment! (0) | Recommend!
Tuesday, June 19, 2012
On 20 August 2011 ...
My highlight became lighter thus giving me copper brown. I was told by a senior that all participants need to have black hair for performance.
I sighed, because I planned to cut in mid-October to save money. Moreover, my fringe will be long if I cut too early. However, I was told indirectly that my hair has to be black by the next gathering.
Looking at my tight schedule, I decided to have an early hair cut. I instructed the hair dresser to cut my hair as short as possible to remove any sight of the copper brown.
On the brighter side, I no longer need to tie my hair during dance practice.
Tidbits
: My hair received the most cut in 2011 for I usually cut my hair once a year due to extreme slow growth. I had 3 haircuts for 2011; twice before going to the ship just to remove the copper brown.
Comment! (0) | Recommend!
Tuesday. 6.19.12 3:54 am
On 20 August 2011 ...
It's our next training cum meeting. We need to get our name cards done. We thought of making our name cards in black. So we all dressed in black tee with some accessories.
In truth, I wanted a cat as accessory. When I said this out loud, members threw daggers when they looked at me.
Ok. I ate back my words. =)
The best adventure I had with two of my female team members was going to KLCC and pretended to test out some make-up products, so we could get free professional make-up for this shoot.
It was my idea.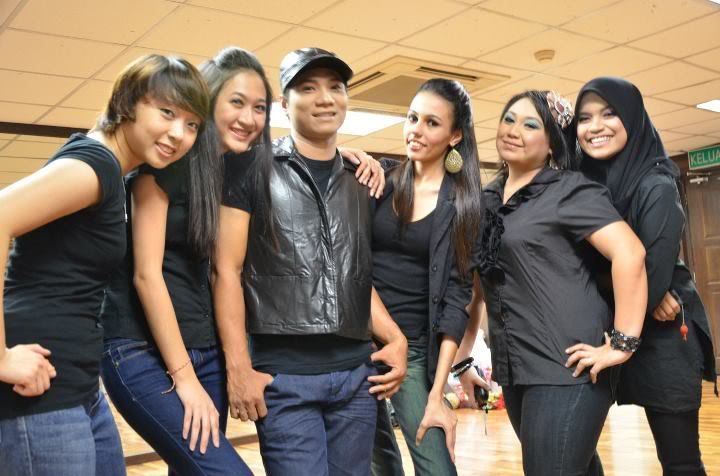 Tidbits
: Ouch. The snapshots we took from this date were not used due to some complications. I was frustrated with the waste of time and resources, but thinking back, it's a good chance for us to get to know more of each other.
It's a journey after all.
Comment! (0) | Recommend!