Friday. 4.29.16 6:59 am
I think last week I dreamed of my ex.
It was kinda a weird dream. In the dream, I was at a beach somewhere in the Philippines. I think I was in Cebu but it was clearly not because the area was too open. Not many trees but just a straight road next to the beach. I was in a bus. Suddenly, my ex jumped in as the driver and asked for direction to the beach even though we were just next to it. I was kinda surprised with his question because I am not a local yet I know. So I directed him to just go straight.
And he replied in my Malaysian slang
"No la, go straight means go to heaven."
I remember resting my face on a pillow on the dashboard not looking at him. And I was smiling. I was smiling because he spoke in my slang and I was actually indirectly laughing at his joke. Yea.. I remember him saying I am the only girl that laughs at his lame joke.
When we reached the beach I got down. I realised I love walking at the beach... I love seeing those street food hawkers and I totally forgotten about him..
Perhaps, I am mean to go to the beach to rest.
Comment! (0) | Recommend!
Saturday. 4.9.16 11:00 pm
A few nights ago, I had a dream on my good friend from college. I felt that we were at some kind of a port. I was there to take attendance but I happened to be like an observer. I felt that a few friends have boarded or greeted me already and I was waiting for others.
As I looked around, I saw my very good friend entered the ship. She was wearing a red trench coat and funny matching colours of stocking: one red one black. I can't seem to remember her hair style. One minute I saw she tied and the other didn't. Whatever it is, I saw her walking past to me. And in my heart I was asking myself if I was so hard to be noticed for I was standing obviously at the peer. At the same time I also could feel that it's alright if she didn't look at me. I let her go from my heart.
I woke up the following day ruminating over this dream. I think it's because coincidentally we both were in Japan. She was in either Osaka or Tokyo while myself in Osaka. I commented on her pictures on FB and she didn't comment. I am ok with that but I already knew she won't be communicating with me any more. Forget those little lunches and tea we used to have when catching up with each other. For now, she just replies me during Chinese New Year and Christmas. I found it so heartbreaking. But then.. people come people go in life right?
Another more upsetting was yesterday. My coursemate came back to university for her graduation. She didn't inform me and I saw her during graduation because I was on duty in ushering. She didn't even smile or greeted me, but just walking past. She was the nicest coursemate among all. What happened? I was kinda hurt inside. But you know what? Truth to be told... it's ok... people come people go in life. I will meet others who will continue to contribute to my life.
To those friends who no longer keep in touch with me or vice versa, thank you for being in my life. I have learnt what I need from you and I wish you all the best with our own path.
Comment! (0) | Recommend!
Sunday. 4.3.16 11:48 am
Well, I know the blog got kinda neglected by me. But watch out for this space as I am gonna update it real soon.
Here's a teaser what I did in Japan recently.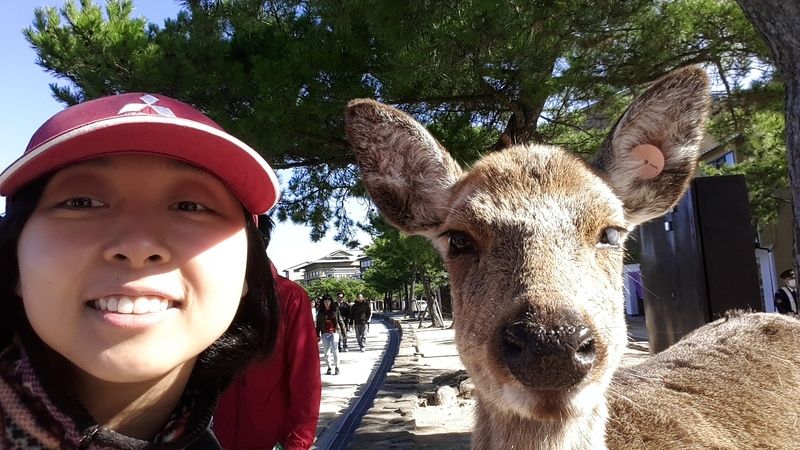 Are not we cute?
Comment! (0) | Recommend!
Monday. 3.7.16 7:01 pm
I am going to Japan again for a youth event!
Yes!
Accommodation in Japan list
Comment! (0) | Recommend!
Monday. 2.29.16 9:10 am
At the beginning of February, I was actually surprised that my colleague whom I was close with resigned. I didn't see that coming and I thought happily that my days in office will still be happy despite the new shitty job scope I'm having now. She is a nice and kind person to be with and she can mix with anyone. She is not judgmental too. And now she is gone. She resigned so she could serve God in India. Everybody in office was quite surprised with her objective. My bosses joked that she could pray for us too.
I looked at her empty cubicle in front of mine. I know I am gonna miss her presence. But there were no tears flowing from my eyes. So I hummed a tune that night as a farewell for her.
I don't envy her leaving. But I really wonder when is my turn to leave too.
I will leave too.
Comment! (0) | Recommend!
Tuesday. 2.9.16 9:46 am
I may not be richer in asset as of now but I can feel there is an increased of abundance in my life for now.
People keep complaining they don't have much money. That's true since we can count. It is also important to count those that cannot be uncounted. How do we count those that cannot be uncounted? We feel then. We feel the abundance around then. I really wanna thank this psychic for leaving such a sweet reply to my reply to hers. She asked me what kind of year I want to experience. I replied to experience abundance even though I don't know how. She then replied me "You need to recognise the abundance in order to experience." I actually don't understand the meaning from one glance. After a few days and some quarrels, I finally realised the meaning 'to recognise'. To me, it means to translate what I see to feeling. In regards to abundance, I feel thankful and grateful for the things that I have now. They are not much but I channel the feeling of thankful for having a roof above my head to the universe. You can try this too and feel what you feel.
Though I didn't receive many (in fact one only) red packet as of today, I tell myself I'm thankful for the food and gifts I have received lately. A friend gave me a red packet way before the Chinese New Year (CNY) festival. I managed to raise USD 90 from selling CNY cookies to friends in a month span - the money has been used to pay off my condo's maintenance fee. I had expensive free gifts from buying products and I was able to buy abalones at a great discounted price! What more that I was the only one to win 2 lucky draws back to back during a food expo! And and.... a friend bought my family dinner twice at two different expensive restaurants for the festive season! This is abundance!
May abundance keep coming my way!
Happy Chinese New Year people!
Comment! (0) | Recommend!