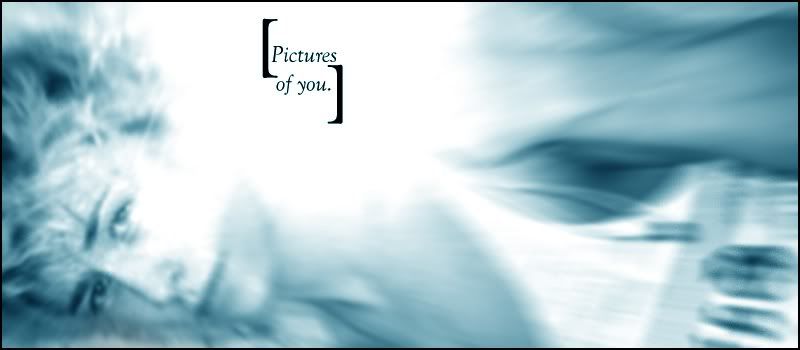 Spring Semester 2010:

* Teaching: Fundamentals of Microbiology - MW 12:00-2:40p
Medical Microbiology - TR 2:00-3:15p
Colloquium in Cell and Molecular Biology - R 3:30-4:30p
Thesis Research - Identification of T Cell Subsets and Immune Response in Colon Cancer Using Immunofluorescence - FOREVER AND EVER

Or rather, entries from the old journal, as it were...

-

An open letter to the College.

(August 27, 2006)

-

Untitled.

(July 16, 2006)

-

Haunted (Part One)

(May 29, 2006)

-

Are we growing up, or just going down?

(May 3, 2006)

-

I had a dream...

(March 19, 2006)

-

...

(March 14, 2006)

-

Enjoy it while it lasts.

(September 12, 2005)

-

Scene: 3:27 AM.

(September 3, 2005)

-

Untitled.

(July 26, 2005)

Psst... if you're looking for the academic writings I used to have here, head to my Reading Room.

Since June 2006...

- A Heartbreaking Work of Staggering Genius by Dave Eggers
- High Fidelity by Nick Hornby
- Travesties by Tom Stoppard
- The Way of the Shaman by Michael Harner
- The Tao of Pooh by Benjamin Hoff
- Nervous Conditions by Tsitsi Dangarembga
- The History Boys by Alan Bennett
- The Dark Child by Camara Laye
- Movie-Made America by Robert Sklar
- Diary by Chuck Palahniuk
- Rant: An Oral Biography of Buster Casey by Chuck Palahniuk
- Galapagos by Kurt Vonnegut
- The Dead Emcee Scrolls by Saul Williams [61.3%]
- Atonement by Ian McEwan
- Junk Science: An Overdue Indictment of Government, Industry, and Faith Groups that Twist Science for Their Own Gain by Dan Agin, Ph.D. [64.4%]
- So Yesterday by Scott Westerfield
- Lucky Wander Boy by D.B. Weiss
- The Things They Carried by Tim O'Brien
- Doctor Who: The Key to Time: A Year-by-Year Record by Peter Haining
- Why Buffy Matters: The Art of Buffy the Vampire Slayer by Rhonda Wilcox
- When You Are Engulfed in Flames by David Sedaris
- The Road by Cormac McCarthy
- 1984 by George Orwell [18.8%]
- Nick and Norah's Infinite Playlist by Rachel Cohn and David Levithan
- Intuition by Allegra Goodman
- V for Vendetta by Alan Moore and David Lloyd (Yes, I realize it's a graphic novel but it still fucking counts!)

Monday, June 29, 2009 @ 10:42 pm

...Strangest Thing Said to Me All Day:

[restroom stall door pops open with gusto]

"Dude, I wanted to talk to you before I took a shit!"

Comment! (1) | Recommend!

Sunday, June 28, 2009 @ 6:43 pm

Somehow signals got crossed and instead of hanging out with Nicholas and Joanna on Friday night, we all ended up drinking and smoking out at Jenny's. I was afraid of another Jenny/Nick blow-out but everyone was on their best behavior. I texted Nick right before we got to Jenny's and was like, "Umm... I didn't know we were going to go to Jenny's..." He called me right back and apologized because he assumed the "we" I was talking about (as in what I said to him: "'We' are going to PB tonight.") was Jenny and I, not Jo and I. He felt bad for misunderstanding. But everything went okay... except for the fact that I ended up a little sick from all the alcohol and nicotine and THC. Oops. At least I made it home okay.

Saturday, we tried to make something happen again. He was on the radio for an hour for this "Coup d'Etat Weekend" in which the radio station gets listeners to send in playlists and they get to introduce them on the air and stuff. Pretty cool. Nick called me up literally right afterwards and was all "Bro--did you hear me on air!?" Of course I did, you dork! He wanted to try to hang out again and I told him I'd be at the Del Mar Fair with Joanna, but he never actually made it because he was exhausted from the night before and from all the excitement in the morning.

Which brings us to today, which was very much a success in the meeting-up department. He called me up while I was taking a nap and said, "I'm on the way over to near where you live, wanna hang out?" I peeled myself out of bed and quickly got dressed. It was a beautiful day today, so I couldn't spend it all inside. We went to get some sushi and some sake, talked a lot about our families and people we knew. It was a good day for the friendship, especially when we both realized that we were both perfectly content sitting around in silence and just being there with whoever we were with and enjoying their company. This runs in stark contrast to how Jenny operates, where she feels like she needs to

do

shit to enjoy time with friends. It's nice to have someone laid back to hang out with, especially when life gets so tiresome that all you wanna do is have a beer, smoke some pot, talk, and vegetate.

After sushi, we went to Costco and picked up the free samples and shit. It was really funny because a few months ago, this was one of those activities I imagined for our future together: the both of us strolling into a store, picking up stuff we needed for our place, trying out the different samples and just figuring out the domestic stuff. Yeah, that won't happen now, but it was cool to just get a taste of it--like a free sample of something, without any obligation to buy the whole 10-pound bag.

All in all, I'm very happy with how I'm dealing with this. There were no overwhelming urges to give him road head, to pull him into the bathroom at the sushi place for a quickie... it was just two friends, enjoying a lazy Sunday afternoon.

And it would be a lie to say I wouldn't have it any other way, but given the circumstances, this is probably the best option I'll get. And I'm fine with that.

Comment! (0) | Recommend!

Friday, June 26, 2009 @ 12:44 am

It's like finally getting the date I'd always wanted, except that it's completely platonic and there is absolutely no pressure to make him fall in love with me nor to try to get into his pants.

It's funny (or tragic... or, maybe if you're Alanis, ironic...) because I should have had this attitude the entire time: just going with the flow, asking him to hang whenever without having to rely on a go-between to set up situations in which we could interact, not over-thinking about the implications of such a request. Now that all the hope's gone, now that I know for sure it

won't

happen, I'm finally seeing that I needed to change my outlook on the dating life. I should have just said "Fuck it!" and done it. I should have just seen where it would have taken me.

Which admittedly in this particular case would have been absolutely nowhere (i.e. heartbreak). But that won't always be the case in the future... I hope.

Lesson for the next time I'm interested in someone? I think so.

Comment! (2) | Recommend!

Tuesday, June 23, 2009 @ 8:58 pm

I feel like I'm the only one who is in a position to do this. I need to bring the world back together in harmony.

Nicholas needs to stop being a major flake and to be less sensitive to jokes at his expense.

Jenny needs to stop making jokes that make people uncomfortable for whatever reason.

Alex needs to learn to understand that his twin brother is an adult and has a life outside of the family.

And maybe I need to let go of my Jesus complex, but these three kids are important to me, and I don't want to have to cut myself into pieces for them.

Comment! (1) | Recommend!

Friday, June 19, 2009 @ 7:01 am

Like a one-sided pseudo-break-up.

Still trying to act normal; still hurts. Especially when he sits abnormally close to me while watching

True Blood

(and especially when the sex scenes come on) and when he offers to give me a hug.

Because I know it means nothing.

Because I still want it to mean something.

And I guess it does mean something, but not the something I want it to mean.

And these sorts of thoughts make it hard to sleep and even harder to be fully alive when awake.

I make my way across the frozen sea
Toward the blank horizon
Where I can forget you and me
And get a decent night's sleep

Comment! (1) | Recommend!

Out of the fire and into the frying pan.

Sunday, June 14, 2009 @ 9:05 pm

I left San Diego to escape the drama, and of course I come home to a bunch of drama as well.

And now that I'm back in San Diego, I'm hearing that you're on a fucking bender and that all that shit you fed me about how you only do stuff "in moderation" was a lie because you can't handle all that coke at once, you asshole. Not when you visibly lose weight in the 2 weeks since I've seen you last. Not when you're blowing off your friends, your own fucking twin brother.

It hurts me to think that there's something out there causing you to go on this fucking binge, and I wish you trusted me enough to tell me what the fuck is going on. Because truth be told, it's not the drugs that scare me. Hey, man, I like that shit, too. I know that sometimes you need to blow off steam, that sometimes you need to get away from the world. I've been there. But it's the excess that frightens the shit out of me. It's the thought of you going into this fucking tailspin. It's the thought that maybe there isn't anything I can do and I have to sit by helplessly while you try to chemically escape.

But the worst part is, I don't know how to even bring this up with you.

I don't know if I will be able to look at your face tomorrow and not feel like someone has reached into my gut and pulled out my entrails.

I don't even know what to fucking say.

It would be so much easier if I didn't care. If I could write you off and be like, Well, if he wants to go ahead and fuck himself over, that's cool. But with you, I can't be apathetic. Not anymore.

Because I fucking love you, I was fucking

in

love with you, and now out of love, I am fucking angry. I am fucking concerned. I am fucking scared.

Comment! (2) | Recommend!

Friday, June 5, 2009 @ 7:29 am

Nicholas : Ranor :: Jenny : Alex

Jenny broke the news to Alex yesterday. He was devastated. But if she let this go on any longer, it wouldn't have been fair to her, nor to him, and he would have been even more crushed.

I'm apparently in the same boat as Alex. He's never been in a situation where someone has returned his affections, and he really thought that this time it was it. After 6 days. Alright, it took me more than 6 days to fall completely for Nicholas, and I think Alex is a little crazy for falling for Jenny that deeply in that short a time, but... I feel for the kid, you know.

Jenny feels like shit right now because she knows that she obliterated him, but it's better this way. Better than having him find out that there was no hope whatsoever after carrying a torch for her for 3 months because he misinterpreted the signals, that's for sure. I wouldn't wish that upon anyone.

Nicholas is coming back from NorCal today. We'll miss each other because I'm flying there tonight. He's coming back to a bunch of drama that he has to navigate without me, but I'm sure I'll hear about it (and be asked for help) from all parties involved.

Comment! (2) | Recommend!

Thursday, June 4, 2009 @ 10:48 pm

Jenny asked me what she should do. Alex texted her asking if she wanted to go surfing tomorrow, and she wants to learn how to surf, and she really likes him... as a friend. But she doesn't quite know how to let him down about it.

"I can't tell you how to proceed because I've never been in your situation, Jenny." It's the (sad, pathetic) truth.

"But... hypothetically..."

"Jenny," I told her, "as a scientist, how can I form a hypothesis in good conscience if I have no prior data to point me in the right direction?"

But while I couldn't quite get my mind around being in Jenny's position, I completely understood being in Alex's. And the more I thought about it, the more I wanted her to consider giving him a chance. Yeah, she might not be attracted to him now, but maybe, just maybe, her mind will change. Because if he's anything like his brother (and from what I know about him, he is), then he's an amazing guy. And maybe she'll see that and become attracted to him.

Anyway, that's what I would be hoping for if I were Alex. I would want someone to seriously give me a chance. Would want? No, I still want that. I'm waiting for my chance to show someone how amazing I am if they could just get past the fact that I'm not Brad fucking Pitt.

So she's going tomorrow. Good luck, Alex. And Jenny... don't be closed off and if you must, let him down gently.

Comment! (2) | Recommend!