Thursday. 10.29.09 11:03 am
Since in SG Halloween is reserved for the clubbing scene and no trick or treating for the lil ones, this is my first Halloween!
so excited!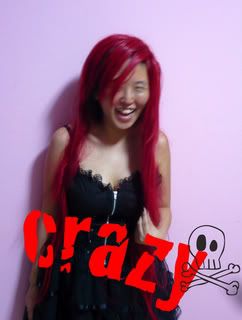 Comment! (1) | Recommend!
Sunday. 10.25.09 3:12 pm
been frequenting Haji lane recently since Elaine brought me, tho cept for that time all my other trips to Haji lane involves a quick trip and bypassing most of the shops.
will be making another trip tml, to pass ben his bday prezzie which is late by 3 weeks. and have some arab/turkish/eastern food. and explore this hyped up little lane again.
Of, our present is not quite that simple. will take photos tml!
on side note, i've been eating far to richly on other pple's expense. lol
went arab street for turkish on Friday, had fantabulous zi char on Sat, and i just had a heavy serving of chilli crab! yums!
bot an opi nail colour, among other things, which happened to be THE colour i was in love with last xmas. I thought it was a xmas range special ed, and therefore no longer available. a small pleasant surprise, coz i didn't even realise its one and the same until i was going through the stuff i bought at the chilli crab place.
so sleepy... nites.
Comment! (0) | Recommend!