Thursday. 7.19.07 9:26 am
I really hate when life throws you a curve ball. Believe me, I'm so completely confused about my life at this point. Sometimes I wonder what the hell I'm doing here...it really gets to me sometimes.
In other news, I'm going to actively start trying to lose weight. I'm tired of feeling like a cow and I need to do something about it. Ever since Greg was born, I sort of let myself go. How I'm going to miraculously try and lose 80 pounds, I don't know, but I'm gonna start doing it. I'm gonna start riding the bike...and I'm gonna go to the gym when Brian gets home at night. I really want to do this...and I'm going to make it happen! Does anyone know of a place where I can find a good plan of action to follow? What is hard for me is just trying to get up and do it. If I have a goal or some sort of chart to follow, I think I can do it. I don't know how much cardio I need to do to lose weight. I don't know how many times a week I need to do it to lose weight. I need to know these things...
But yeah...I also decided to move to the 2 bedroom in the same apartment complex I'm in right now. The guy in the office said it'd be ready by August 7th, so we'd move in then...and slowly move our stuff across the parking lot to the other unit to be out of mine by August 12th. It'll work out perfectly. NOW...to straighten the money issues out and we might be okay. It's about $150 more to live in that apartment, so we really need to hunker down and BUDGET. This fucking NSF fees we were getting here this past week drive me NUTS.
Anyway, I've gotta get to work.
Comment! (3) | Recommend!
Wednesday. 7.18.07 9:17 am
Often times, I feel like everyone comes to me for advice. Sometimes I am up to the challenge and other times, I just want to make everything better. Sometimes people come to me to just complain and other times, they want a legitimate answer.
I have always wondered why they choose me to unload this burden. Why do they look to me for answers? Hell, half the time, I could probably use my own advice. I seriously wonder what it is about me that makes people want to tell me their problems and seek answers.
This past week has been a thinking week for me. More and more, I find myself thinking "What if Gregory dies?" I know I shouldn't think like this, but seriously, what would I do if he all of a sudden died...in his sleep, in a car accident, whereve. To be honest, I do not know if I could go on living without the little guy. I would have a complete meltdown. He's such a LARGE part of my life right now and if he were gone, it would be so empty. Would I kill myself? Probably not. Would I wallow in depression, DEEP DEPRESSION...most likely. The other thing I think of is Gregory being taken away from me. What if I do something that would cause him to be taken away from me? If Brian and I were to separate, who would have custody? Would his parents fight me for custody? Would I ever see him again? All I ever wanted since I was 16 was to have a son named Gregory. Now that he's here, I don't know what I'd ever do without him!!! It's so nervewracking!!
In other news, Melissa (
pyrogrrl12
) and I went to see License to Wed last night. That movie was SOOOO funny. I don't know if you've seen the commercials, but it's about a couple who has to do a marriage class before they can get married in this church and Robin Williams (funniest man alive) is the reverand. Well, at one point in the course, they have these mechanical babies and I laughed so hard I was crying. Those babies did some of the things that Gregory did and it was just so funny watching them try to handle these babies. Now I know that people probably laugh at me when Gregory is being unruly in the store or something because I was sure laughing at them. I liked when the babies went into meltdown mode...lol...they were flailing their arms and crying like real babies do. It was great!
Another person is starting in my area today. We'll see if she stays longer than 1 week. When I was gone on maternity leave, I guess my job was like a revolving door. People came in and a week later, they went out. It happened like this for 4 weeks! They had 5 people within a month. It was a nightmare. Why the hell do I stay in this position then? I told my manager that I think when people start in the position, they're like, "Oh, this is okay." As the week progresses, they actually see how crappy the things we do are and by Friday, they're like, "Screw this...it's not worth my time." I've seen it happen 2 times already since I've been back (I came back full time in April). The one person that I thought would thrive over here and she was over here for a month, they moved to the cash receipts department. It completely SUCKED.
Anyway, I better get to work. I have TONS of things to do today and essentially, not a lot of time to do them. Fun stuff...fun stuff...
Comment! (5) | Recommend!
Tuesday. 7.17.07 6:58 pm
I'm somewhat addicted to Facebook now.
I like it SOOOOO much better than Myspace...lol
Anyone else have a Facebook that isn't
Lostsoul13
?
Comment! (5) | Recommend!
Tuesday. 7.17.07 9:08 am
I walk in the door at work this morning and I already feel so overwhelmed. THIS SUCKS...
I haven't even started doing anything and I feel like shit. I have 41 e-mails too...all of which I got after I left the office yesterday at 1:30. What the hell...
Comment! (4) | Recommend!
Monday. 7.16.07 2:42 pm
I was reviewing the bank account and here this morning while I was waiting for something to load and low and behold, I see we have NSF fees charged on the checking account.
I'm like "What the hell?" So, after looking, I could not figure out where they came from. Believe me, I check my bank account ever 20 minutes because I'm so worried about going below zero.
SO, I had to go to the bank branch anyway to attach a PIN to my card (I couldn't do it the ATM or over the phone like they said) and they still can't do it immediately at the bank either. I have to wait 2 business days or so for it to be activated because they have to send my PIN to the bank or something. Regardless, I had him explain to me where the NSF fees came from and now it has me extremely depressed.
We had post dated a check for $500.00 for part of the down payment on the car and it came out at the WORST time. It was debited from the bank on July 11th. I dated the check for June 29th. Talk about a fast turn-around time...ugh...When that check was taken out, it royally fucked our bank account. I paid the Xcel energy bill which put us in the hole $50.00. THEN, Brian went and charged KFC, Qdoba, Tokyo Joes and some other fast food place on there. SO, I was charged the $33.00 for paying the gas/electric bill. Brian charged up $132.00 on there for buying fast food (I would say, a total of maybe $20.00...so, that was a grand total of $155.00 for fast food...SOME PRETTY DAMN EXPENSIVE FAST FUCKING FOOD!). At least what I overdrafted was for a damn necessity. We had another check come out of there and then two other charges for fast food (you can see we have a problem here)...All in all, we were charged $165.00 NSF and $99.00 NFS for a whopping grand total of $264.00 in NSF fees on top of the expenses that put us in the hole in the first place. We were $500.00+ in the hole! So much for Brian's paycheck being anything...it was paying the damn NSF fees that got charged to the account. My paycheck went toward paying the other half of the NSF junk and then some. Out of our whole paychecks combined, we have $600.00 left. How pitiful is that.
Fucking a...that just was the cherry on my sundae today though.
I'm basically working alone now...for how long, I don't know. My department usually has 3 people in it. We had 3 people in it. It was going great...we were caught up and things were peachy. Well, they fired one of them, why? I don't know...but then it was down to 2 people. We were doing great just the two of us. Things were getting mostly done...peachy keen. They transferred her into another area of our department and got someone new to take her spot. Well, this new person decided that we were too snotty and didn't really like working here, so my boss kicked her out the door this morning. This leaves me, ALL ALONE, working the job of 3 people and it majorly sucks. If I didn't already feel behind before...now I feel EXTREMELY behind.
So, I'm depressed about the whole job thing, depressed about the damn bank account...stressed out because I don't know how we're going to come up with the money for the car payment and the rent payment and how we're going to pack all of the shit up in time to get out by the 12th. I can only hope we have living arrangements by then or else I'm going to literally SCREAM and rip my hair out.
At this moment in time, I thoroughly hate myself and life...at these times, I wish I wasn't here...but then who would there be shit on if I wasn't? SO, I guess I serve a purpose for someone since I always get the short end of the stick...fuckin' a...
Comment! (3) | Recommend!
Monday. 7.16.07 9:11 am
Well, I'm back from Seattle already.
Greg and I flew in on Friday night and we got there about 9:30 or so. My mom was so excited to see him (if she could, she would have been down waiting by the gate ready to jump on us, but she had to wait by the elevator). My cousin Holly was there and DANG! Last time I saw her was about 3 years ago and she was 8 years old, so she looked completely different. It was crazy. She just wanted to hold the baby all weekend.
Anyway, drove down to Puyallup and met everyone else who was sitting around the campfire. Auntie Rita and Sarah (my cousin) probably came the farthest. They drove all the way from New Jersey to Washington. Uncle Roger (auntie Rita's husband) flew in from Las Vegas...they will be moving there once Auntie Rita sells their house. Kelly and Trevor (my two cousins) both drove up from Arizona. They are Auntie Rita's sons. They brought their family so Trevor's wife Anjelie was there (I probably spelled her name wrong) and Kelly's girlfriend Tara and their two kids were there (Tristan and Caleb). Auntie Toni, Uncle Al and Cassie drove all the way up from Rochester (it's a smaller town down by Centralia and Chehalis). My mom and dad and Tim were already there. Auntie Cheri and all of her kids (Evan, Adam, Lindsay, Holly, and Abby) drove down the street. Everything was done at my Auntie Cindy, Uncle Fred, and Cody's house and my grandma lives in the front yard in a manufactured home. My grandpa lives in the garage they converted to an apartment. My mom's half sister Tracy came with her 2 kids and my mom's half brother came with his 3 kids and his girlfriend. My other cousins came too (Shannon and her girlfriend - then my cousin Brian and his wife and their 3 kids). All in all, there were TONS of people there...not to mention, there were just about the same number of dogs (Koby, Erita, Scooby, Sandy, Rufus, Angel, Lucy (this is Angel's pup), Abby (this is Shannon's dog Abby, not to be confused with my cousin Abby). TOO MANY PEOPLE!! When my mom sends it to me, I'll get the family picture up and going.
Anyway, we had lots of fun. Tim, Uncle Al, Cassie, and I went golfing Saturday morning. I did not do very well at all and frankly, I sort of sucked. Tim kicked our butt as usual. It always happens that way.
I wish I could have spent more time there, but it wasn't happening.
Anyway, I better get to work and all that. I'm leaving early because Greg has his 6 month doctor's appointment and he's getting shots again today. Poor little guy! He won't need any more shots until he's a year old and he won't have to go back to see the doctor again until he's a year old!
Comment! (1) | Recommend!
Thursday. 7.12.07 9:09 am
I decided to go see Harry Potter last night at 10:45pm. That was the earliest time we could see it after Brian got off work, so I met him at the movie theater. The movie ROCKED. I enjoyed it. There were things that did not match the book (a given), but all in all, it was a great movie. I would recommend it. I got home at 1:30am and I'm beat! I just want to go to sleep this morning.
In other news, today is Thursday and I fly to Seattle tomorrow. I'm sure ya'll knew that. I'm getting excited...my mom can finally see the baby!
Anyway, I'm gonna keep this short...I got stuff to do and I'm probably gonna move a little bit slower at it since I'm so extremely tired.
Comment! (6) | Recommend!
Wednesday. 7.11.07 12:31 am
I got new pics of Greg. I think they turned out fantastic!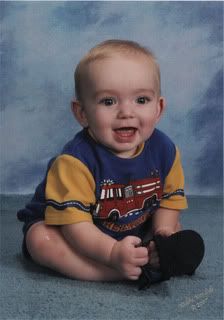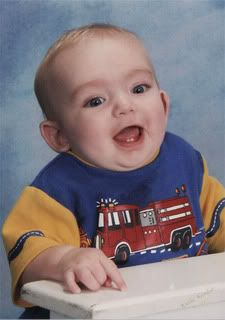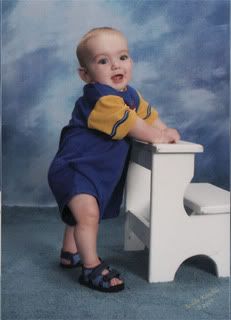 Don't forget about postcards...if you want one. PM your info so I can get one to you. I leave on Friday!
Comment! (7) | Recommend!