Friday. 7.13.12 10:48 am
Today is the final day of the gathering.
But the day is far from over. A dance teacher came to teach us a Malaysian dance where we will all perform when the ship berths at Malaysia on 28 November.
All of us performed dances we were taught earlier by a member. And without a doubt, the teacher chose me for Chinese dance. This will be my second Chinese dance for the contingent.
I find it hard to focus during the training because my mind kept wandering, or simply I was bored since I pick up Chinese dance the fastest.
The teacher reminded us repetitively that we MUST remember the dance steps no matter what for he is not going to teach us again.
I could feel my whole body tightened at that admonishment for I know I will certainly forget. (HAHA). Luckily, we have it recorded.
Tidbits
: I knew it that I'm gonna dance Chinese - again. Why ah?!
Comment! (1) | Recommend!
Friday, July 13, 2012
I heard rustling during my sleep. I tossed to my right and saw my roomie in a kneeling position with her head buried into the pillow.
"Are you ok?"
"Pain..."
"You want painkiller? I have ponstan."
"No it's ok ..."
"But you are not going to get any sleep in that position. What kind of pain are you having now?"
"Toothache."
Huh? Toothache at this hour? Man ... that sucks. I tried to convince her to take some painkillers for we are going to have a full day ahead of us. But she refused. So I returned to my sleep amidst the rustles.
Spinoff
: Weird. My roomie was the only that experienced the side effect of the H1N1 jab that resulted in a toothache. It was unexpected since the normal effect is a numb arm.
Luckily I didn't have any side effects not even a numb arm.
To be frank, waking up in a blurry state to find her in that position was kinda freaky. I didn't find out what other positions she explored.
Comment! (0) | Recommend!
Sunday, July 1, 2012
On 16-18 September 2011 ...
It was a major gathering; Team members from various states of Malaysia joined.
We chose this date so we would have three full days to do the photoshoot for our profile book. Luckily 16th, Malaysia Day, fall on a Friday ...
Our schedule was tight. We had to do photoshoot for profile book, name cards, video at two venues, followed by getting injection and mastering one dance.
Ahh ...
At night, our accommodation was filled with laughter and joy. Everyone was happy to catch up with each other. Some ex participants also joined us. I was happy to see everyone, and as usual, I retreated to my room early. But I have to come out at 3 am-ish to tell the members in the living room to lower down their volume! Anyways, I can hear them whispering "Shh .. AYL sleeps early" throughout the night.
I don't think I slept well, because I was too anxious about the day's schedule. It's not easy to control the movement of over 30 people.
Our first stop is a nostalgic place. It was my second time stepping into Istana Budaya, a theater in the heart of Kuala Lumpur. I never thought of going there again after 6 years.
I was nervous. Because I can't choose my costumes! Later, my name was called and I was given a set of Chinese costume.
Ok ...
I changed into the costume and ...
WHY THE HELL IS THE TOP SO SMALL?!
Luckily, I lose weight! If not, I cannot fit in!
We all looked at each other and laughed. We all looked so different with the makeup and costumes. The head of culture commented that we are all models for the day. They were so merry.
I just smiled.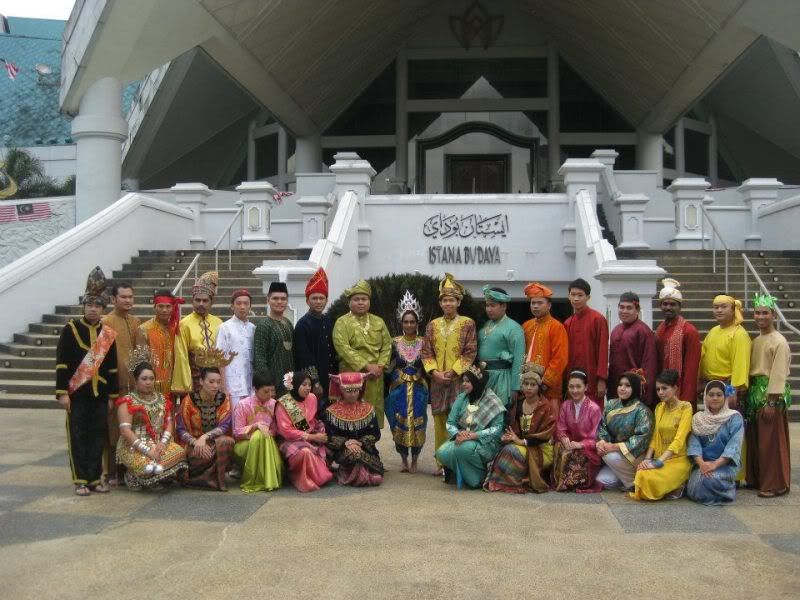 Spinoff
: Wow. My sponsor came with a sports car to deliver us lunch. Very interesting.
Comment! (2) | Recommend!
Sunday, July 1, 2012
On 10 September 2011 ...
I have to admit that I have a gift, which I have to live with.
During the training gathering, my third eye was able to pick up supernatural beings. Although I tried my best to keep myself physically and mentally busy, I cannot deny that I didn't detect their presence.
It didn't matter if I were with my team members or not, because I can still sense them.
I won't say this is an inconvenient gift. There is always a reason why we are bestowed such gifts. I would just have to learn to control it.
Spinoff
: I shared one of my experiences during the gatherings with some of my fellow team members, and surprisingly I was not the only one had experienced such. I was indeed very relieved that I didn't undergo such situation as theirs.
A cold chill just slid down my back as I'm typing this. I can't blame myself for recalling the stories they shared with me. They are interesting yet scary.
I was pretty lucky that I experienced it whence my team members were nearby me. But for those who shared with me, they were alone in dealing it.
If you want to know more about these events, feel free to ask me.
By the way, another experience is gonna appear here. Stay tune.
Comment! (0) | Recommend!
Wednesday, June 20, 2012
On 8 September 2011 ...
I could feel a tiny burning sensation in my throat. I took out my drinking bottle and finished the water to its last drop.
It's already 6 pm, and yet we have not found any blouses for the team. We have spent 4 hours along Jalan Tar hunting for 29 blouses as our formal attire. We have walked from one end to the other with no fruitful findings.
I could see how tired my members were. Some sat on the ground, while some leaned on the clothes counter. The only member that was still standing up was the person in charged of purchasing the costumes. There were frown lines on his face.
We found blouses with the colours we want but the retailers didn't either have the quantity or sizes we need. It was frustrating. There was a red blouse that looks so awesome, but it didn't have the sizes we want.
I looked at the list with everyone's size, and finally understood why we were having such hard time. "Wah... who wear XXXL?"
"Our leader la~"
Ooh. Right.
So we changed our strategy from prioritising colours to sizes. We also decided that the girls will also be wearing the male's blouse. We asked the retail manager if he has any blouses with the sizes we want. I was praying hard to god that we will get awesome colours.
And yes, god answered my prayer. The store happened to have all the sizes we want in the colour of lavender.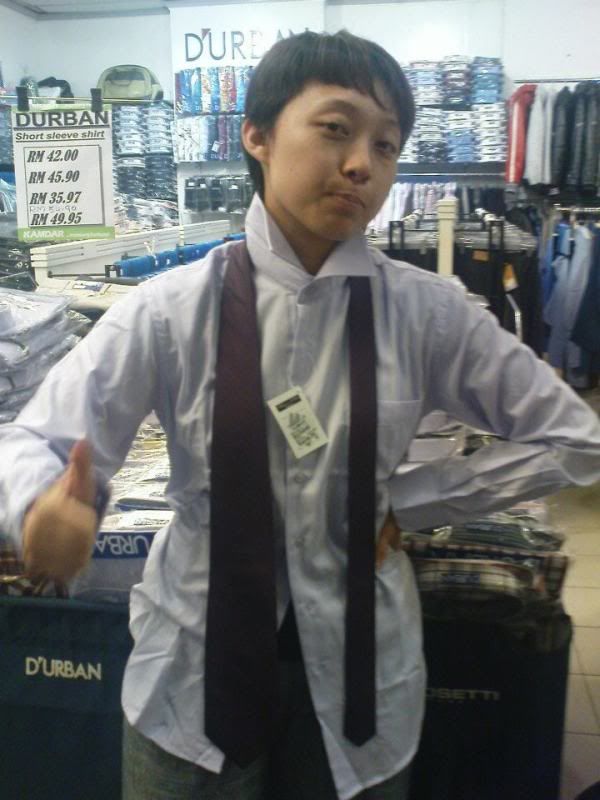 We all finally breathed in relief. We complemented the lavender blouse with purple tie for the boys and purple scarf for the girls. We finished our shopping by 8.30 pm.
Phew~
Spinoff
: Later, we all have pink blouses as formal attire too. Including the guys too. =) I love the pink blouse especially it's floral scarf. My team members surely have good fashion taste. =)
Comment! (1) | Recommend!
Wednesday, June 20, 2012
On 10 September 2011 ...
My challenges as AYL have definitely increased as we are nearer to the program.
Today was just another gathering. But I was called out of the blue by the program coordinator to have a heart-to-heart dialogue. We sat and talked for two hours. I was nervous, but I guess we have finally reached the same ground in understanding each other better.
A senior who is the buddy to the team also had a heart-to-heart conversation for the whole group. I often called it thrashing session. I'm used to such session as I often have it with colleagues. However, I'm not sure if my team found it useful, but I did. I learnt a lot of new things from my team members. Although we were all holding back from saying the truth, we all needed the stepping stone to break the ice between us. Surprisingly, it's a very much enlightened session that was filled with laughter.
I remember when the youngest member shared that she could not understand another member's sentences. We all could see how frustrated she was. So we asked her to give an example, and we all laughed - hard. The said member was embarrassed. She could not understand was purely due to his slang. He is from the North of Malaysia while she from the capital city. Each state of Malaysia carries a unique slang, so she has clearly not listened to the Northern slang. As I grew up in the north, I have no problems in understanding him.
Spinoff
: After this session, the said member tried his best to speak clearly so she could understand. I also saw some members teaching her how to understand his northern slang. Later, he didn't alter his slang anymore when she was finally comfortable with him.
Comment! (0) | Recommend!