Friday. 11.12.10 2:58 pm
It wasn't pink eye, I must have gotten something in my eye or allergies. It cleared up completely a few hours Iafter I wrote that last entry.
Awsome :)
Got a free hotel room last night XD.
More details later
Comment! (1) | Recommend!
Thursday. 11.11.10 6:54 am
So, last night I went over to Tylers parents house to wait for him to get home. At around 9pm my eye started to feel a little sore. They have dogs and I have allergies, I didn't think anything of it.
I have this God given gift to wake up less than 30 minutes before Tyler arrives home. Every time he comes to visit it happens. I woke up about 10 till 2am. I noticed my eye was total crusted over! I went to the bathroom to chech it out, and sure enough my eye was glazed over and bright pink. THIS CAN'T BE HAPPENING!!!!
When I woke up with morning my eyes was still bright pink, but not crusty and gross. However, my sight in my left eye is blurry. AND, it being Vet. Day nothing is open. So, Tyler and I might make a trip to the hospital to get this taken care of now before it gets any worse. I really hope it doesn't spred to him. But, we got pretty close last night if ya know what I mean. He thinks he'll get it for sure, but I hope not :(
Of all times, why did I have to get it now???
Comment! (0) | Recommend!
Wednesday. 11.10.10 8:36 am
You know that lovey dovey feeling you get when your watching a chick flick. When in the end the guy gets the girl and they're so in love and getting married or whatever. You get the warm fuzzy feeling. The feeling that you want to feel that love more than anything. It's interesting, because now when I see any kind of movie with romance, I don't get that longing feeling. I just smile and think to myself, I already have that :) I know that feeling.
And for the record, I hate chick flicks. They're all the same.
My love will be here tonight. :) I'm starting to feel more like his wife every day now. It's sinking in. We will be seeing eachother more often now. Hopefully we can plan another week for me to go up there sometime soon. Before we know it, February will be right around the corner. AND!!! I'll be 21 soon after :D
Bottoms up!
Comment! (2) | Recommend!
Tuesday. 11.9.10 6:50 am
I've been talking to this one friend a lot lately. Idk if she knows it but it means a lot to me. I don't think saying she's a motherly figure is the right thing to say but, I feel like she's an older woman I can go to for advice or to just talk. She doesn't ridicule me and bash me with negativity like my mother does. It's nice. Friendship is awsome :)
Tyler has a little bit of time to come down this week. If all goes well, he's leaving tomorrow afternoon. He won't get her untill about 1am on Thursday morning. I'm not quite sure what we have in store for us, but I know it'll be a blast. There is never a dull moment with my love :)
I had a dream that KB started getting more teeth. It was exciting. I hope she does soon. ~ She is starting to become attatched the a particular stuffed animal. It's this purple cat a friend of mine gave her in SC. At first, little KB couldn't sleep without it. Now, she cans live without it. She drags that little cat everywhere. It's so cute :) AND, it's washable lol. That's an awsome plus.
GLEE!!!!!!!!! tonight :)
HOB tomorrow :)
Tyler Thursday :)
Comment! (0) | Recommend!
Sunday. 11.7.10 7:48 am
Got back Friday night from seeing my husband. I am so ready to just be home with him and live our lives. No drama or bullshit from parents. Just our family :).
The town home isn't too bad. It needs new carpet but, other than that it'll be good. We still need to get a moving truck down here to get stuff to the house. I shouldv'e taken care of that while I was there >.< I'm not sure where everything is at on base and I don't want to get lost.
KB was a bit on the fussy side for most of the time I was there. Mainly while Tyler was at work. I hope she gets use to living there soon. And, hopefully we can visit a lot more often.
There was bullshit going on with my mom yesterday. I seriously wanted to walk out the door and drive back home to Tyler. She started telling me that Tyler is cheating on me and he's full of shit.. not ready to be married... needs to grow up.. blah blah fucking blah. I don't think my mom realize she's not talking shit about some friend of mine, it's my HUSBAND. I DON'T wanna here this shit. And honestly, She had me going at first. She was saying shit last Saturday when I left. I started to get a little paranoid. However, I know in my heart he would never do that to me or Khloe. I trust him without a doubt. I don't give a shit what my mom says. She hasn't said one good thing about him since we became engaged.
>.< I wanna go home
Comment! (3) | Recommend!
Friday. 10.29.10 2:01 pm
Things are looking good :) I'm going up to see Tyler tomorrow :D Im so over joyed with excitement I think my heart might burst. Things got kinda sketchy and he almost lost the apartment. BUT, things are working out now and I can't wait to see him :) I'm coming home Friday, and then that following Wednesday he's coming home for a long weekend. We're going to be spending more time together before February.
KB is doing great! Still only has 6 teeth, but she's been making more of an effort to stand up on her own. She likes to grab onto one end of the couch and wobble her way to the other side. My little girl is getting so big and strong :) It's hard to believe she's going to be a year old. She has been apart of my life for almost a year. I wouldn't change it for anything.
Tomorrow my family will be together :)
Comment! (1) | Recommend!
Monday. 10.25.10 8:16 am
It's the Food and Wine festival at Disney's EPCOT. It's basiclly where they serve different kinds of food, beer, and wine from countries around the world. It's pretty cool. And no, none of it is free. This is Disney people! They don't know the word free.
Ive gone with family and lot's of friends for the past three days and had a BLAST!. I was the only one other than the kids/babies that wasn't old enough to drink :( But I still had fun with the adults that had been drinking and having a good time (If ya know what I mean).
Tyler told me yesterday that things aren't looking to good about me going up to see him this weekend... :( He's doing everything he can to see that it happens. I REALLY hope I can get up there for the 4 days we were planning. I want to see the apartment so friggen bad! I don't wanna wait till February.
A friend that I havn't seen in a few years is going to be in town for a day with week. It's on military business, but I really hope I can have a chance to say hello :)
Um... I think that's it. Later!
Comment! (2) | Recommend!
Tuesday. 10.19.10 11:18 am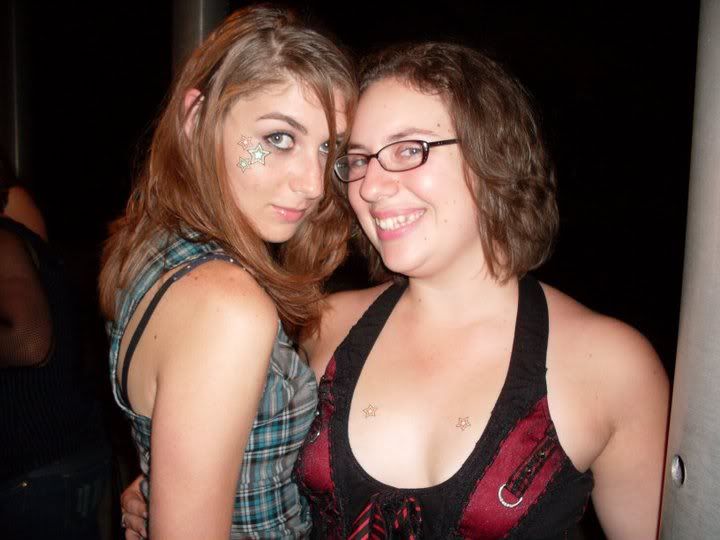 Me and my woman :)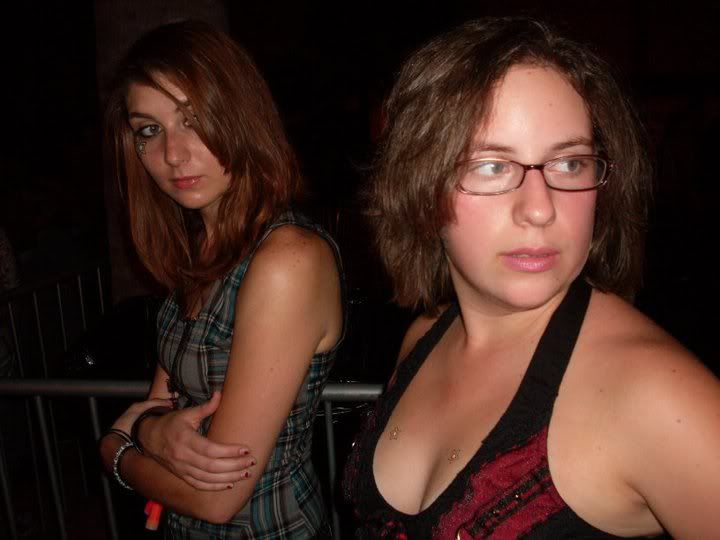 What are we looking at??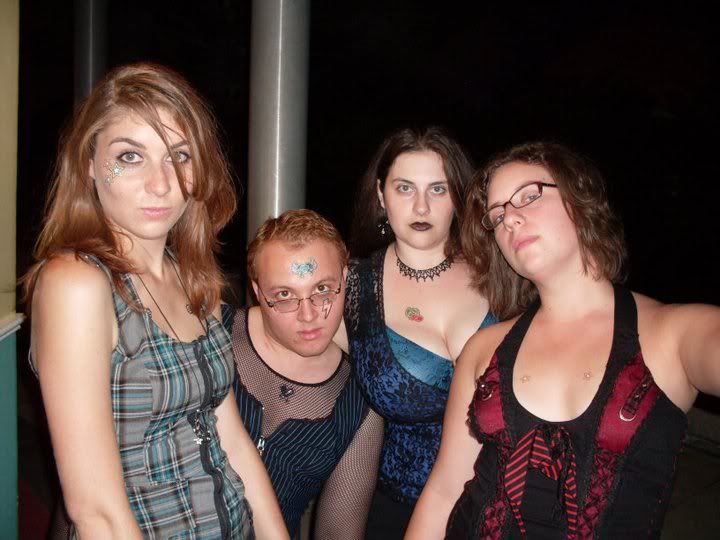 Me, Xander, Meggy, Dara (my woman :P)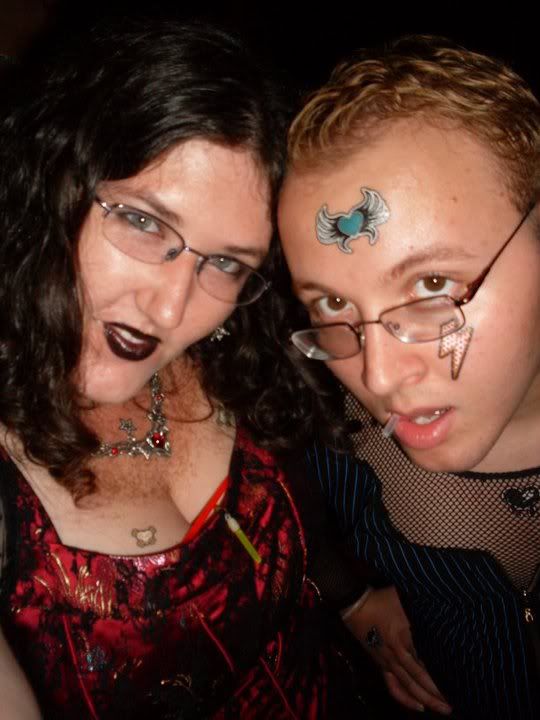 Justine and Xander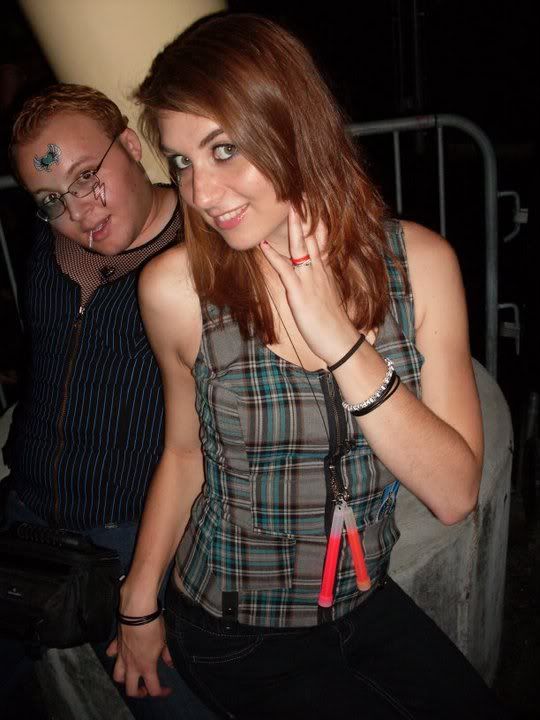 My exact thought was " My husband is going to hate me for this picture" lol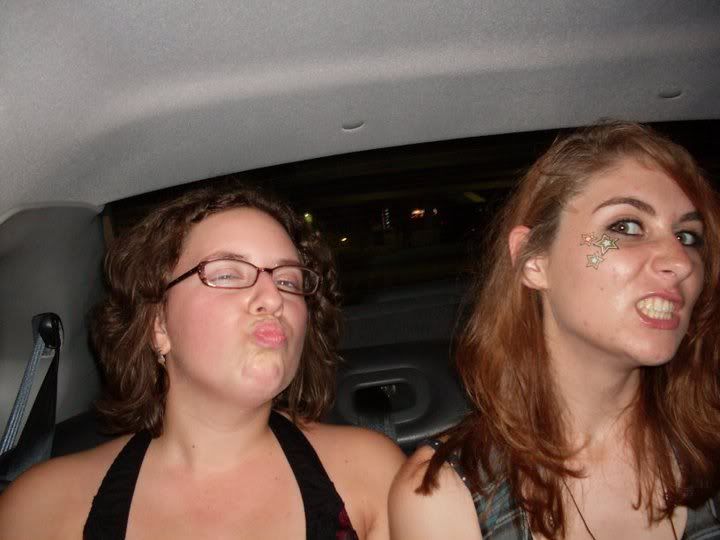 Rawr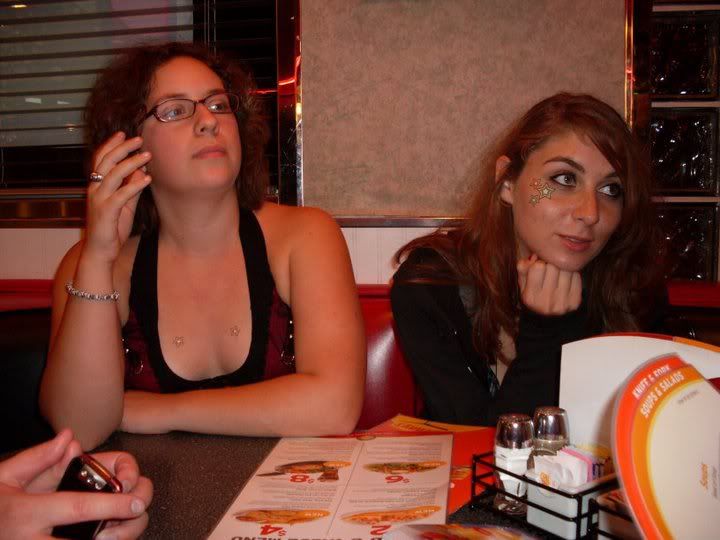 After any event, late night Denny's is tradition :)
I had a blast with my friends. It's been years since all of us have been together. It was nice to just have fun and not worrying about what I should do or say around them. We can be ourselves and have a great time. :)
Things are looking good for going up to see Tyler at the end of the month :)
Comment! (1) | Recommend!