More pictures are coming up but before that I would like to introduce you all to a Japanese group that is rising star in Japan. I like this group because of their strong vocal and song choices. And these girls are just around 17.
Ithink I finally found an alternative group to Morning Musume to watch on Youtube because I like watching singers singing while dancing.
Below is my first Bright song.
I know they are not very pretty compared to other Japanese singers out there but with their voice... I'm sure they will be as successful as others!
Comment! (4) | Recommend!
Did anyone got amused by the photo in my previous blog? Had fun guessing what kind of jampi is that? Haha. You guys being tricked. Anyway read below to find out why.
This is a backdated entry for 26 June which I would like to update about my dinner salad. It was a pure feat to be able to prepare the salad and finished eating the salad within one hour. Usually my family takes like 2 hours to prepare the salad because the green leafy plants have lots of hidden water, and it usually takes us a lot of time and energy to shake off the water. Basically making salad is a tiring activity. But I got no choice for that night because the lettuce has been in the fridge for two days before its due to be frozen, and secondly I don't want to spend money buying dinner.
Despite being exhausted for the day, I was pretty enthusiastic in preparing the salad. I shaved a carrot and shredded the lettuce and boiled an egg. I also finished whatever vegetables I found in the fridge.
The picture on the previous entry is not some kind of jampi or soy sauce or even kopi o. It was my salad dressing, which was a combination of virgin coconut oil from Country Farm Organic and expired Flax Seed Oil.
This dressing should do good to my complexion, skin and conserving my youth.
As I said, it was tiring to prepare the salad but I somehow got it right. Did the salad look appetising to you?
I suddenly realised the dressing was not enough.
Haha. I was so in a good mood ... I made a smiley out of cherry tomatoes.
The salad was pretty full but unbelievably I had supper just right after the dinner.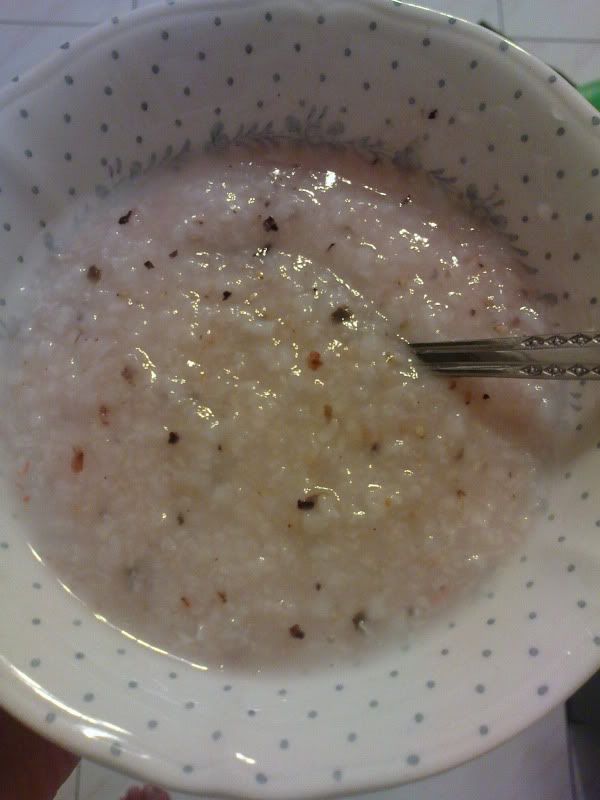 It was broth mixed with furikake (rice spices from Japan).
Coming next: More pictures... and review.
Comment! (5) | Recommend!
This is my jampi (a Malay word for 'charm' which is used in black magic or something like that).
Comment! (5) | Recommend!
Argh. I hate this description. Got this test off
jolenesiah's
blog.
Your Brain Usage Profile:
Auditory : 20%
Visual : 80%
Left : 41%
Right : 58%
No matter which side of your brain is dominant,
M i n d W a r e
can strengthen your emotional brain power by helping you understand how you feel about yourself.
renaye, you are somewhat right-hemisphere dominant and have a strong visual preference, a blend of characteristics which typically apply to persons with an "artistic" temperament.
In all likelihood, you naturally act in the way that people have come to expect artists to act. With your dominant visual learning style you are active and seeking, working to absorb all of the facets of your environment. Your mind rarely rests, for even when you are not scouring the environment you are turning your searchlight on your own internal processes.
You are intense! In continually processing the data as you do on a multidimensional level, you spend little of your time in reflection -- or sometimes in social niceties. There is a high probability that you are "out of check" -- though not out of control -- sometimes, swept away by the feelings of the moment. You are one of those individuals that may well attempt to assemble a complex piece of equipment without reading the directions or following a sequence, though you might look at the diagram. Sequencing your own behavior is problematic at times.
You are rarely reflective about yourself or your motivations. You know when things are right because you feel it, you intuit as automatically as you breathe. With others, you tend to "go with your guts," not needing rules or expectations to govern your friendships.
You absorb material rapidly and randomly, it is filed "helter skelter" internally. Listening or learning from materials presented in a purely verbal fashion is not your "strong suit" and your performance in situations designed for left-hemisphere dominant persons will not always measure up to the expectations of others. If you have particular learning needs, it is to sequence material and remain focused while you are processing, to develop "structuring" techniques, and to become more efficient with your spontaneity and creativity.
I hate this description because it's true about my character. I cannot quieten the ideas in my head and focus. It's like there's no such thing as 'focus' in my head. This explains a lot why I have not really execute any plans and I love to jump on things. Damn. Another friend of mine also did a palm reading for me and he said the same thing to me.
Why am I so easily being read?
Comment! (4) | Recommend!
I know I'm lacking of updates. Will be updatin soon once i upload some pictures and fix my backbone which is giving me insomnia for this whole week.
See you all tomorrow. :)
Comment! (4) | Recommend!
Michael Jackson's death analysis
I thought it was a joke reading the news that Michael Jackson is dead. I thought it was the most horrible April Fool joke ever on earth but today is June. So it is not a joke.
Because I know and can, though amateur, I analysed his birthday. The godfather of his children commented that he is a good father, which many people think he is not due to a picture of him endangering his child over the balcony. But actually he may be indeed a good father. That is what his birthday said. I just analysed. Other interesting note is he is a very systematic person. Hmm... Pretty surprising to know that he doesn't have a reading that indicates him having a ability of earning a living via his voice but he did. In fact, he is a music icon! Another reading is ... it shows that he has the possibility of dying in a car accident and also unexpected death but this is not strong at all. But still I'm surprised to see him dying unexpectedly.
Following up, I analysed his reading for this year. It was a real pity. It was a good reading. It was a reading of getting money ... and also leaving the money but never mind that because his career supposed to take off this year.... What a pity.
That is all for my reading. Hopefully I just don't meet any unexpected death just like him.
Comment! (5) | Recommend!