I made a rose out of the cheap ribbon I bought a few weeks ago. Don't know where the balance is. Maybe somewhere under my bed.
As requested by
jolenesiah
: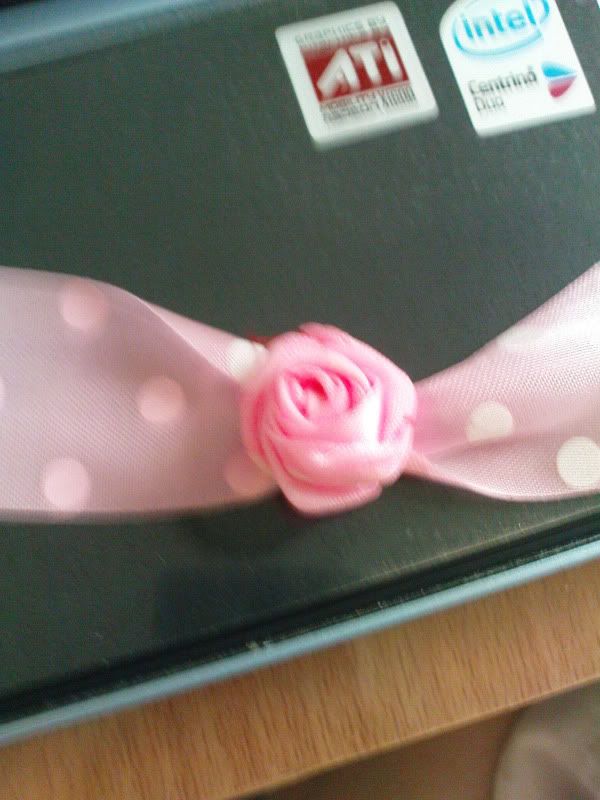 Comment! (5) | Recommend!
Meowing God, hear my confession
Meow..........
I don't remember when was the last time I felt as bad as now. I'm more to feeling guilty. This all happened at work since yesterday.
I'm organising a major event very soon. I have been working hard to make it goes as smoothly as possible. The first thing I did was to confirm the venue and somehow ended up, there is no venue for the event. I told the person in charge about the event and considered some recommendations. As you all read my previous posts, I'm now doubting myself for having memory loss. I booked the wrong venue because it is too small but this should never be the case for a person like me who has thought thoroughly of the plan before executing it. I won't make a firm decision if I have not taken into account of all recommendations and my own eyes. If I could go to every shop in my place here to hunt for a button for my jacket, much less of such a big event like this. But I hate to assume that the person in charge gave me the impression that she has influence my decision.
Never mind about that. Booking the wrong place is never a big deal because I could just invite less people. But my colleague has totally forgotten to book the venue to begin with. I reminded her last week and she went oops. And oops there is no venue to begin with. I asked for two venues and I got none. I was not in a panic mode yesterday but I was quietly angry though I was feeling the opposite of a rage. So I asked this colleague why cant we get the venues. She replied it was because the person in charge rejected. And yesterday she came telling me "I asked her to book last week." If I'm mean and bossy, I would have corrected her and say "I asked u to do so in June/July." So instead of who correcting who, I asked her based on your experience what solution would you recommend to me. She said "I don't know."
Fair enough. I will remember your actions until the day I die. Just don't ask me any favour from me.
The person in charge of approving the venues booking - who I have mentioned in the third paragrapgh - was so blur. I asked her many times if the venues on the event date is available, she said yes and if I would like to book, please refer to my stupid colleage, which I did. The only problem is if you know the venues that I have wanted have already been booked by the time you tell me to refer to my colleague, why the hell you didn't tell me? I asked her last week if she could refer me to any other venues. She suggested to change the date which I can't, and then she said she cannot help me. So I angrily joked with her "So do you want me to let my 200 guests to hang around at the foyer" until 9 am when the hall is empty, she said indirectly yes. She was extremely not helpful. She only knew to tell me that the venues have been booked. So buzzoff.
So with all courage and means, I called up the person who booked my wanted venues, and explained to her my woes. She was kind enough to relocate the lectures for one of the wanted venues. It was certainly a feat; the schedules we have is extremely crazy and there is no space to replace an activity. Instead, she removed all for me for that day.
So one problem down. I just need another venue...
I called up the IT department and enquiried if they could let participants of one venue to see what is going on in another: my backup plan for not being able to get the largest venue. Before I could finish my sentence, I was referred to another staff who does the venue booking. Being tired of being pushed around, I fired him with my sarcasm "Would the lo ku po (unmarried virgin) be able to solve IT problems?" To be frank, I found her so helpless when she was trying to bind a book. I ended up doing the binding for her in 5 minutes.
And this afternoon, I somehow got back on my colleague who has forgotten to follow up with the booking since June/July. One of the activities I'm in charge has been switched with another day, and this colleague doesn't know. That's not the story. And then another colleague came over to my room and asked me for a more detail explanation of my planned schedule. I informed her the dates and activities that her boss is involved until one date. She went blank. I told her nicely that this date is where the students and their supervisors do fieldwork together and this date is where the students meet the supervisor somewhere in the building for only one hour. And then she went OK and went out to meet my neighbour who forgotten to make the venue booking. And then both women - the lady went OK and my neighbour - stormed into my room and the neighbour demanded to inform her of any changes so she could update the list. With a cool look, I turned away from her and opened a minute meeting we had together with my boss to discuss about the schedule and told her "You were with me in that meeting on that date. Did you not hear my boss said what's the plan for that date?" She went silent. The truth is I have already told her 3 times about the mistakes of the schedule. I saw this mistake long time ago but do I need to tell her that there is mistake for the fourth time? I can be consulted at any time. I don't mind if you come to me for 100 times but please don't give away the schedule without my proofread. I'm still alive you know.
What is bothering me now is I have been telling another colleague about how these neighbour and the person in charge of booking venues worked. I said they are inefficient indirectly, which I regretted so much of saying that. I can't eat dinner well because somehow I felt it was wrong to do so no matter how inefficient they are. Because it makes me a person who likes gossipping and I'm not like that. I guess I just want someone to listen to me.
I came home with a tired soul. I was just craving for chocolate because I needed a break. My brain is just so tired.
Have a break with meowing.
Comment! (11) | Recommend!
Jolenesiah
requested to see my computer screen and here it is.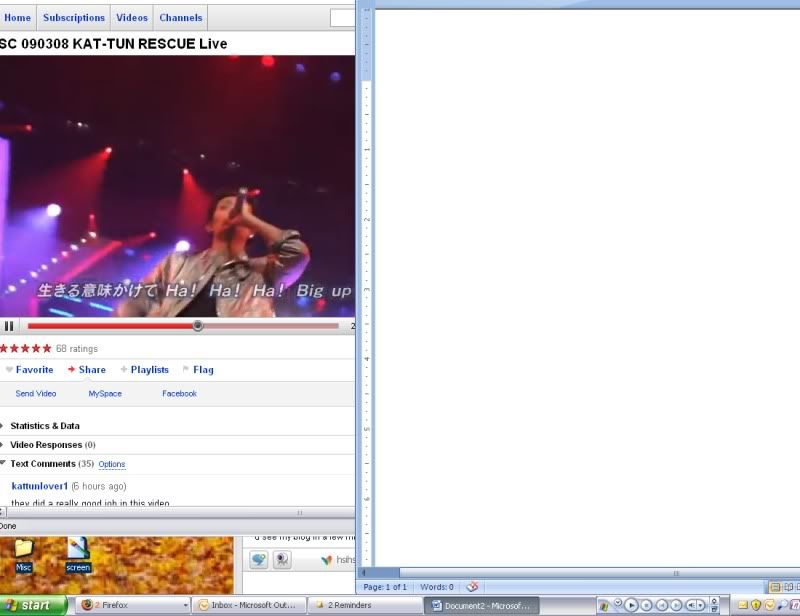 Yes, I'm watching youtube while typing letters. And my MSN messenger box is somewhere behind the two programs. I'm watching KAT-TUN's Rescue live.
Comment! (11) | Recommend!
How many times have I meowed today? I don't remember. Could be short term meowing memory lose? I really don't know.
Recently, I have weird people adding me online on MSN Messenger. I approved them by the way because it would make my block and delete job easier. But before I talked with them like hi and so long no see. These people keep on saying they chatted with me before but I have no idea when because I never gave out my msn messenger address to any Tom, Dick and Jane. Just now, there was this guy who is 4 hours away from me telling me we have chatted before. And I said really? When? He said he can't remember. And so I asked what did we talked? He kept on replying 'huhuhu.' I find it stupid annoying and so I asked again until he told me we talked dirty things.
Oh my goodness. This little meow is capable of talking dirty?
I kept on asking him when. But he kept on saying he didn't remember. And he added I talked to him about sex fantasy. My eyeballs nearly jumped out.
I talked about sex fantasy? HAHAHAH. How come I didn't know?
The scariest part was he knows my full name with correct spelling. But I don't know who he is behind the screen. I never ever gave out my full name to strangers and I never talk dirty. Whoever knows me know I don't talk dirty and the only thing I'm capable of is meowing and get scratched by stupid cats.
I have deleted and blocked him by the way. Where do all these people get my MSN messenger address by the way? Google?
Comment! (5) | Recommend!
Friday. 8.7.09 11:37 pm
As the title says it all: I've been loved. Haha. Via my blog and xjion89 believes my blog rocks!
Thank you xjion89
for the awards!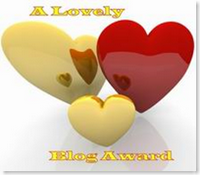 The rules of these awards are:
1. To accept the award, post it on your blog together with the name of the person who has granted the award and his/her blog link.
2. Pass the award to 15 other blogs that you've discovered and think are great! Remember to contact the bloggers to let them know they have been chosen for this award.
Continuing the tradition, I will pass it to:
1.
synch-ro-ni-zing
2.
Jolenesiah
3.
Shuffle and Repeat
4.
The Doodle Blog
5.
Sdovelly
6.
Self magic
7.
Petite Lass
8.
Manglish, please!
9.
Serene's Silent Secrets
10.
-beats in my head-
11.
Pan-Pan Panda
12.
Publish or Die
13.
Sirei/Rei
14.
Life as I Know it-Ng Ju Ann
15. Marcus Teng << waiting for him to renew his domain site. Please do!
Bomb kiss!
Comment! (8) | Recommend!
One of the students that I worked closely with is diagnosed with H1N1 today. Her classmates have been sent home. And I had sterilised my room because one of her group mates was in my room yesterday.
My friend who is an expert in public health advised me to practice self-quarantine which I'm going to do.
This is my second time being quarantined.
Comment! (5) | Recommend!