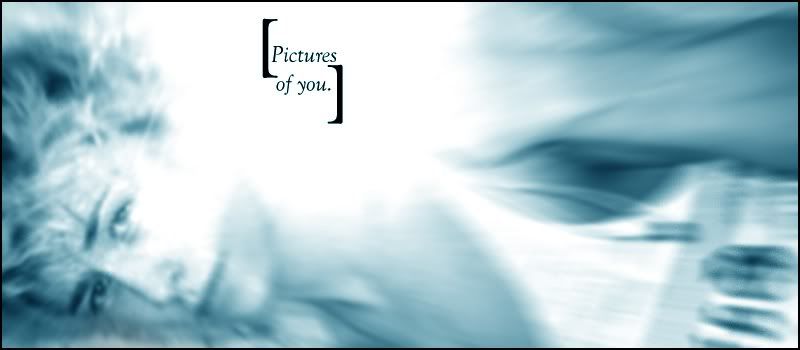 Spring Semester 2010:

* Teaching: Fundamentals of Microbiology - MW 12:00-2:40p
Medical Microbiology - TR 2:00-3:15p
Colloquium in Cell and Molecular Biology - R 3:30-4:30p
Thesis Research - Identification of T Cell Subsets and Immune Response in Colon Cancer Using Immunofluorescence - FOREVER AND EVER

Or rather, entries from the old journal, as it were...

-

An open letter to the College.

(August 27, 2006)

-

Untitled.

(July 16, 2006)

-

Haunted (Part One)

(May 29, 2006)

-

Are we growing up, or just going down?

(May 3, 2006)

-

I had a dream...

(March 19, 2006)

-

...

(March 14, 2006)

-

Enjoy it while it lasts.

(September 12, 2005)

-

Scene: 3:27 AM.

(September 3, 2005)

-

Untitled.

(July 26, 2005)

Psst... if you're looking for the academic writings I used to have here, head to my Reading Room.

Since June 2006...

- A Heartbreaking Work of Staggering Genius by Dave Eggers
- High Fidelity by Nick Hornby
- Travesties by Tom Stoppard
- The Way of the Shaman by Michael Harner
- The Tao of Pooh by Benjamin Hoff
- Nervous Conditions by Tsitsi Dangarembga
- The History Boys by Alan Bennett
- The Dark Child by Camara Laye
- Movie-Made America by Robert Sklar
- Diary by Chuck Palahniuk
- Rant: An Oral Biography of Buster Casey by Chuck Palahniuk
- Galapagos by Kurt Vonnegut
- The Dead Emcee Scrolls by Saul Williams [61.3%]
- Atonement by Ian McEwan
- Junk Science: An Overdue Indictment of Government, Industry, and Faith Groups that Twist Science for Their Own Gain by Dan Agin, Ph.D. [64.4%]
- So Yesterday by Scott Westerfield
- Lucky Wander Boy by D.B. Weiss
- The Things They Carried by Tim O'Brien
- Doctor Who: The Key to Time: A Year-by-Year Record by Peter Haining
- Why Buffy Matters: The Art of Buffy the Vampire Slayer by Rhonda Wilcox
- When You Are Engulfed in Flames by David Sedaris
- The Road by Cormac McCarthy
- 1984 by George Orwell [18.8%]
- Nick and Norah's Infinite Playlist by Rachel Cohn and David Levithan
- Intuition by Allegra Goodman
- V for Vendetta by Alan Moore and David Lloyd (Yes, I realize it's a graphic novel but it still fucking counts!)

Friday, September 25, 2009 @ 12:01 am

I love you. You're truly the best friend I've had in a long time, and I have no problem saying that. Thanks for everything: for believing in me, for talking me through the depths of my self doubt... thank you. I mean it. And I want you to know that even if I do end up leaving San Diego, you have a friend for life. Anytime, anywhere, about anything... let me know and I'll be there. You get me the most out of anyone I've come across so far. No shit, either--for real... You're the fucking best. Seriously, if I'm lucky enough to meet someone I'd want to marry (if it's even legal at that time), you're in the wedding party (if you're comfortable with that). For serious. I'm so lucky to have met you, even if it's been a little strange how we met in the first place... you are fucking amazing.

Love,

Ranor

Comment! (1) | Recommend!

Wednesday, September 23, 2009 @ 7:39 pm

I fucked up, and I admit it. But Jenny fucked up so much worse (and never admitted that she did) and in the process tried to take down my friendship with Alex.

Jealous much? And childish to boot.

Without going into detail about it, what she said caused Alex to say things to me that hurt me, things that came from an angry, betrayed place. But after explaining my side of things, he came to the conclusion that I never meant to hurt him--that I'd never consciously intend to hurt him--and that our friendship was worth so much more than that. So, as all strong, true friendships do--ours survived intact, and continues to grow stronger.

This is not true of my friendship with Jenny.

Long (and painful) story short: Jenny is kinda on my shit list. We're on speaking terms, but can I ever

really

trust her again? I wish I could honestly say that I wish I could... but that is not really the case. Still a little bitter?

Yeah.

Well, that's what happens when you get hurt, I guess.

Comment! (2) | Recommend!

This recurring dream isn't funny anymore.

Tuesday, August 18, 2009 @ 8:30 am

Sunday, August 16, 2009 @ 12:42 pm

Getting stuck between the twins is not as fun as it sounds.

I felt a little awkward yesterday when Nick asked me to try to convince Alex to do something that Nick wanted to do. I said, "I'm staying out of this" because sometimes I already feel like I bring them together while driving them apart, and I did not want that balance to shift towards the latter. I left the two of them to talk to Christina about it; she told me she tries to do the same thing.

We went to the Flaming Lips show in Del Mar last night as well, which was fucking AMAZING. Got there early so I bet on some horses and spent most of the time alone with Nick, away from Alex and Christina. When the concert started, we all met up again probably about 40 feet away from the stage. The opening band was nothing special, but I can honestly say that the Flaming Lips put on one of the best shows I have ever seen. I looked over at Nick's face every once in a while and he would be smiling this genuine smile and would look back at me and laugh. I felt a little weird though when halfway through the set, I noticed Alex kept looking back at me and Nick, who were standing next to each other, having the time of our lives. There was a little sadness in his eyes, like he wanted to be in on it, too.

I guess it affected Alex a little that I spent most of my time with Nick because he was unusually moody when we were walking back to his car. We were driving to where Nick parked in Mission Valley and the entire drive was a little uncomfortable. When Nick volunteered to drop me off at home and I said bye and thanks to Alex, I could tell he wasn't that into it. Usually, he emotes a little bit more when we're saying our goodbyes, but I guess he was pretty pissed... either at me or his brother or both, I don't know.

Times like this, I'm reminded of one of my favorite quotations from Rachel Cohn and David Levithan's young-adult novel,

Naomi and Ely's No-Kiss List

, and I am amazed at how incredibly dead-on it is:

It's bullshit to think of friendship and romance as being different. They're not. They're just variations of the same love. Variations of the same desire to be close.

So if love's a bitch, then so's friendship. (I'm sorry, Alex, if I made you feel excluded last night.)

Comment! (1) | Recommend!

Wednesday, August 12, 2009 @ 6:45 pm

Did Nick just end his voicemail with, "Thanks, sweetie"?

I have been trying to figure out what the fuck he's been saying for the last 5 minutes and I can't fucking tell.

Things I do know: he will be buying my drinks tomorrow. He'd better for bailing on today's mandate, the fucker.

Comment! (2) | Recommend!

Monday, August 10, 2009 @ 10:25 pm

In the last month particularly, my life has heavily revolved around the twins. If I'm not hanging out with one, then I'm hanging out with the other. And at least once a week, I get to have both.

It's such a typical gay male fantasy to turn two straight guys--better if they're twins--gay. While I don't think I'm doing that, it is like I have two boyfriends... sans the sex... and my friends never forget to tell me that. To them, my life is very much one giant

HoYay

situation.

Here's the Cliff's Notes:

1. Alex proclaimed me his

hetero life partner

a couple of weeks ago. Today, we just had our first big fight. I don't think he meant to hurt me, but regardless, he did. And now I really don't feel like seeing

500 Days of Summer

with him tomorrow, but I know I will end up doing it anyway.

2. Nicholas has confided in me a whole bunch of shit that I am not at liberty to divulge, except to say that he hasn't told anyone else. ANYONE. I still think of him "in that way" every once in a while, and on those occasions I need to take time apart from him lest I fuck what we

do

have up. Things get complicated when he acts oddly affectionately towards me; things get un/comfortable when there is excessive body contact and touching; things get depressing when I manage to remind myself that

nothing

is going to happen.

3. Their relationship with each other is kinda strained. And now I am intimately acquainted with why. (And I hear it from both sides. They tell me

everything

.)

4. Nicholas has been having chest pains for the last TWO MONTHS and is

finally

seeing a doctor on Wednesday. I am really worried about him.

5. Alex is still looking to buy a house. He is still looking to have me move in with him when he does.

Comment! (1) | Recommend!

Alcoholism is spelled "R A N O R a n d A L E X"

Friday, July 10, 2009 @ 11:06 am

So yesterday afternoon, Alex tried to sneak into my apartment by climbing onto my balcony. We were meeting up to go to this happy hour two blocks from my place that has cheap (and strong!) margaritas and free quesadillas. He needed to get his mind off his grandfather's burial, which he just came from, and I needed to get my mind off the second anniversary of my grandmother's death... when she died holding my hand.

Anyway, we were about to leave my place around 6:00 because happy hour ended at 7:00. I managed to lock myself out of my apartment by taking my lab keys instead of my house keys. Good fucking job, me. So I considered calling a locksmith, but that would take like an hour to get one out here... which means we would miss our margs and quesadillas. No fucking way was that gonna happen.

So we climb onto my balcony and Alex takes one of my chairs and smashes it into the window. After several tries (tempered glass is a bitch) it SHATTERS and we climb in.

This is probably going to cost me more than just calling a locksmith... but it was totally worth it. We got comfortably drunk (and comfortably numb) and it was an excellent night.

Well, now the clean-up and explanations as to why I have a broken window begin...

Comment! (2) | Recommend!

Tuesday, July 7, 2009 @ 9:12 pm

So loooooong story short, I might move in with Alex. Yes, the twin brother of the (straight) boy I was madly in love with.

Apparently, Alex didn't tell Nick about this, and when Jenny casually mentioned it in conversation, all Nick could say was "Are they moving in or getting MARRIED?!" Then he quickly exits the lab and barges into mine... interrupting the meeting we were having with my boss.

Nick isn't mad at me. Just shocked (and a little angry) that his brother neglected to tell him. The only reason I didn't say anything was that I assumed that Alex would mention

something

to Nick.

Needless to say, things just got a little more interesting.

Anyway. Seems Nick's been a little jealous lately that I've been hanging with his brother. This explains his sudden interest in calling me to hang out much more frequently these days. I don't know how this will play out in the end... except it will probably not end with me sleeping with either one of them. That is a certainty.

Comment! (1) | Recommend!