Oh no it has been more than a week
Wednesday, November 13, 2013
School is crazy hectic. :\ I can see the people around me in class starting to crack.
Everyone was studying at lunch today because we had a test in the next class. I didn't feel like studying (what good was it going to do me at that point anyway?), so I was just eating my lunch and trying to chat with anybody who felt like talking. I went and sat next to a couple girls I sometimes hang out with during lunch (I still don't know which people in the class are my friends... I guess we are probably school friends though?)... One was studying, so she didn't talk. The other just had a vacant, tired expression, and she just kept staring into space. She looked like someone who had been through a traumatic event. >_<
The guy who sits behind me on Mondays and Wednesdays, who is possibly my friend, hides his emotional state much better. He was peppy and smiling, but he was talking about how he wasn't sure if he was going to pass one of our classes.
And me... I'm just worried that I'll get something below an A in one of my classes. I have a borderline A in two classes. 95%. If it gets any lower it's an A-... So that's what's stressing me out, I guess. I feel like I don't really have a right to be as stressed out by that as I am, since there are people worried about failing. I don't know. I guess we have different standards. I know I want to go to grad school, and I want to have the highest grades I possibly can for that.
To be honest, I don't think the work we have this quarter is really that hard, it's just that it's all been piling up around the same time. This week we had an eight page paper due for one class, a seven to nine page research paper for another class, a math test, and there's another test tomorrow. It's open book, at least.
Blahhhhhhhh homework!
Comment! (3) | Recommend!
Sickness and nightmares...
Monday, November 4, 2013
I feel like I've been having a lot of nightmares these past few weeks I've been sick, but I don't remember all of them.
There was one where I went into this huge cathedral that was very dark except for a spot near the entrance where there was a confessional, and there was a voice from outside(?) whispering to me, "This is a safe place, you can tell all your secrets here, don't hide anything..." I sat in one side of the confessional nervously, and the room seemed to grow darker. I could feel the darkness in a weird way... like it was closing in on me, just waiting for me to confess something. And I could feel a presence on the other side of the confessional, listening intently, as if I needed to open myself up in order for it to act. I got very scared and ran out of the cathedral, and as I exited into the daylight I became aware that I had narrowly escaped enslavement by a demon. I guess it was trying to trick me into telling it everything so that it could have power over me and bend me to its will. It still wanted to get me after I ran out, and since deception hadn't worked, it was going to send its minions after me... I just kept running, trying to find somewhere safe that I could hide. I went into my house and found that it was infested with (were?)wolves, so I left there in a panic. Sometime while I was running I guess a friend of mine caught up to me, and so we were trying to find somewhere to hide together. Well, she suggested that we climb up a eucalyptus tree in front of my house and hide in it, since they wouldn't think to look for me above ground. This seemed like a good idea, so I grabbed a branch to hoist myself up. The tree was like rubber and the entire thing pulled toward me with little resistance (this actually has happened every time I've tried to climb a tree in a dream), but after I let it spring back, it was solid. I started to climb up into the branches, but then I looked down and saw that my friend was just looking up at me, all fear and urgency gone from her face, and just smiling in a smug, somewhat malicious way. When I looked back up toward the upper branches, I realized why. Far above me, there was a valkyrie nest. Not good valkyries, though. These valkyries had completely black eyes and black skin that crackled in places, huge black-feathered wings, and long, thick, greasy looking black hair that clumped together for an almost dreadlock-like effect. They looked like they were made of charcoal and tar. They were also circling the tree I was perched in, and knew I was trapped. It occurred to me that my friend had betrayed me and must have been taken over by the evil valkyries so that they could trap me.
The dream I had last night had a little less detail. I was in a very large room made of smooth dark grey stone, on a stage that had been erected in the middle of it. Nobody was using the stage, and there were no seats for an audience. There was a little boy near me with his baby sister. He might have been three or four, and the baby was one or two. An old woman was there with us, and she was telling him about how it was possible to reach into a person's chest and pull out their heart to make them suffer. Hearing this, the little boy turned to his sister and promptly snatched her heart out, then stood there and observed it as it sat in his palm. I was horrified. The old woman seemed surprised too, as she hadn't meant that he should do it. This child clearly had the potential for a lot of evil. She stayed very calm and casual though, and smiled at me and told me that I should run far away while she talked to the boy. She was just trying to talk to him in a pleasant manner and make sure he didn't hurt anybody else... I guess she wasn't afraid of him the way I was. I ran for a long time and ended up in a neighborhood full of small hills. Every few houses there was another one, and the streets all went up and down with them. I kept going and going until I was hopelessly lost, and it still didn't seem far enough away.
Comment! (3) | Recommend!
Sunday, November 3, 2013
So I'm doing a research paper on a social problem... We got to pick our own topics, and I picked fracking because I get emails about it from Sierra Club and the Center for Biological Diversity like every other day.
"There will be a lot of information on this!" I thought to myself.
In a way I was right, and in a way I was really, really wrong.
(For anybody who doesn't know, fracking, also known as hydrofracking and hydraulic fracturing, is a process in which millions of gallons of water mixed with chemicals and solids are pumped at a high pressure thousands of feet down into the ground in order to break up shale and release the gas or oil trapped there.)
Fracking is a hot topic in the environmental world, and its safety is highly debated... But there's not enough actual solid research on it. There are a few studies here and there (most of which I sadly don't have access to), but there is not a strong consensus any one way or the other.
As best I can figure, fracking has the potential to produce a lot of serious problems, but nobody can tell how likely things are to go wrong.
Now, oil and natural gas companies are choosing to go ahead with fracking anyway, despite a lack of research on its safety and long term effects. Their argument, as it always is, is that it creates jobs, reduces our dependence on foreign oil, etc... And they say it is safe.
Environmentalists say that fracking contaminates ground water and pollutes the air, destroys the habitats of animals, contributes to climate change, and of course keeps us dependent on fossil fuels-- domestic or not.
Personally I side with the environmental side, because as I see it, jobs come and go, and the economy will always fluctuate, but if we screw up the earth, there's no going back from that. The planet will probably recover on its own eventually, but we won't be around to see that if we really mess up. I do understand that a lot of people don't have the "luxury" of thinking about these things, because many are just barely scraping by and have to focus on their own survival, though.
Anyway I (re?)found this song today. I had heard it before, but I didn't realize these were the lyrics.
Also, Cee Lo Green's eyebrows make me think of Jafar.
Comment! (5) | Recommend!
Monday, October 28, 2013
I made this password protected at first, but I have decided to make it public instead.
So I bought flats for the first time. There was a sale on
zulily
and the flats were only $26 and they were by Blowfish, that company that made my favorite shoes (my grey wedge sneaker thingies). And I've been really trying to stop shopping so much online, but I was horribly weak. So weakkkkkkkkkkkkk.
I guess I don't REALLY buy that much, compared to some people. But still.
At least I got my mom's approval. She didn't know what flats were when I asked if I should buy some, but I showed her the picture and she was like "Those are cute! You should get them!"
Tiny picture of them from the Blowfish site:
Also, a link to the story I wrote, since the only comment I got on the last entry showed interest.
TDEGRBM
I was kind of surprised to find that nobody else around me ever jokingly wonders if everybody got raptured when they come out of their room and nobody's around.
Comment! (8) | Recommend!
Saturday, October 26, 2013
Saturday, October 19, 2013
Tuesday, October 15, 2013
I think I had a dream that I was talking to an overweight girl in a really awkward and somewhat offensive way. Not on purpose, but like I just kept saying terrible things accidentally in my efforts to be supportive and friendly.
It was such an unexciting dream that I wasn't sure if it actually happened or not when I woke up. Basically I was talking to the girl about her weight loss and I said something like "I know this other girl who was 5'3 and 300 lbs, and when she lost weight, she had all this loose skin hanging around. You look like you probably don't have that though! Or maybe you won't, you're probably lucky. You're not as fat as her anyway, so I'm sure you'll be fine."
I am pretty sure I have never known anybody who was 5'3 and 300 lbs in real life, since that would be monstrously obese, so I'm hoping I didn't really have that conversation with someone.
On to something else. This is a really damn cute bird. What the hell.
LOOK AT IT. JUST LOOK.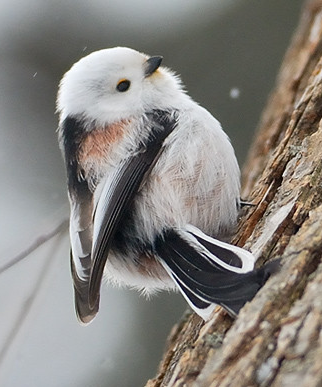 IT'S ADORABLE. THIS BIRD IS JUST A PUFF.
I have been PMSing really bad the past few days. Sunday night I kept going between being really angry and critical and being really sad and wistful. My mood was shifting drastically every few minutes and it just... wasn't good. I told my boyfriend I thought I was PMSing and he said "Yeah, I can tell." I also got really mad at my mom for asking me to do something and yelled at her. -__- I was on the verge of yelling at her this morning too, but didn't. Girl problems, man.
A while ago I found my dad's old pictures from the 80s. He scanned the film, so the pictures were just on the computer. It was cool to see how things looked back then.
This might be from Oregon...
I love this bedspread.
I get the urge to take pictures of stuff like this too...
The negative for this one looks like it got damaged.
I don't care for Instagram, but actual old pictures have a neat look.
It's harder to get this kind of focus effect with a digital camera unless you have a really nice one.
I like to think of the past as being colored this way.
Fading around the edges...
I have some film to develop, but I don't know where it is... It's kind of a pain to find places to develop film now. If it were easier I would probably use my film camera more.
Comment! (1) | Recommend!
Thursday, October 10, 2013
It's been kind of hard to type because my ring finger on my right hand is bandaged up right now. On.... Monday? I accidentally cut off a chunk of skin from my finger while I was trying to shave. :( I had to pick that chunk out from my razor to finish shaving.... (Too much info?)
Also earlier this week, I somehow managed to slam my boyfriend's car door into my ankle. He had to help me limp into my house after that.
I'm not sure if my coordination is just really bad this week or what, but I'm really hoping nothing else happens. I guess it could be worse though. A guy in my class flipped his bike last week and fractured something in his hand.
Count your blessings I suppose. -Shrug-
There was a dead little bird at school and I really wanted to touch it to see how soft it was, but that seemed like maybe a bad idea.
I never really watched Thomas the Tank Engine, and when I sat with a three year old watching it I could hardly believe how boring it was, but I like the theme song.
It does sound... vaguely sinister to me though.
Comment! (2) | Recommend!