Saturday, October 19, 2013
Tuesday, October 15, 2013
I think I had a dream that I was talking to an overweight girl in a really awkward and somewhat offensive way. Not on purpose, but like I just kept saying terrible things accidentally in my efforts to be supportive and friendly.
It was such an unexciting dream that I wasn't sure if it actually happened or not when I woke up. Basically I was talking to the girl about her weight loss and I said something like "I know this other girl who was 5'3 and 300 lbs, and when she lost weight, she had all this loose skin hanging around. You look like you probably don't have that though! Or maybe you won't, you're probably lucky. You're not as fat as her anyway, so I'm sure you'll be fine."
I am pretty sure I have never known anybody who was 5'3 and 300 lbs in real life, since that would be monstrously obese, so I'm hoping I didn't really have that conversation with someone.
On to something else. This is a really damn cute bird. What the hell.
LOOK AT IT. JUST LOOK.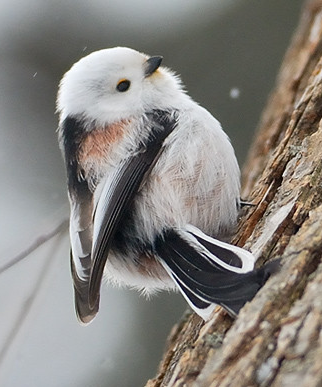 IT'S ADORABLE. THIS BIRD IS JUST A PUFF.
I have been PMSing really bad the past few days. Sunday night I kept going between being really angry and critical and being really sad and wistful. My mood was shifting drastically every few minutes and it just... wasn't good. I told my boyfriend I thought I was PMSing and he said "Yeah, I can tell." I also got really mad at my mom for asking me to do something and yelled at her. -__- I was on the verge of yelling at her this morning too, but didn't. Girl problems, man.
A while ago I found my dad's old pictures from the 80s. He scanned the film, so the pictures were just on the computer. It was cool to see how things looked back then.
This might be from Oregon...
I love this bedspread.
I get the urge to take pictures of stuff like this too...
The negative for this one looks like it got damaged.
I don't care for Instagram, but actual old pictures have a neat look.
It's harder to get this kind of focus effect with a digital camera unless you have a really nice one.
I like to think of the past as being colored this way.
Fading around the edges...
I have some film to develop, but I don't know where it is... It's kind of a pain to find places to develop film now. If it were easier I would probably use my film camera more.
Comment! (1) | Recommend!
Thursday, October 10, 2013
It's been kind of hard to type because my ring finger on my right hand is bandaged up right now. On.... Monday? I accidentally cut off a chunk of skin from my finger while I was trying to shave. :( I had to pick that chunk out from my razor to finish shaving.... (Too much info?)
Also earlier this week, I somehow managed to slam my boyfriend's car door into my ankle. He had to help me limp into my house after that.
I'm not sure if my coordination is just really bad this week or what, but I'm really hoping nothing else happens. I guess it could be worse though. A guy in my class flipped his bike last week and fractured something in his hand.
Count your blessings I suppose. -Shrug-
There was a dead little bird at school and I really wanted to touch it to see how soft it was, but that seemed like maybe a bad idea.
I never really watched Thomas the Tank Engine, and when I sat with a three year old watching it I could hardly believe how boring it was, but I like the theme song.
It does sound... vaguely sinister to me though.
Comment! (2) | Recommend!
Sunday, October 6, 2013
So I'm thinking about that story again, "Equinoctial" by John Varley. I mentioned it like a year ago.
For anyone who doesn't remember (and I doubt most would), basically the gist of it is that there is a space traveler and her protective/nourishing companion thing that completely envelops her, and they're totally connected and in tune.
I was trying to think about why that appeals to me, beyond just "they're so close!" I mean, and I thought of my breakup with my ex.
That whole thing kind of shattered the way I viewed communication and connectedness. After we broke up and realized there had been so many misunderstandings I just felt like it was impossible for me to actually understand anybody anymore. Before then I felt like we were always on the same page, connected on some indescribable level. I don't know if I can feel that way again. No matter how close you are to someone, your experiences in life have been, are, and will be different, and not everything will mean the same thing to you. It's impossible to truly see the world through someone else's eyes without being them.
And this is a problem for me because when I really like someone and want to be close to them I want to know everything about them. Not in a weird stalker-y way, just like, "we're so close we know all this stuff about each other."
So, considering that, being totally connected to someone in the Parameter-Equinox way seems cool because there are no barriers to understanding. Equinox is directly plugged into Parameter's brain, and they're just drifting in space together. Equinox surrounds Parameter inside and out. There's no loss of information between them. That's the only way I can think of to achieve total understanding. Too bad it's not possible (or if it is, it's not going to happen anytime soon).
Comment! (1) | Recommend!
Friday, October 4, 2013
I went to my first open mic last night. There were some really talented people there, which was pretty cool. There were also the kind of people you might expect to see at an open mic. Which is to say... there were some people who were not excessively talented.
One of the guys who went up to play songs needed a brief intermission to tune his guitar, and during that time someone yelled out "tell some jokes!" So... he told jokes about Obama. Dick jokes. Before he played, he also asked if anybody was having an awful night, and said that most of his nights were awful when only one person raised their hand. I think he was joking, but I'm not 100% sure on that. He refused to play until more people said they were having an awful night.
My boyfriend helped me out this morning at the nursery. Here he is holding the biggest baby we have (the one who also screams like a demon child).
And here's a baby with some odd helmet(?) thing on.
We weren't sure what exactly it was for. At first we thought that maybe the mother was just overprotective because it was her first child, but when she came to pick her baby up she had a little boy with her, so...... I don't know.
Lastly, look what I got in the mail today!
Awwww yeahhhhh. If you can't read the subtitle, it says "My life inside The Room, the greatest bad movie ever made."
:D
Comment! (0) | Recommend!
Sunday, September 29, 2013
"What kind of person are you?"
"What do you think are your most notable qualities?"
"What do you like?"
Man, I have no idea how to answer these kinds of questions. When asked about my interests I generally have to refer back to old lists I've made on sites like these. I don't really feel connected to any of those things anymore, it's just something to tell people.
"What are your favorite movies?"
...Let me refer back to the document that has the movies I've watched listed in it, so I can mention a few. I can't remember what I like off the top of my head.
"What's your favorite food?"
I really don't know. There's nothing that I can just eat indefinitely without getting sick of it. Sometimes it's hard for me to even remember foods I generally like.
There is this guy talking to me who just keeps asking me questions, interview-style, and it's kind of awkward. I mean, normal conversations shouldn't be structured like that anyway, but it's kind of worse because I just have no idea how to answer most of his questions. He asked me if I had ever used a programming language, and I told him I'm not really a computer person, though my boyfriend is, and he asked what kind of person I am, then.
Man, don't ask me that stuff. I don't know. A creative person? Something like that? I think I was a creative person at some point, maybe I still am.
If I try to ask myself who I am I can't get a clear answer and it just interferes with my ability to function on a daily basis, because then I get wrapped up wondering and it's confusing and stressful.
In a weird way I actually miss the haze of derealization that I used to live in, because even if it felt like reality was mostly fog with some solid parts, at least it felt like something. Everything is "clear" now, but in a really insubstantial way. It's just clear... nonsense now, whereas the haze used to obscure a lot of that nonsense or at least make it feel like the haze was the reason for the nonsense.
Even though I dislike the concept of it, sometimes it seems like the only way for me to go through life right now is to just not think about things, only do them. It's not even an "ignorance is bliss" thing... I guess it's more like, I have a limited amount of energy, and I don't want to use up what I have on ponderings that go in circles or hit dead ends. (I'm not talking so much about questions like "How can I be a better person"... more like "Who am I" etc. As much as I've thought about the latter in the past, it just isn't helpful or meaningful to me anymore)
My memory is good and terrible at the same time. I dunno what's going on there.
Comment! (4) | Recommend!
Wednesday, September 25, 2013
Last night I managed to get the music from Dungeons and Dungeons, which I feel pretty pleased about. I had looked for it before, but that search was pretty much a dead end. Now though, I can feel triumphant.
---
My third day of school with the new psych program thing I'm in went well. I really like my math prof. He's very funny. We haven't actually started learning math yet though, so I guess we'll see how that goes... I'm just happy that I seem to be having some luck making friends. That's been a struggle for the past three years.
I would really like to make a few long term friends instead of these single-quarter-friendly-acquaintance-class-buddy type things. Since I'm going to be with this group of a few more than thirty people for the next two years, I have more hope as far as friends are concerned. So far, so good... It would be nice to be friends with some other couples so that my boyfriend and I could do stuff with them.
Comment! (5) | Recommend!
Monday, September 23, 2013
That feeling like you finally did something right.
Comment! (1) | Recommend!