DON'T THEY LOOK ALIKE... YOU BE THE JUDGE
Sunday. 3.25.07 9:27 pm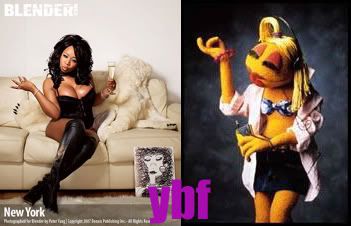 New York is definitely one ugly lady,but she has a great personality which makes you put up with her shit for awhile.
I don't know why King Magazine is featuring New York, but I'm sure people will be talking about this when it hits stores.
Behind the scene footage of New York with King Mag
Comment! (0) | Recommend! | Categories: tv [t], mag [t], new york [t], king mag [t], feature [t]
RE-UP:NLT FT FABO-YOUNG GIRL-LISTEN NOW
Sunday. 3.25.07 9:06 pm
DJ DRAMA FT.YOUNGJEEZY,T.I.,YOUNG BUCK,RICKROSS:FEDS TAKIN PICTURES
Sunday. 3.25.07 4:46 am
MISS B:TAKE A STEP BACK-NEW JOINT-CHECK IT OUT
Sunday. 3.25.07 4:13 am
NLT FT. FABO OF D4L:YOUNG GIRL-CHECK IT OUT
Saturday. 3.24.07 4:21 am
Just found this song,and I'm definitely feeling it,so I wanted to get your opinion on it.
NLT is from Texas and it also features Fabo of D4L
The song is called Young Girl and it has a snap feel to it.
So, enjoy the song, and leave some feedback.
atlmuzikfanzinc.
Listen & Download Here
Comment! (0) | Recommend! | Categories: muzik buzz [t], nlt [t], fabo [t], young girl [t], texas [t], atl [t]
Producer of "It's Going Down" not Working with Yung Joc anymore
Saturday. 3.24.07 2:00 am
I heard that Nitti will not be working with Yung Joc in the future. I wonder what went wrong, we'll have to stay tuned to find out
According to Sohh News,
"One person who definitely will not be on the album is Yung Joc. While the two enjoyed mutual success from their collaboration on "It's Goin Down," Nitti credits industry politics as the reason that the two won't be linking up anytime soon."
According to Nitti,
"I have no plans to work with Yung Joc anymore whatsoever," he laments. "He do what he do and I do what I do. When you deal with people who call themselves CEO's and they put the business between the artist and the producer, it messes up the chemistry. When a record makes a lot of money, people who don't even have nothing to do with the record get to playing tug of war. It's one of those situations where it gets sticky. It wasn't my intention to have it go down like that because I broke the dude, but it goes down like that sometimes. That's the game."
Seem like Bad Boy had something to do with this, don't it must of been Diddy.
Read the full Story Here
Comment! (0) | Recommend! | Categories: sohh news [t], nitti [t], yungjoc [t]