Sunday. 12.17.06 8:36 am
is she sexy??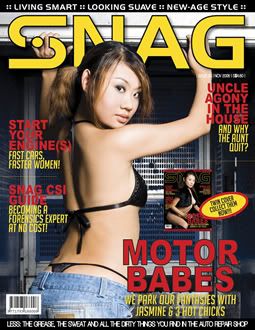 how abt this?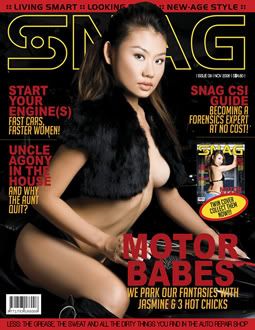 SNAG FAVORITE BABE
All that Jas
Your favorite tertiary babe is a wonder woman
this girl was my sec school classmate.
I'm not sure if i should be happy for her. for managing to get on a magazine cover.
and for becoming a "SNAG Favorite babe"
all i can say is I've got a really "diao" feeling when Elaine told me.
my celebrity friends are increasing... i think. lol
i also had a class mate whu joined the reality TV show, "Never Say Die" aka young bu yan bai. where contestants whu repeatedly joined various reality tv shows and repeatedly ousted in auditions are given another chance to train and become better. sth liddat.
so whus next i wonder. hahaha
~*~*~*~*~*~
just heard from fad that brother ben hit a really lousy patch. Army training managed to injure his legs from running too much, and the MO repeatedly did not diagnose anything was wrong with him, that his knees were actually dislocated and he needed an op and physiotherapy. worse still he can't play soccer anymore, ever.
thats just so sad!! asking ben to give up soccer is like, unimaginably, depressing for him.
guys~ do be careful when u all are still in there kays.. this is really sad.
Comment! (6) | Recommend!
bloody hell after making me late for an hour and insufferably hot and stinky so early in the morn from squeezing in the free shuttle service to yio chu kang to take CAB. coz the trains are horrendously packed and i'm already v late (but with boss blessing to make a claim for cab) but no CABs seem to want to come to yishun despite me calling 4 taxi services but i can get a cab if the pickup location is yio chu kang instead. WTF. and all i get as an explanation, is this:
Article from Channel News Asia (thats the whole thing):
Normal service has resumed for southbound trains travelling from Sembawang to Yio Chu Kang MRT stations.
The service was disrupted earlier on Tuesday morning after a man was hit by a train at Yishun station.
He was later pronounced dead. - CNA/ch
and btw,
i was tuned to the radio. Not just and radio but NEWS radio the whole time. their statements evolved from "there has been an accident at yishun mrt, thats all we have now, but we'll be back with more updates" directly to "the south bound train services have resumed"
like huh?
tho, given the reaction of the media is highly probable that the person committed suicide. but kns, why must choose the most busy , high trafffic, peak hours to commit suicide. (-__-"l)
2nd thought was "jialat, if terrorists gonna jump/push pple/throw stuff or bombs in all the open air mrt stations during peak hours, we are gonna have a big problem"
3rd thot was i hope the person didn't just fall onto the tracks becoz he fell asleep due to fatigue like a previous case. (i do have a conscience, see)
4th thot: all the mrt stations are gonna be huanted soon, at the rate we're going
its weird how all these cases suicide by jumping down the tracks suddenly exploded after the first case. now, every few months, there will be such situations. news of 1 person jumping, den next week, another does the same. den we have a period of peace and quiet before the cycle starts again.
its morbid but seems like pple, even desperate ones, want to go with a bang so to speak. I've NEVER heard of such cases when i was growing up. there probably is a social issue scooting ard here but i dun really wanna go into that kind of ramblings.
but, i do wanna say, singapore news papers are definately laughable. they are so funny i tend to burst out laughing when i read them on the train. sheesh~ wat a sad state of affairs singapore media has come to. and i haven't even started on the brainwashing chn 8 dramas.
notice how edmond chen from the chn 8 drama, xin fu man wu (unoriginal name) or sth like tat goes to jail after giving himself up despite having already run off with money and gf to i forgot which county for embezzling-to fund his high stakes gambling addiction. interestingly, his wife and her lawyer-goody-2-shoes-would-be-bf manage to find him while obviously the police can't.
all this right on time, before sentosa and singapore gets its 1st for-the-rich-only casino.
nuff said.
ridikulous govt game
<--click
check out the "
drag queen ken
" entry ... from
ikimashokie
Comment! (1) | Recommend!