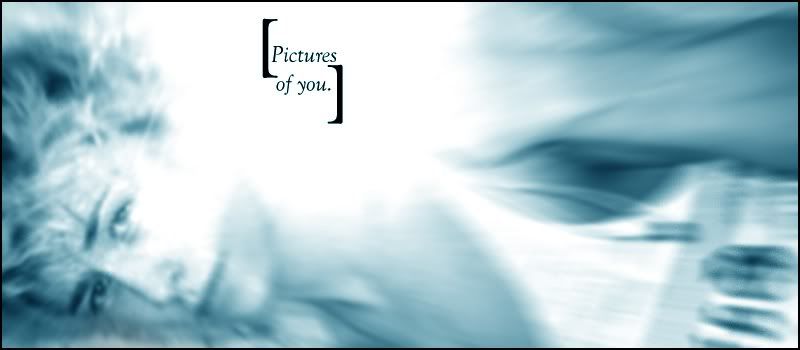 Spring Semester 2010:

* Teaching: Fundamentals of Microbiology - MW 12:00-2:40p
Medical Microbiology - TR 2:00-3:15p
Colloquium in Cell and Molecular Biology - R 3:30-4:30p
Thesis Research - Identification of T Cell Subsets and Immune Response in Colon Cancer Using Immunofluorescence - FOREVER AND EVER

Or rather, entries from the old journal, as it were...

-

An open letter to the College.

(August 27, 2006)

-

Untitled.

(July 16, 2006)

-

Haunted (Part One)

(May 29, 2006)

-

Are we growing up, or just going down?

(May 3, 2006)

-

I had a dream...

(March 19, 2006)

-

...

(March 14, 2006)

-

Enjoy it while it lasts.

(September 12, 2005)

-

Scene: 3:27 AM.

(September 3, 2005)

-

Untitled.

(July 26, 2005)

Psst... if you're looking for the academic writings I used to have here, head to my Reading Room.

Since June 2006...

- A Heartbreaking Work of Staggering Genius by Dave Eggers
- High Fidelity by Nick Hornby
- Travesties by Tom Stoppard
- The Way of the Shaman by Michael Harner
- The Tao of Pooh by Benjamin Hoff
- Nervous Conditions by Tsitsi Dangarembga
- The History Boys by Alan Bennett
- The Dark Child by Camara Laye
- Movie-Made America by Robert Sklar
- Diary by Chuck Palahniuk
- Rant: An Oral Biography of Buster Casey by Chuck Palahniuk
- Galapagos by Kurt Vonnegut
- The Dead Emcee Scrolls by Saul Williams [61.3%]
- Atonement by Ian McEwan
- Junk Science: An Overdue Indictment of Government, Industry, and Faith Groups that Twist Science for Their Own Gain by Dan Agin, Ph.D. [64.4%]
- So Yesterday by Scott Westerfield
- Lucky Wander Boy by D.B. Weiss
- The Things They Carried by Tim O'Brien
- Doctor Who: The Key to Time: A Year-by-Year Record by Peter Haining
- Why Buffy Matters: The Art of Buffy the Vampire Slayer by Rhonda Wilcox
- When You Are Engulfed in Flames by David Sedaris
- The Road by Cormac McCarthy
- 1984 by George Orwell [18.8%]
- Nick and Norah's Infinite Playlist by Rachel Cohn and David Levithan
- Intuition by Allegra Goodman
- V for Vendetta by Alan Moore and David Lloyd (Yes, I realize it's a graphic novel but it still fucking counts!)

Saturday, October 3, 2009 @ 11:06 am

But evidently feeling better as I am dancing around to the 2006 Cold War Kids album and singing at the top of my lungs.

And occasionally coughing also. But at least I don't feel like I need to be sitting around doing nothing. I guess from here on out it's all about controlling symptoms. Pseudophedrine is my friend!

BTW, Nick did end up coming over yesterday. Still tried to get me to take a hit, but I politely declined. It was nice to see him outside of school, for the first time in what seems like forever. Haven't done that in a while, and I know he's been wanting to hang out. Perhaps the reason for his stubborn insistence on coming over?

He convinced me to take a walk over to the store because he said that I "needed fresh air." We walked in the warm rain--the weather we both like the best. And for those 10 minutes that the raindrops were falling on the both of us, the "On" switch flipped in the opposite direction, because in that time, the world was perfect and at ease, and I was simply content.

Comment! (2) | Recommend!

Friday, October 2, 2009 @ 12:39 pm

I am comfortable enough with you, dear NuTang readers, to tell you that I have switched into "On" Mode. I'm pretty sure it isn't a strictly hormonal thing; I'm also fairly sure it might be partially stress-induced; and I also have a feeling that maybe it's been so long since I've legitimately crushed on someone physically accessible to me that the switch has been flipped.

Basically: I am a raging, horny mess.

I am sick right now--just started feeling like shit this morning--and I told this to Nick. Yes, Nick. We still talk, we're still pretty close, and I'm managing to not think about him "in that way." (For the most part.) Anyway, upon hearing this, he informs me that he has a bowl packed in his car, and he invites me over to smoke it with him, but I'm at my apartment, not on campus like he expected me to be... So then he gets this idea in his head that he's gonna come over while his experiments are running and do this with me...

And that's when I say that I can't have him do that. That I appreciate the gesture, but that 1) I don't want to get him sick, 2) I don't think I can handle the respiratory assault, and 3) that I'm in "On" Mode so I don't think it would be appropriate. Alright, I didn't say that last thing to him. But I definitely thought it.

Weird thing about "On" Mode is that it defies logic and good sense. Because although I legitimately don't want him over for all of those reasons... the sexual monster inside of me violently hopes that he will ignore that request. Even though logically I know that won't happen.

"On" Mode cares not for these things.

Comment! (2) | Recommend!

Tuesday, September 29, 2009 @ 7:49 am

Not the drug, but "primary care physician." As in, I need to find one. Before the end of the day. So that HR can push the paperwork through so I can have medical insurance again.

Faaaaaahck.

Comment! (2) | Recommend!

Monday, September 29, 2009 @ 11:01 pm

I just had to repress the urge the hurl.

When will my laundry be done so I can go (back) to sleep?

Comment! (1) | Recommend!

Monday, September 28, 2009 @ 10:56 pm

In the strangest ways.

So I went home after I finished teaching today because yesterday was, quite frankly, an alcoholic shitshow. I was chatting with Nick (as is my daily usual), explaining to him how I felt like shit, and the boy says that if he didn't have class in just under an hour, he'd come to my apartment and hook me up with some bud.

Coming from him, that's like one of the highest honors, because he is notoriously stingy when it comes to his greens.

Comment! (0) | Recommend!

Sunday, September 27, 2009 @ 10:28 pm

You don't have to thank me for my hospitality, like it's something I didn't really want to do, but did anyway.

There's a reason you're my best friend--my hetero life partner, if you will--and I really like having you around more than anyone else. Why else would I want to move in with you?

So really, it's not a chore.

It's the highlight of my day, usually.

Comment! (4) | Recommend!

Saturday, September 26, 2009 @ 3:50 pm

Alex called me up today to see if I wanted to go to the beach around 3:00, 3:30ish. I told him to call me up before he leaves, as I would be in lab today, getting the soul sucked out of me, as usual.

I called him up when I didn't hear from him and left a message on the machine.

Then he calls me back and says, "Sorry, we're already here."

So frustrating. Because I was really looking forward to getting out there today.

If we all just listened to what others say to us, then stuff like this wouldn't happen.

Sigh.

Comment! (1) | Recommend!

Friday, September 25, 2009 @ 6:39 am

...need to stop sending Facebook messages and posting blog entries when I'm bombed out of my mind and consequently emoting out of all the holes in my head.

First of all, it takes forever to spell things correctly and press the right buttons on the keyboard. But secondly, and more importantly, no one needs to be subjected to that sort of crazy mushiness that oozes out of me when I'm in that mode.

Apologies for the previous entry. Way too much mush.

Comment! (2) | Recommend!