viernes, 22 de septiembre, 2006
Ack, I knew my package from Amazon would be arriving within these couple of days, but I missed the delivery because I was still sleeping. You know when I woke up? TEN MINUTES LATER!! Now I'll have to go in the morning to the post office to pick it up. It's not that far away or anything... I just like for them to come to me so then I can open it immediately. Ten more hours...
01:08
Comment! (0) | Recommend! | Categories: post office [t], amazon [t]
martes, 19 de septiembre, 2006
Am I the only person who doesn't particularly care for Rachael Ray?
23:49
Comment! (5) | Recommend! | Categories: riddle me this [t]
So long, and thanks for all the fish
jueves, 24 de agosto, 2006
Pluto's no
longer a planet
! I'm not surprised at this development, since I got the vibe that a majority of the people didn't think Pluto was a real planet, but I'm still a little sad. Now it will have to be My Very Eager Mother Just Served Us Napalm... or something. (Noodles?)
The Plutonians will be so pissed. In a few hours.
12:15
Comment! (8) | Recommend! | Categories: astronomy [t], current events [t]
domingo, 20 de agosto, 2006
So how lame were the lame Teen Choice Awards? Pretty lame. I can't believe that, as a teen, I used to vote on this show. I stopped after a couple of years when I realized no one I picked won, and that it's just a huge popularity contest (duh, Lily, why didn't you figure that out sooner???).
This year was the first time I'd seen it in a while. Everything is still the same. Basically, the celebrities that are there will win. Oh no, I figured out the secret! Seven years ago!
I wonder how much money the bikini-clad chicks were paid for sitting in what appeared to be tepid and stagnant hot-tub water -- at least, it only seemed to be tepid and stagnant for the first half of the show. That was lame, too.
The saddest part of the show wasn't Kevin Federline's debut performance, surprisingly (don't worry, it's second), but Brooke Hogan, who easily spent the longest time up on the podium because she was discussing and thanking everyone from her fans to her family (father) for winning best
grill
. The fact that she seemed genuinely sincere to win a surfboard for best superfluous braces and the fact that "best grill" even exists as a category is tragic to mankind. The fact that the cameraman and producers seemed to ignore Brooke's come-hither gestures for a closer look at her busted teeth gives me a little hope, however.
The only good parts I remember: Jensen Ackles and Jessica Alba. Wouldn't they make the prettiest babies, and have the best interchangeable monogrammed towels ever?
23:55
Comment! (3) | Recommend! | Categories: television [t], celebrities [t]
Leave all the ashes you made out of me
viernes, 4 de agosto, 2006
It's the heat of summer, so that only means two things: it's fucking 90° at night and it's time for my buy list. I would've posted this weeks ago, but I was waiting for all the Amazon pictures to appear and didn't want multiples, like last time. (So
anticlimactic
.)

August 15
"It's all your fault! It's all your fault!"
"It's your fault I can't talk!"

August 22
The VM covers are so generic, especially since something like this could've been used for Season 1. Shoulda, woulda, coulda. Didna.

August 29
Best comedy, best show, best cover. :'( At least I'll see Will Arnett in what sounds like the hilarious Blades of Glory

September 5
The orange color and pictures are so lame. At least in the season one set, they actually look like they took the picture together

September 12
Doesn't his arm totally look photoshopped? Lame. Again.

October 3
Preliminary reviews have me excited for this

October 10
What is up with the photoshopped arms of NBC shows? This is much more worse than Steve Carell
Look at the consecutive dates. ::dies::
There's definitely gonna be some cullin'.
02:30
Comment! (2) | Recommend! | Categories: buy list [t], the simpsons [t], arrested development [t], veronica mars [t], lost [t], the killers [t], dvds [t], cds [t]
viernes, 28 de julio, 2006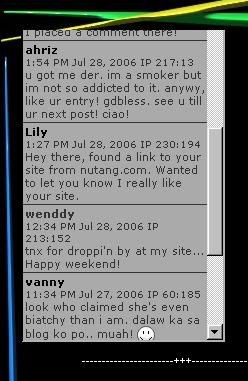 What the hell, why the fuck would anyone pretend to be me and comment on other people's blogs? I logged in and read the comment page of the previous
entry
in utter confusion, thinking maybe it was a bizarre form of non-advertising spam (which doesn't exist, btw), but an incredibly cursory investigation on the three unique sites linked turned up this one comment from "me," at
PULSE CIRCLE
. (The screenshot is from that.) It's still there on the tagboard on his site, right now. I'm telling anyone else drifting over here because some douchebag pretended to be me: I don't comment on stranger's sites
at all
, even if it's the best thing ever, unless it's within the community I am a part of -- e.g., xanga, livejournal, nutang, etc. -- and even then it is rare. (At most once or twice every other month.)
I mean, I suppose the most harm it's causing, from that one comment I saw, is it's directing a barely dribbling stream of traffic here. So some person pretending to be me, complimenting blogs as me, that's just... make of that what you will.
So, thanks to this tirade, the real entry I was planning on will have to be pushed back. (I was waiting weeks! You'll see why next time.)
21:15
Comment! (13) | Recommend! | Categories: pissed [t]
domingo, 16 de julio, 2006
After much finagling, I finally fixed this site so it looks good on both IE and Firefox. Well, the entry box still juts out a tad too much, and the right side doesn't align with the header, but right now I don't really care because the Firefox version no longer looks like a shite page from the Big Book of British Smiles.

I still have no idea why the tables didn't line up in Firefox, leading to what I called the "staircase effect." I figured it was my own fault, but I used the same logic for my other nublog and it's fine. Somehow the fact that I gave my tables unequal cellpadding made some columns fatter, sticking out unevenly like unsightly teeth.

If it sucks on Opera, T.S. (tethered swimming) and Netscape users -- wow, I haven't used that in, like, forever.

Edit: I forgot to write, that I still haven't quite figured out what's going on with the personalized fields on the profile page when viewed in Firefox. This problem seems to be happening to everyone though, so. Okay.
23:25
Comment! (7) | Recommend! | Categories: site [t]
It snuck up on me faster than Seta Sôjirô
sábado, 15 de julio, 2006
Holy crap, how the hell did I get to be in the top ten most popular? How did I even end up in the top 25, period? It's so weird seeing my icon up there, mocking me, teasing me. Singing off-key to me.
Edit: Now I am twelfth. This is still very different and mysterious to me.

Today (or yesterday afternoon), some cunt gave us the evil eye when we disrupted her newspaper reading because we sat down at her table (which is near the door). Uh, we're trying to patronize your shitty-ass restaurant where my friend found a bug in her food in, go sit someplace else in your woefully empty place. The only reason we came in is because it was the closest for my tired grandparents to sit down in. The waiter, who was nice, explained it would take half an hour because they were cleaning out back. The combination of my dislike for the restaurant, the woman's douchebagginess, and the fact that I was very hungry, had us leaving after about ten minutes for next door. Asshole.
01:25
Comment! (1) | Recommend! | Categories: pissed [t], pondering [t]