Monday. 10.1.12 7:22 pm
Somewhere on a Thursday in October before 16...
I have been crazy about bags!
I have bought a small red hand carry bag at a discounted price, and yet I was still unsatisfied, because I estimated I do not have sufficient bags for the trip. The most outstanding bag in the list is the bag for homestay.
The bag I bought could be used for homestay, but I planned to only take it when the ship stops at Malaysia at the end of November. I could not even afford to think of bringing this bag at the beginning of the journey due to the luggage weight limit I had.
It was an unwelcomed headache.
This problem occupied my mind for weeks, and I decided to buy another hand carry for homestay, because I simply cannot wait for my team member to report whether or nor his contact will sponsor the homestay bag.
Coincidentally, my mum was around with me when I made up my mind. So my mum volunteered to sponsor me the bag.
We were in a megamall, and I spotted a nice large handbag that can be used as a luggage, but it was quite expensive. Knowing my mum is also tight on cash, I felt a little guilty.
My mum also likes the jeans material bag I spotted, but I gave myself a thousand reasons not to buy it due to the pricing. And so I decided to get a much cheaper bag.
So I led the way to the hypermarket, and showed my mum the stack of the cheaper bags. Mum was not approval about the design and the practicality, but price reigns, because I have no choice. My pocket rules.
And so my mum bought it for me for RM9.90. I brought it home happily.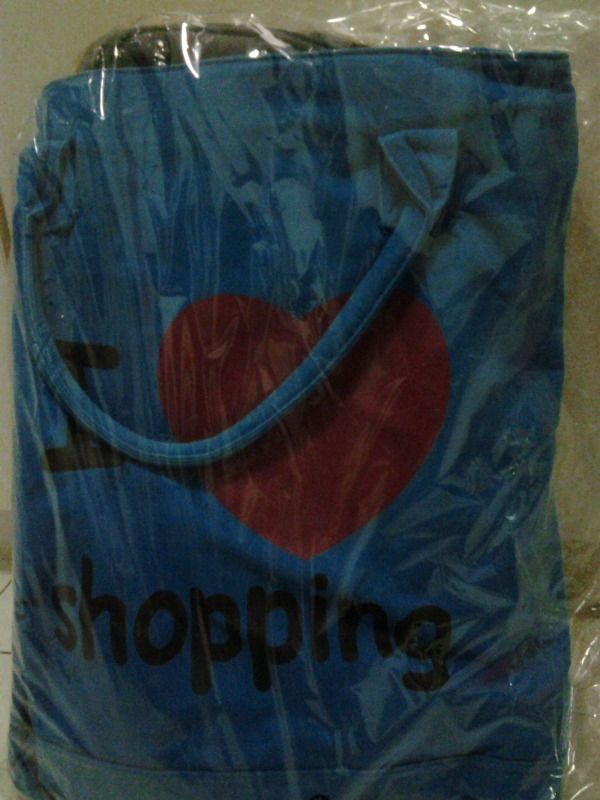 Tidbits
: Wow. I cannot believe I am getting that bag for RM9.90 because the original price is RM99. I feel so grateful for spotting that bag in Isetan. Just could not believe my fortune.
The depth of the bag is so deep that I can put in a lot of clothes. :-) I placed all my heavy weight clothes like jeans and microfleece in this bag, and it just look like a normal but huge handbag on the exterior. Thank god, I am a female and I am entitled to bring a handbag additional to the hand luggage. Phew.
Comment! (0) | Recommend!
Saturday. 9.22.12 11:15 am
On 11 October 2011...
Omg... Omg...
I am so going to Japan...
Omg... This is real... Two more weeks to go... And I...
"Hey... Don't tell me you are going away without cleaning your table?"
Ahhh... She just burst my bubble of thoughts.
I replied with squinted eyes. Noticing my rebellious gesture, she replied "You better clean it before you go, because the department head dislike messy and untidy table."
I gulped and started clearing the papers on my table the next second.
Tidbits
: Damn. She read my mind. I had totally forgotten to clean my table before leaving. I had only packed my stuff for storage purposes. So I cleaned the table with immaculate cleanliness. It was the first time in my career years to spot a clean and paper free desk in front of me. I felt so proud of my own achievement. Haha.
Comment! (0) | Recommend!
Saturday. 9.22.12 10:32 am
In October 2011...
This time our team member who works for the custom department taught us how to march and arranged us according to heights. Being the assistant leader, my position will always be in the front.
Our seniors, as usual, watched over us and gave us feedback for improvement. This time a female senior came to observe. As she was observing, she thought one of the members was missing so she called out for her.
"Rah? Rah? Where are you?"
"I'm here!"
"Where?!"
She popped her head beside me and waved to her.
The senior went "OMG! Nobody is gonna notice u!"
We all had a good laugh. Thanks to the senior.
Tidbits
: She is the shortest member and I always blocked her view. By the way, my team leader also always blocked the view of the member behind him. Interestingly, the both of us share similar heights.
Comment! (0) | Recommend!
Monday, August 20, 2012
On 2 October 2011 ...
OMG!
13 more days to quarantine!!!
Will I be even ready for the trip?!
Tidbits
: I seriously had an adrenaline rush in October. I can not stop feeling relief that I have sealed a two-months leave with pay. And on top of that I finished organising event.. phew...
And I'm not dreaming!
Comment! (3) | Recommend!
Monday, August 20, 2012
On 1 October 2011...
Yatta!
I finished packing for my SSEAYP trip! I'm through with the nightmare of packing toiletries and others to survive for two months.
I have gathered tonnes of samples; bought turtle necks for cold climate; collected my clothes from tailor; collected items from sponsors; etc.
I posted it on my FB, and that made my team members sweat!!!
Phew~ Pat pat shoulder~
Tidbits
: The main challenge I faced was my packing must not surpassed 9 kg. Incredible, right? I remembered boasting to my friend how I had packed my luggage for studying abroad. And I remembered very well how she laughed... And now I understand why she laughed...
9kg...
I only packed my samples, a turtle neck, two pair of jeans, two nice blouses, a pair of tracksuit, two tees and a towel. And they weighed 5 kg... The balance is for the contingent's costumes and the balance of the balance of the 30kg we are given individually is for the contingent's cargo.
What a night of packing ...
Comment! (0) | Recommend!
Monday, August 6, 2012
On 23 September 2011 ...
I walked along the rowdy street of Petaling Street looking for only one item: Coconut candy.
Since I was put to be in charge of food during exhibition, I suggested to the team leader that I will look for the best item for the food tasting segment.
I craned my neck at every counter, and found the price for the candy either overpriced or too little in a packet. I was thinking of buying 1000 in quantity.
Amidst of betting off the foreigners approaching me to buy pirated dvds, I found a sundry shop hidden from the main road at the corner of Petaling Street.
There are many local delicacies on the rack, and my eyes moved from one rail to another until I found the candy.
I finally released my breath of relief.
The promoter approached me and tried to guess where I came from, because I spoke broken Cantonese. She was dismay and disappointed to know I came from Kuala Lumpur. I even offered to show her my identity card.
I moved on to the main negotiation: I want cheaper price for buying 20 packets.
I could see her dismay again, for she could not charge me tourist price. She contacted her boss to give me 20% discount off total price, and yet I demanded to be lowered by a few ringgit. The boss gave in, and I happily carried 10 packs on each arm to the LRT station which was 200 m away from the shop.
The candies were killing my arms. I took interval breaks between my walks. For a heartbeat, I felt I blended in with the foreigners at Petaling Street buying bulks of items to bring home.
I sat at the bench while waiting for the train, and came a young man asking me if the following train is going to Ampang in Mandarin. I replied him in broken Mandarin.
And he continued asking me "Where are you from?" in mandarin.
I was somewhat offended, but I decided to hide my expression and replied coolly "Kuala Lumpur."
He was embarrassed.
"You thought I was a foreigner just because I was wearing torn jeans and t-shirt with unmatched cap, buying things to bring back to China?"
He smiled and apologised about the mistaken identity.
We jumped into the same train and conversed in English until he reached his stop. The anchor of the topic was about the function of the candy.
Spinoff
: :-) We ended up becoming friends on FB... And we discovered we have a number of mutual friends from the entertainment and event line. What a small world.
I found out he is a stage performer who resigned from his lawyer profession. What dedication! And I never expected to make a new friend from this day.
And yes, my arms hurt like hell for the next few days...
Comment! (1) | Recommend!