NEW JOINT:RIHANNA FT. JAY Z-UMBRELLA
Monday. 4.2.07 6:17 pm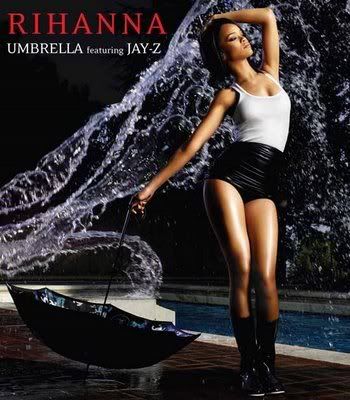 This song grew on me,so I like it now.
Listen & Download
Comment! (1) | Recommend! | Categories: muzik buzz [t], rihianna [t], jay z [t], umbrella [t], new single [t], good girl gone bad [t]
Monday. 4.2.07 6:12 pm
I just saw this on Sohh ya heard and I thought it was interesting,and I also wanted to see who could guess this celebrity.
According to Sohh Fabulous,
"He is definitely living up to every rumor ever said about him. He still hasn't confessed to getting caught up in the past with a certain stylin' industry chick, but it's all about to hit the fan. Now that he's moved on to publicly crooning a new love in his life, he's trying to play the monogamous role. But it's known he's not over a past rumored flame. The past flame (who the tabloids like to pair with this person) never reciprocated any feelings he had for her, but that hasn't stopped him from ringing her cell off the hook and still trying to get at her on the low. He doesn't care that she's involved with someone else and he's about to start a new family himself. If he doesn't stop with the sloppy desperate calls to the old flame, he's going to get caught up again. And there's a lot more to lose this time around."
GUESS WHO THIS CELEBRITY IS?
Sohh Ya Heard
Comment! (1) | Recommend! | Categories: blogs [t], sohh ya heard [t], guess who [t], celebrity [t]
WHOSE GOING TO WIN "I LOVE NEW YORK" ?
Monday. 4.2.07 5:49 pm
I've been hearing that whoever won "I Love New York" is really in love with New York, which is good because the last times didn't go so well for New York. I personally hope Tango wins because he seems more on New York's level than Chance. Chance acts like a little ass kids and I wouldn't be able to deal with his bullshit. We'll get have to wait until tonight to see what really happens.
Comment! (1) | Recommend! | Categories: tv [t], vh1 [t], new york [t], I love new york [t], the winner [t], tango [t], chance [t]
GLENWOOD DAY WAS CANCELLED...DANG
Monday. 4.2.07 12:38 pm
Glenwood day got cancelled because of weather issues but I had got news that it being held at another location I don't know how true that was but I'm getting reports now that it didn't go down.
Comment! (1) | Recommend! | Categories: evernts [t], glenwood day [t], decatur ga [t]
PRETTY RICKY AIN'T BREAKING UP
Monday. 4.2.07 12:33 pm
Pretty Ricky clears up the rumors about them breaking up with Sohh News.
According to Baby Blue,
"First of all, let's clear up all the rumors. No, your boys ain't gon' break up. It ain't gon happen," Baby Blue told SOHH. "All y'all record labels out there trying to put your new groups out, stop lying on Pretty Ricky, baby, 'cause we the number one group in the country, got the number one album in the country, Late Night Special. The ladies love Pretty Ricky."
I guess they're not going anywhere so deal with it.
Comment! (0) | Recommend! | Categories: sohh news [t], pretty ricky [t], break up [t]
NEW JOINT:BEYONCE-SUGA MAMA-VIDEO
Saturday. 3.31.07 5:37 am
I kind of like this video.
Comment! (1) | Recommend! | Categories: videos [t], beyonce [t], suga mama [t], bday [t]