Wednesday. 3.7.07 9:43 am
Indonesia was hit by a Richter 6.6 earthquake and over 400 km away over land and sea, Sg shook.
well, mildly tremor-ed.
i din feel the earth move under my feet the first time the shock waves hit Sg, was outside having early lunch with my colleagues. We were having fish head curry at Amoy, and was probably too engrossed chatting. Some of us started receiving phone calls from our other colleagues who were evacuated from office who notified us that we are not to return to our office until further notice.
went for extended tea break. and all the while, i was worrying abt my ipod in the office, gave me such a fright! I lost ten grams that day.
eventually having exhausted our bladder capacity, headed back to hang ard our office building. ( if you have today's Chinese free newspaper Wo Bao, aka mynews Thats my office building!!) everyone swapped earthquake stories, hint: this is the first time sg is affected so badly that pple actually had to evacuate. those who marathon-ed down the 27 floors from our office to the grd floor, were complaining of weak knees, poor ventilation in the emergency stairs wells, and the fact that other pple actually took lifts instead.
Correct emergency survival procedures dictate the use of stairs. but this is Sg u are talking abt. Geographically speaking its pretty hard for Sg to be hit by a building toppling earthquake. anyways, pple on the lifts got to the grd floor much faster den those on foot.
anyways, the kopitiams are having a field day.
Eventually, our building was deemed safe enuff to return to.
at abt 2pm, whilst i was typing, felt dizzy. but the feeling passed quickly. i was like "eh?" i thot i saw my out stretched hands shift and shift back. looked up and saw our cny lanterns swaying.
stood up and saw the pple in the entire office was doing the same, before everyone quickly grab our bags and run to the lift. we were one of the first few down aka the kiasi pple. lol
to cut a long story short, we were supposed to move to out emergency recovery centre situated far from the maddening crowd. but while we were still tryng to quickly make our payments first , an announcement was made for us to return to our offices.
bleh
all the excitment, fortunately, for nothing.
Comment! (3) | Recommend!
Saturday. 3.3.07 12:13 pm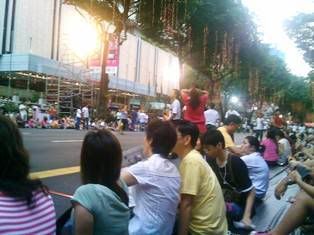 waiting for chingay to start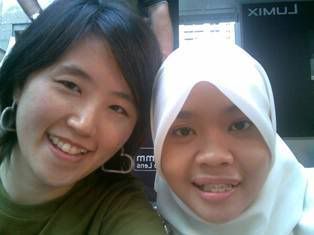 nothing to do while waiting, we took 3 of this, same pose, different times.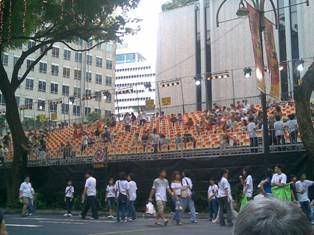 envying the pple who actually paid to watch chingay. 49 bucks per seat. blody ex man.
this is more recent. went for supper with family on Thurs night at Adams Rd food court.
the ribs and prawn noodle soup is heavenly! the bbq stingray's and etc seafood's sambal is weirdly sweet tho.
took this today. wtf.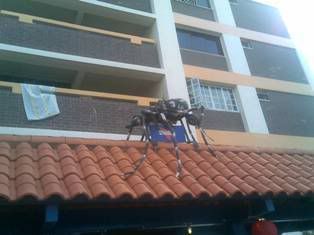 mosquitoes. haiz
Comment! (5) | Recommend!