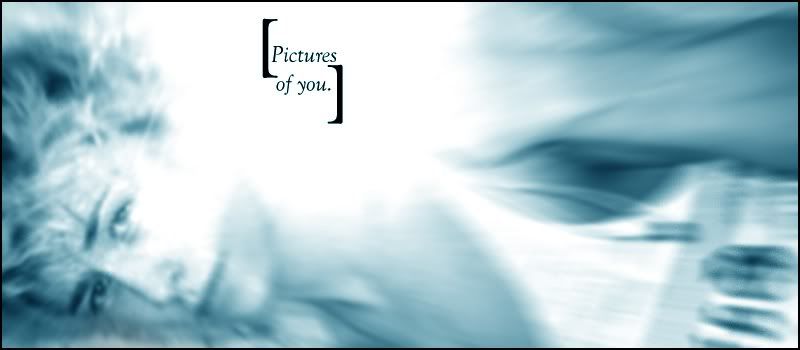 Spring Semester 2010:

* Teaching: Fundamentals of Microbiology - MW 12:00-2:40p
Medical Microbiology - TR 2:00-3:15p
Colloquium in Cell and Molecular Biology - R 3:30-4:30p
Thesis Research - Identification of T Cell Subsets and Immune Response in Colon Cancer Using Immunofluorescence - FOREVER AND EVER

Or rather, entries from the old journal, as it were...

-

An open letter to the College.

(August 27, 2006)

-

Untitled.

(July 16, 2006)

-

Haunted (Part One)

(May 29, 2006)

-

Are we growing up, or just going down?

(May 3, 2006)

-

I had a dream...

(March 19, 2006)

-

...

(March 14, 2006)

-

Enjoy it while it lasts.

(September 12, 2005)

-

Scene: 3:27 AM.

(September 3, 2005)

-

Untitled.

(July 26, 2005)

Psst... if you're looking for the academic writings I used to have here, head to my Reading Room.

Since June 2006...

- A Heartbreaking Work of Staggering Genius by Dave Eggers
- High Fidelity by Nick Hornby
- Travesties by Tom Stoppard
- The Way of the Shaman by Michael Harner
- The Tao of Pooh by Benjamin Hoff
- Nervous Conditions by Tsitsi Dangarembga
- The History Boys by Alan Bennett
- The Dark Child by Camara Laye
- Movie-Made America by Robert Sklar
- Diary by Chuck Palahniuk
- Rant: An Oral Biography of Buster Casey by Chuck Palahniuk
- Galapagos by Kurt Vonnegut
- The Dead Emcee Scrolls by Saul Williams [61.3%]
- Atonement by Ian McEwan
- Junk Science: An Overdue Indictment of Government, Industry, and Faith Groups that Twist Science for Their Own Gain by Dan Agin, Ph.D. [64.4%]
- So Yesterday by Scott Westerfield
- Lucky Wander Boy by D.B. Weiss
- The Things They Carried by Tim O'Brien
- Doctor Who: The Key to Time: A Year-by-Year Record by Peter Haining
- Why Buffy Matters: The Art of Buffy the Vampire Slayer by Rhonda Wilcox
- When You Are Engulfed in Flames by David Sedaris
- The Road by Cormac McCarthy
- 1984 by George Orwell [18.8%]
- Nick and Norah's Infinite Playlist by Rachel Cohn and David Levithan
- Intuition by Allegra Goodman
- V for Vendetta by Alan Moore and David Lloyd (Yes, I realize it's a graphic novel but it still fucking counts!)

Obligatory New Year's post.

Monday, January 4, 2010 @ 9:19 am

Another year, another hangover.

That's all I have to say about that.

P.S. I am sick and tired of hearing decade best-of/worst-of lists... the decade is NOT OVER. The Gregorian calendar does NOT have a year 0, so the first decade after the switch to the Common Era went from years 1-10. Following that trend through to the present, the new decade does not start until 2011. There's a whole other year, folks. Save your fucking lists for then!

Comment! (1) | Recommend!

Sunday, December 6, 2009 @ 11:51 am

Drinking + reminiscing about a boy you were in love with YEARS ago + current best friend = awkward silence

Me: He just stopped talking to me. Just... stopped. Right after he found out how I felt. And I know that might just be "the way he is," but for fuck's sake, we were BEST FRIENDS. And that HURT. It really fucking HURT.

Alex: Well, hey, I'M your best friend now.

Me: Yeah... but I'm not IN LOVE with you!

[awkward silence]

Comment! (1) | Recommend!

Wednesday, November 11, 2009 @ 5:02 pm

I don't know why he had to bring it back up again after all this time. Like I need to be reminded that I almost destroyed our relationship, like I want to be reminded that I'm the reason he can't trust me 100% anymore.

I just want him to take that leap of faith that I will never do anything like that ever again, that I don't want to betray him--consciously, subconsciously, or unconsciously--ever again, that I don't want to cause him hurt ever again... And if he doesn't believe that I don't want to hurt him, then he should at least try to believe that I don't want to feel that pain either, because seeing him hurt like that hurt me at least just as much as it did him.

I know he didn't dredge up what happened between us before to hurt me... and he's completely justified to feel the way that he does because I fucked up and I admit that. But that twinge of sadness that I feel now that he's brought it to the forefront of my mind again--that is from knowing that I was the one who almost brought everything to an end, and knowing that I won't do it again, and knowing that somewhere inside of him, maybe he doesn't believe that.

And that's why it hurts so much.

Comment! (0) | Recommend!

Monday, November 9, 2009 @ 9:45 pm

Nick came up to me before I left and asked if I wanted to have some drinks tonight. Being the semi-alcoholic that I am, I said yes.

We ended up hanging out in my apartment, drinking beer and eating chips and sandwiches that we added bacon to, for about three hours.

There are some qualities about Nick that would make him a better husband than Alex. Namely, the boy cleans up after himself when he comes to visit. Alex does NOT. Fail, Alex. Fail.

Comment! (0) | Recommend!

It would be such a bad idea, and you don't even know. [EDIT]

Sunday, November 8, 2009 @ 3:30 pm

On Friday, Nick asked me when my lease was up on my apartment. I think he's hinting that he might want to move in with me, which makes me nervous, because while I think that living with him would be fun, I think it would also be a huge mistake. A ginormously bad idea considering my past feelings for him. And if last night was any indication of how bad this hypothetical situation would be, then it might actually be worse than I'm making it out to be. Because honestly, if I can barely keep my shit together when he's walking around his parent's house freshly-out-of-the-shower wet and shirtless, with nothing but a towel protecting his groinular regions from my insatiably hungry eyes, then how the fuck can I expect to live with him and at the same time expect to get anything done? I can't. Not at all.

(All the while this was happening, Alex was trying to suppress his laughter at the sight of me trying not to stare awkwardly. Asshole.)

EDIT:

At least Nick didn't ask me outright. If that question ever comes out, I don't know how I could respond. I should just say "No," but how can I say that without potentially crushing him, especially when he knows that I said "Yes" to his twin brother when HE posed a similar (albeit somewhat hypothetical) question (though that didn't really pan out, oh well)... a mere month after being introduced to each other by Nick? Complicated.

Comment! (3) | Recommend!

Saturday, October 24, 2009 @ 11:24 am

Grizzly Bear/Beach House.

Thursday, October 22, 2009 @ 1:44 am

A-MAZING!

Just got back a while ago from the last stop on the American tour for Grizzly Bear. Their next tour is in Europe, so it's bye bye for the Bear for a while.

So glad Alex and I got to see them. The venue was sold out, and for a while there it looked like he wouldn't be able to go. But being the all-star HLP that I am, I tracked down a ticket for him at not-too-much over face value.

We were blown away.

Beach House opened for them. I have only ever listened to their newest album, which I highly recommend. I obviously need to check out the earlier stuff, because I am sure I'm missing out.

A strange thing happened while waiting for Beach House to get onstage. I got a somewhat frantic phone call from Nick as Alex looked and listened on. Nick was recently diagnosed with strep throat and he was really concerned about missing school tomorrow because he has a group presentation and quiz in a class he's really worried about not passing (which for our program means getting a "B" or higher). I talked him through it for a little bit, Alex got kinda annoyed, and when I hung up, I was a little... sad isn't quite the right word, but I'm tired so sue me... because Nick was obviously very concerned and conflicted about what to do. Alex and I stood there in silence for a while. I didn't wanna bring it up, and neither did he. Thank God Beach House showed up and started playing. It was starting to get a little uncomfortable.

I honestly couldn't tell if he was annoyed that I was taking a call from his twin brother, or if he was bothered that Nick was confiding in me and not him, or if he was jealous at how quickly I'd drop everything to help Nick out... or if it's a combination of all three. Whatever it is, it hints that this sticky situation is still far stickier than I care for it to be... and that I'm certainly not used to it although I've been caught up between them for months now.

Ah, well. Time to pass out.

Comment! (0) | Recommend!

Every day is silent and gray.

Tuesday, October 20, 2009 @ 9:55 am

Alright. It isn't. Damned sunshine.

Lately, I've been hyperemotional. Crying over really random stuff, like Jim and Pam's wedding on

The Office

and Mr. Shuester seeing his "child" for the first time in

Glee

. It's problematic.

Male PMS is real, people. And it's a serious problem.

Been having a shitty last few days on top of that. Don't wanna go into all the details, but let's just say that yesterday, if Alex didn't come over, I would have just ended up drinking alone in the dark.

Instead, I still drank my ass off to numb the pain, but at least Alex was there drinking

with

me to make me feel like less of an alcoholic (even though it would be correct to say that just because two alcoholics drink together doesn't make them any less so). But I also cooked this really tasty lamb dish for the both of us and actually had a good time just talking with him and watching MNF. (Even if the Chargers defense kinda sucked throughout the game, and the o-line didn't do their job half the time particularly in the second half.)

Now back to the daily grind. I think that was a good attempt at pressing the reset button last night... I feel a little more ready to take on the week and hopefully no more badness befalls me.

Hopefully.

Comment! (1) | Recommend!