Saturday, October 27, 2012
Saturday. 10.27.12 10:54 pm
On 15 October 2011...
My heart is racing...
I'm going to Japan. This sounds like a dream... and I wanna wake up to make sure it is not a dream.
I went through my list again and again, fearing I will forget my necessities.
I will definitely miss my pillow and bed....
Tidbits
: I brought along my bedsheet and countless of necessities to the quarantine camp, as if I'm camping.
Comment! (0) | Recommend!
Saturday, October 27, 2012
Mid October 2012...
"I don't think we have enough gifts for the participants."
My heart sank after listening to my team member's words. We are tight on budget, and we cannot afford anymore items for the trip. Door gifts, we thought, is compulsory for the participants who will be attending our performance.
Sigh. I just got to say this.
"We are on tight on budget. But is it possible to use your own money to buy?"
He looked at me.
"Why not buy first? If we have sufficient numbers, then you may keep that for your own personal use."
He was still thinking.
"I have a suggestion here. We can buy indigenous bookmarks as door gifts. I can get it at a cheaper price from the supplier."
He agreed after he did his calculation, and we both met at a hotel where the supplier was attending an indigenous conference.
A huge relief. We finally got it settled.
Spinoff
: As I could not take my eyes off an exquisite music instrument, I bought it for my contingent for exhibition.
Will show you guys next time.
Comment! (0) | Recommend!
Saturday. 10.27.12 9:57 pm
On 7 October...
My things-to-do list has no full stop. The next thing I got to do is to groom myself.
I went to do facial and polishing and scaling.
My hair is already pretty short. If only the hair dresser can make it shorter, but he refused because he commented that I already look like a boy. My main concern is my hair would be long and 'out-order' by the time I need to perform on board. I can't be searching for a hairdresser during my homestay. ARGHH... Whatever la!
Comment! (0) | Recommend!
Friday, October 19, 2012
On one fine mid- Friday morning in October ...
I was over cloud nine when a major corporate decided to sponsor my team tea sachets despite requesting at the eleventh hour. It was beyond my expectation that they were so efficient in replying me in less than a week with a yes. They rang me up asking how many I want and when I could collect.
As I entered their HQ premise which is an old-english style cottage, I saw a lot of boxes piling at the receptionist area. I remembered the person-in-charge telling me that I will find my sachets at the receptionist area. And are all those mine?
So I waited for a few minutes at the receptionist area, before she came out to greet me. She was gesturing that all these boxes were mine. And asked if I came with a car. I replied no, and she gave me a puzzle look.
Without further ado, I opened the boxes and discovered they were nicely packed in a plastic with introduction of the company... and there were three sachets in a pack of the size of a samsung tab 7.0.
I was holding my breath, because I could not believe they have readily packed 900 sachets for me ...
Spinoff
: Luckily my friend was free from class that day and she picked me up along with the sachets to my house.
I was just expecting 3 boxes with 100 sachets each!
Comment! (0) | Recommend!
Wednesday. 10.3.12 9:38 pm
On 6 October 2012...
300.
Right. I have to get gifts for 300 people on the ship.
Another headache. Another spending.
Sigh.
My pocket is running dry already, and I told myself I MUST be creative in solving this problem.
I ran through my memory to recall of special and unique things I have seen... And bingo.
Bookmarks made by the aborigines of Malaysia arrived in my head, and I immediately contacted the supplier.
My heart was racing listening to each dial tone to the supplier. And she picked up.
I could feel my heart walking up to my throat as we talked about the pricing and other items that I wanna buy. My head was calculating the costs as we talked.
After a few minutes, I decided to buy the bookmarks and made an appointment with the supplier for collection.
Phew! Renaye go go go!!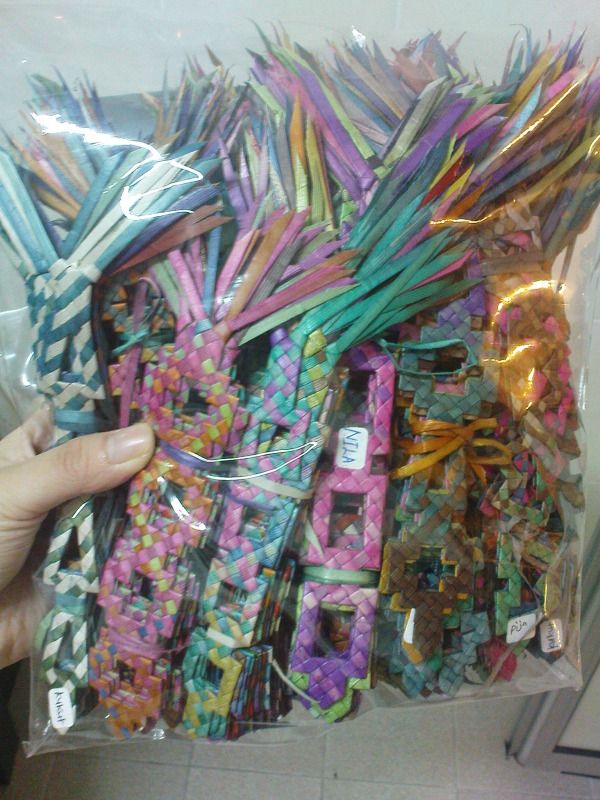 Tidbits
: I never thought of buying for 300 people, because I have no intention of giving to everyone, but I was advised to do so. I also bought other kind of gifts like keychains.
So in the end, I bought 200 bookmarks and some other items for exhibition (which I will cover later). The main reason I bought is because I was given a very good price and I wanted to support the aborigines trade, and I thought they are also great items to show the world about their uniqueness.
The aborigines took two weeks to complete these bookmarks. One week for dying, and another for weaving.
They are beautiful, are they not? :-)
Comment! (0) | Recommend!