Saturday. 10.8.11 1:51 pm
My silly little girl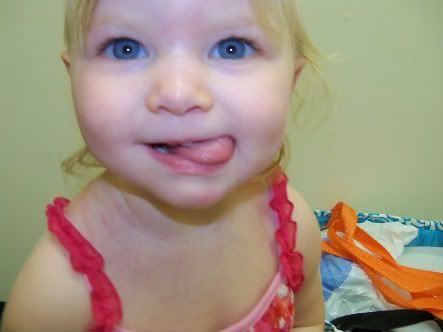 My little man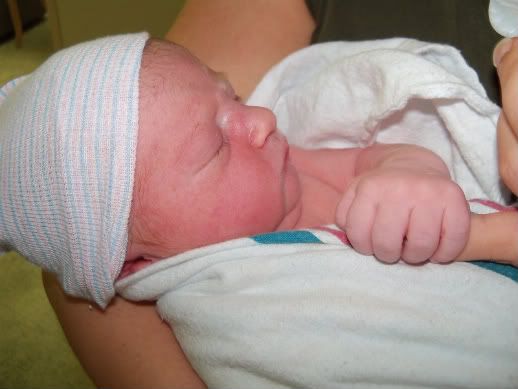 Kaden is a little over two months old now but, I don't have access to any recent pictures. I'm chillen at my moms house bored out of my mind. Tyler and the kids are taking a nap and, although tired, I can't seem to fall asleep. Ugh. I can't think of anything to type. Not much going on nowadays. Just taking care of the kids and stuff. Yep....
Holy Snap! The other night I had my first experience with 100 proof tequila. KB spent the night with my mom and kaden was sleeping peacefully. Tyler and I were hanging out with a couple friends playing "liquor pong". I had two mixed drinks with a little over a shot of the tequila in each. I'm not a big drinker and never really have been. When I do drink its beer or a light fruity drink. I don't like getting really drunk. Unfortunately, those two drinks that seemed harmless got me trashed. I felt horrible and sick and of course, up chucked everything when Tyler and I got home. I will NEVER drink that stuff ever again. I'll stick to beer and wine!
Hm... eh, I got nothin' else. Later Nutang
Comment! (2) | Recommend!
Monday. 9.26.11 10:30 pm
I am typing on an I phone, so this entry with be brief. Tyler finally told me the truth about what's been going on with his ex. He told me with tears in his eyes nothing ever happened and they were just friends. He claimed he was afraid to tell me the truth about the messages Because he new I would be upset. (he was making plans to hang out with her late at night behind my back.) I can understand that to an extent because I hate his ex and told him I didn't want him around her. She is pretty much a slut now and I know would make a move on Tyler in a heart beat. I don't want Tyler around that shit. So blah blah things are completely different now. He is more open with me and we have more fun together. It's like a weight has been lifted off if our shoulders and we can finally move on with our relationship. We're best friends again anti love it! I feel like I can trust him again. It still going to take some time for him to completely regain my trust but, I can finally start somewhere. I love Tyler so much and want this to be something we both and learn from. He needs to be truthful in everything he does and I need to be a little less bitchy about some things.
Comment! (2) | Recommend!
Saturday. 8.27.11 11:53 am
I live in the wonderful land of Disney (as I like to call it) in central Florida. Tylers friend wants to do something for a day that sounds awsome. It starts out leaving very early in the morning and driving to Melbourne beach on the east coast. There, you can watch the sun rise on the beach. After that, spend the day driving to different places in central Florida and just having fun without much of a plan. Then, at the end of the day end up in Tampa on the west coast and watch the sun set. To me that sounds like the most bad ass date EVER. However, Tyler and his buddy want to do it just them and maybe another friend or two. :( Makes me sad. Tyler gets to have all the fun with his friends.
I feel like Tye doesn't have fun with me anymore. When its just us it's quiet and theres never anything to talk about. We don't laugh and tell stupid stories to eachother like we use to. But, get him with friends and he has a blast. Theres not enough time for them to share all the jokes and stories and they overall have a great time. I wish it was like that with just the two of us.. just like the old days. I feel like he's bored with me.. I know he loves me and all that junk but, why does it have to be a bore to do things together now that were married. -sigh- I just don't get it. Hell, when I caught him making plans with a certain someone behind my back they were going to have a good time. Hang out at a bar and then chill at the lakefront. Why doesn't he ever make plans like that with me? I know we have kids now and were a family, but it seems like the only way he has fun is with his friends. I wish he wasn't so bored with me...
Comment! (5) | Recommend!
Saturday. 8.20.11 5:17 pm
As I updated in my last entry, My son is no longer is the womb. He was kicking my ass and I am very pleased he is out! He will be a month old tomorrow. Time flies!
Things are good with the hubby. We are working through everything.
A friend of mine took KB and I to this place called Monkey Joes. It had several inflatable slides and bouncy castles and junk like that. She loved it and ran around like her normal crazy self. She's awsome :) Tyler and I also got her her first pair of CONVERSE!!!! High tops of course! My baby girl's an All Star!!
OK.. that last comment was lame.. I know.. But, it's still true!!!
Unfortunately, My grandmother recently passed away. Her funeral was the past monday. This is the first time a family member than I knew personally and grew up with died. I have mixed emotions of saddness and happiness. She was sick and miserable. The last time I saw her she was saying she wanted to die. It was horrible seeing her in that condition and state of mind. I know she is no longer in pain and in a better place watching over me and my family. However, She was an amazing woman and lived a great life. I will cherish the memories or her and am glad she was apart of my life. I love you Grandma.
Going to tend to the kids. Untill next time.
Comment! (1) | Recommend!
Thursday. 8.18.11 8:46 pm
It's been a while. So much has happened. I will attempt to make this entry as short as possible.
a. Tyler is no longer in the military. He got fucked out of his benefits because his Commander didn't do the paperwork. He needs another surgery because the army messed up his hernia surgery. However, the military is saying they won't pay to get him fixed up. Blah Blah.... I miss all of the friends I made through Tyler at Eglin AFB. I might go up and visit them soon!
b. On July 24th around 7 am my water broke. The Dr. didn't give me an option and gave me another c-section. Kaden Alexander was born at 3:33 in the afternoon. He looks just like Tyler. He is adorable! He isn't as easy as Khloe was. He gets fussy at night and sleeps all day. But, I love every minute :)
c. 5 days after Kaden was born Khloe became infected with Chicken Pox. I immediately seperated her from Kaden and she lived with my mother for 2 and 1/2 weeks. She is fine now and being her crazy self. She loves Kaden and wants to help take care of him. She's a little too rough sometimes and doesn't understand that he can't play like she can yet. But, over all, she is a great big sister.
My kids are crying. I will update more again whenever.
Comment! (3) | Recommend!
Monday. 6.6.11 12:28 pm
So many stressful things have been going on. One thing in particular is messing with my mind so much it has affected my daily life. I have moments that I convince myself everything is fine and there is nothing to worry about with this situation. But, other times where I can't eat, sleep, or function as a human being because of the very thought. Every time I talk to Tye about it he always tells me everything is fine. However, my mind begins to wander and I think "What if?". Along with all of the other things I can't understand in our relationship. Everything I see infront of me screams an obvious conclusion. But, on the other hand, logically it doesnt seem possible. I begin to think "Why would he?" He wouldn't! After everything we have been though he would never... But, why does he act like this and do that? I want to trust him but, I don't know if I can.
Not to mention our money situation. He is not the best at saving money or paying the bills on time. To make things worse I have no access to money at all. I am still not working. The only way I can get money for necessary items is through him. However, it's hard for that to happen when he spends all of the extra money in his paycheck so quickly... Now that he is getting booted from the army, I have no idea what will happen.
On Wednesday I am going to see an airforce recruiter. After Kaden is born I want to join into the military. I know it won't happen right away and its not easy, but I'm going to do what it takes.
My mind is a cluster fuck of maddness right now...
Comment! (2) | Recommend!
Sunday. 6.5.11 9:55 am
I had another crazy ass dream last night. It was very long, and the first part of it was about my sister and I hanging out with the Kardashians (sp?) almost every day. WEIRD, because I don't even watch those shows or have any interest in them. Then, I remember hanging out with my love at a different friends house. At some point we decided to go to Walmart. Out of no where one of Tye's platoon sergeants that no one likes was with us, along with a family friend of mine. The parking lot was filled with police, and come to find out Tye's serg. wanted to buy some weed, but needed Tye for the connect. They both walked up to a beat up looking car with some guy in the drivers seat. My friend quikly followed them and watched the transaction, along with every police officer in the parking lot. It was obviously a set up, and Tye took the narcotics and held the bag loosly and visably to all in his hand. I wanted no part in it and decided to run into walmart and get some food. I walked around and looked at sandwiches. At some point I grabbed a banana and sat on the floor and started eating it (which is VERY weird because I HATE bananas and always have). Just then, a police officer walked up to me and informed me my friend was an undercover cop, and Tye and his serg. had been taken into custody for buy the drugs. To make things worse, he told me I was getting arrested to because I was with them when they arrived. I bawled my eyes out and pleaded that they let me go because I wanted no part in any of it. The cuffed me and thats all I really remember... Hm..
Besides the craziness. I have been having a problem with seperation anxiety throughout this pregnancy. I can't stand it when khloe and I are apart for longer than a day. I just want to cry. However, I have realized my anxiety goes deeper and I am missing Tyler to a degree that is not normal for me. I want to cry I miss him so much. It has been less than a week since I've seen him but, I feel so homesick it's starting to depress me. I should be enjoying the time I have with my family and friends but, I have found myself counting down the days untill I can be with my love again. I know this is all maddness in my head and It hormones messing with my mind. I am acting like I'm never going to see him again. Ugh... Kaden is driving me knutts in more ways than one. But I still love him and can't wait to meet him :) Not too mention I am sick of getting kicked!! x.x
I take my leave, there is much to do today.
Comment! (2) | Recommend!
Friday. 6.3.11 7:17 pm
Tyler and I came home for the Memorial day weekend. He left Tuesday morning to return back to base. Khloe and I are staying in town untill this upcoming thrusday to spend more time with family and friends. So far I have had a BLAST! My mom-in-law threw my a baby shower this past Saturday and it was awsome. Not to mention everything we got for Kaden :)
So much has been going on and Tye and I are beyond stressed... especially Tye. We have recently learned that he is being discharged from the Army because his platoon sergeants don't feel he is fit for the job. Things havn't been going so well with his hernia surgry. He never fully recovered and the surgeon screwed something up because you can feel and see that something is not right under the skin. He has been on profiles and hasn't been able to do PT because of it, and now they are giving him the boot. It SUCKS because we arent quite sure what we are going to do. Tyler has a job set up for him (when he is out) to help us get on our feet so we have some kind of income. I want to join the Airforce. I have always considered joining the military growing up, and now its my chance. I am very interested in the Cardiopulminary program they offer. I am going to try and go to a recruiter down here before I go back home. Ugh... We shall see what the future brings.
Things with Kaden so far have been going well. No signs of any problems. I am about 31 weeks now, and I feel like I'm gonna pop early. I have been having contractions every day. They are just braxton hicks, but the are getting more frequent as the days go on. There have been a few other things that are symptoms of early labor. I spoke to a doctor about having a VBAC and Im gonna go for it. I will still have a C-section scheduled at 40 weeks, but if I go into labor naturally before that I want to give it a go. He is in the right position and everything is looking good. Unlike his older sister who was completely breech. Speaking of her, she is CRAZY lol. Shes 18 months now and running around, babbling, and dances like crazy. She is ADD just like her mommy too. I love her so much. :)
Things with Tyler and I have been up and down. Our love is still like no other but, we have been arguing A LOT. I think it's just because we are so stressed out with the Army not working out and Kaden coming soon. Both of our families are supporting us and have said they are going to help us through this hard time no matter what. I know this will just be a bump in the road and Tyler and I will make it past this. I love him so much! And that is still an understatement. I miss him already and can't wait to see him Thursday evening :)
I don't want to over due the update. I will try and get back on here before I go back home. We still dont have internet and the neighbors eventually blocked their internet. Hooray for being broke!
Untill next time!
Comment! (1) | Recommend!