Wednesday, February 28, 2007
It's been a good while since I've updated. School's been keeping me pretty busy. And I'm SICK! Sick, sick, sick. I'm worried I might have strep throat which would be a total bummer.
Anyway, today I have a little something to say about the fashion choices I've been seeing on campus:
It is not okay to wear pajama bottoms to class after your 8 a.m. I can let it slide when you have a class that early. But come on, pajama pants at noon? Tacky! And you know what makes it even more tacky? When PINK is written across your ass. Nobody cares that you got your little doggy pj bottoms at Victoria's Secret. I actually prefer not to know where you buy your sleepwear. Also, how much harder is it for you to pull on a pear of jeans? Oh no, a button instead of a drawstring! No more pajamas, please.
It is not okay to wear tiny skirts and tube tops in February. I realize that this is Alabama and it does get into the 70s sometimes in the winter. But this weather is a LIE. Next week it'll be back in the 30s or 40s. That means keep your summer gear in the closet until at least April.
Heels. I understand that many students are also TAs which means that they have to dress up to teach. Perfectly okay. Undergrads wearing heels as a fashion statement on campus, not okay. I know many of you have a presentation or a meeting or something, that's fine. But to tramp all over our concrete campus in spike heels just so you look, I don't know... hot? sexy? whatever? It's lame. Super lame. And I promise, I'm not the only person laughing at your attention whore choice of shoes. Save it for the bars. And while we're on the topic of shoes, please stop wearing Crocs. They're ugly as sin. And I know they make your feet smell wretch.
And boys. Please. Your shorts should not be shorter than mine. I don't know what it is about Southern boys and their shorts, but they like 'em tiny! Fingertip length, please. I don't want to see your balls hanging out. That's icky. And whenever you're ready to phase out that thing you use to keep your sunglasses around your neck, I'll be ready. Oh, and to the boy that sits next to me in Marketing... don't take your shoes off. Leather loafers with no socks equals very sweaty, very smelly feet. And like I mentioned, I'm sick. Next time your foot odor wafts my way, I'm puking in your lap.
I'm judgmental, I know. I like it that way.
Comment! (10) | Recommend! (4)
*I already have a unicorn*
Monday. 2.19.07 6:14 pm
Comment! (7) | Recommend!
Thursday, January 25, 2007
Okay, so, not too long ago I made a peach pie. Only, I just bought pre-made pie crust and peach filling.
This time I'm going to make MY OWN pie crust and, even though I couldn't get any fresh peaches, I didn't buy peach filling. I bought canned peaches with no sugar added. So... hopefully it won't be a total disaster.
Wish me luck. I'll be sure to fill you all in on how it went after I'm done.
-----------------------
So, I did it. It took FOREVER. The 1 pie crust recipe was right above the 2 crust recipe so the first time I made the crust I didn't put the right amount of salt in so my dough wouldn't stick together. It fell apart. So I had to throw it away and start aaaall over. The second time wasn't as bad. I had to borrow a piece of PVC pipe from my neighbor to substitute for a rolling pin. Heh.
I didn't pinch the dough enough on one part of the pie crust so it oozed out into the oven a little but... other than that PERFECT. Well... it's kind of an ugly pie. But it's very delicious.
Hurray for pies from scratch! Here's some pictures I took! Yes, there was a half-case of Miller Lite on the table! My roomies are slobs!
And yeah, the borders aren't all even. But I like pink borders. What.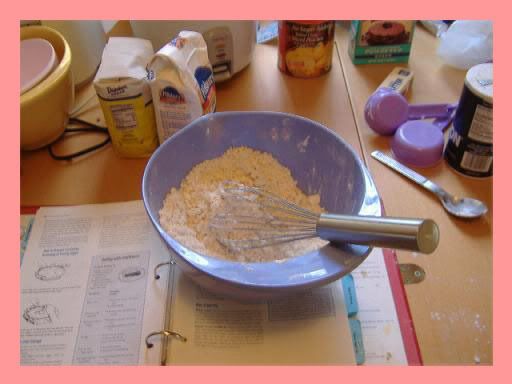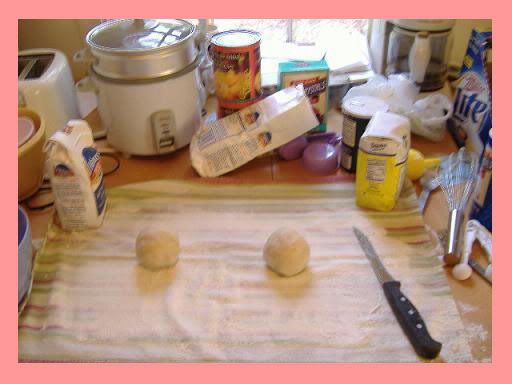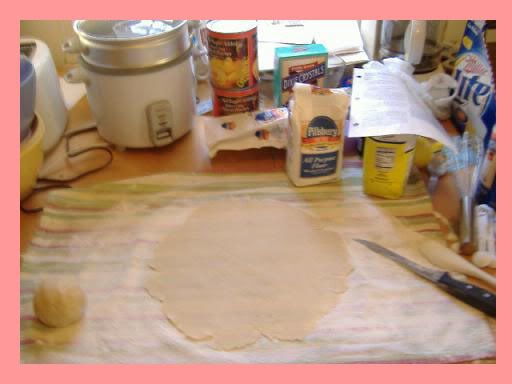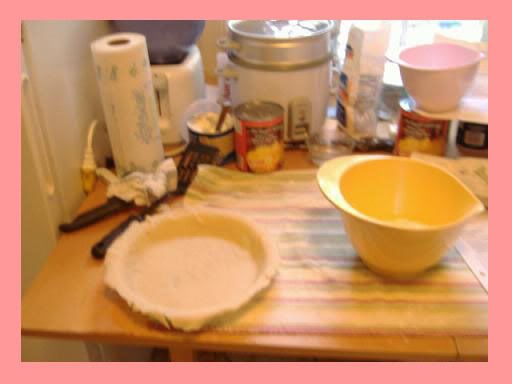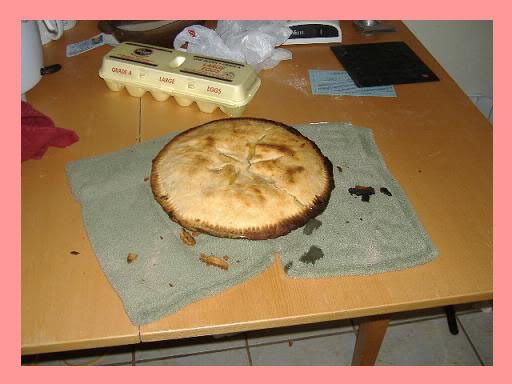 Comment! (10) | Recommend!
Friday, January 19, 2007
When will people learn that putting your phone on vibrate is no better than leaving your ringer on?
When?!?
A constant buzzing sound is just as disruptive and irritating as the stupid fucking song you're proud to have as your ringtone. And why not just completely silence it? Are you planning on answering it during class? I certainly hope not.
And who the hell is calling these people at 10 in the morning? Who? Tell me! I'm assuming it's a friend who knows perfectly well that the person they're calling is in class. Or a parent. Or a significant other. Dammit if this one girls phone didn't fucking vibrate 6 separate times today in my Spanish class.
You know what I think? I think these people just want everyone to know that yes, they ARE getting a call DURING THE DAY. They're cool, they're popular, they're proud!
I can't take it anymore. I really can't. I'm going to stomp on the next phone I hear vibrating.
-------------------------
I've noticed, in the blogosphere, that many bloggers are biased against people who are on pay to blog sites.
That's perfectly fine, people are entitled to their opinions. However, I'd like to point out that I've been blogging on NuTang for 4-ish years now. And I love it. I loved it BEFORE the revenue system was added and I still love it now. The revenue thing is just another added perk.
I'm proud to be a member of NuTang. I've been able to watch it and it's members grow over the years and it's been a fantastic experience. All you judgmental bloggers need to get over the fact that NuTang is pay to blog. Almost all of the active members here blog because the love it, not because they get paid fractions of a cent for every one view they receive. K?
Thanks.
Comment! (8) | Recommend!
Monday, January 15, 2007
My classes weren't so bad! Did I ever give you guys the full schedule? I don't think I did. Here it is.
All on Monday, Wednesday, Friday:
10-10:50 News Writing - Learning how to write feature articles for the Associated Press or any type of newspaper.
11-11:50 Principles of Marketing - Basically, just the intro to marketing. My biggest and most boring class.
12-12:50 Foundations of Rhetoric - (From the syllabus) "the history and development of rhetorical theory from the classical Greek philosophers, through the rhetorical treatises of 18th and 19th century scholars, and concludes with the works of contemporary rhetorical theorists."
1-1:50 LUNCH
2-2:50 Foundations of Public Relations - My first PR class, yay! Love the class and the teacher.
3-3:50 Elementary Spanish II - Pretty self explanatory. My teacher is from Bulgaria. She's the best.
And Tuesdays and Thursdays I have to do whatever. I haven't found a job (not that I've really looked for one, heh) and I don't have a car so... Basically I lounge around the house and tell myself I'm going to clean.
My friend Jon Mark (the director of the play I was in over the summer and a co-worker of my sister) turned 21 last night. We celebrated at Buffalo's, a bar and grill (yee fucking haw). It was a really good time! I hadn't been "out" in a while and Edward paid for all my drinks (beers). Fantastic! I took way too many pictures
Comment! (4) | Recommend!
*school on monday. panic.*
Friday, January 5, 2007
I had a pretty darn enjoyable Christmas break.
Had fun with the fam. Went with them to a Linda McCartney photo exhibit. It was enjoyable. However, I'd like to know what the hell some of the people at the museum were staring at in some of the photos. They were black and white pictures of bands or solo musicians from the sixties. Neat-o. Right? Well, sure. But honestly, what is there to look at for 20 minutes? Film grain? Please. Be a doll, read the caption, look at the picture and move on. Easy as pie.
Edward and I went to Nashville for a day. I wish I'd taken pictures. I always feel like a dummy when I do though. And I don't think Edward likes getting his picture taken. We went to a record store that had DVDs, albums in vinyl, CDs, comic books and lots and lots of anime. Edward bought some Magic cards. I just looked at records. I was disappointed by the lack of k.d. lang. Her voice soothes my soul. We also ate at a delicious sushi place. They had bento boxes with sticky rice, a sushi of choice (I got salmon, it was heavenly), teriyaki (your choice of meat), some spicy sliced carrots, miso soup and ginger salad. And chocolate covered raisins for dessert. DEVINE. And all for under seven dollars!
I also stayed at Edward's parents. We just got back to Auburn today. On the way from my parents to his parents, we stopped at a place called the Ave Maria Grotto, aka, Jerusalem in Miniature. It was super. It's in Alabama. A monk built it himself out of glass, stone and concrete, and random things that he could find. I can't really describe it well. Just... check the website
HERE.
And enjoy these pictures. I mean, there are only 3 and they're blurry and crooked and not that great looking and they broke my frame but... They're still pretty fun. Yes?
(Pardon the puffy face. I was very sleepy)
Also, I went and tried video gambling for the first time. It is, of course, illegal to gamble in, this, the great state of Alabama. So, they have a system where you put a couple of bucks on an electronic card, stick 'er in the machine, wrack up "credits" on the 'lectric card, and then cash it out. I'm not sure why that's not gambling but I don't really care. And I hear it's going to be banned anyway. Stupid bible belt... But! I won 7 dollars on a penny machine! It was very exciting. It will go toward my vacation fund. Actually... it'll probably just go toward my passport. I hear they're expensive.
Anyway, classes start on Monday and yes, I'm panicked.
Comment! (8) | Recommend!