Thursday. 8.5.10 12:16 am
Shoot...I can't even remember the last time I posted an entry on here and then
LostSoul13
had to go call me out on Facebook and challenge me to the 100 facts thing.
For starters, I am up to the challenge...BUT DAMN...that's going to take me FOREVER. I'll have to get started on it at work and then type it all out later. I think it'll be über fun :)
Here's a recent picture of Greg - we went on vacation and he got to see Thomas the Train (he was really excited here)
He didn't look very happy here (I think he was more confused than anything else) - we might go see Thomas again in September when he's closer to home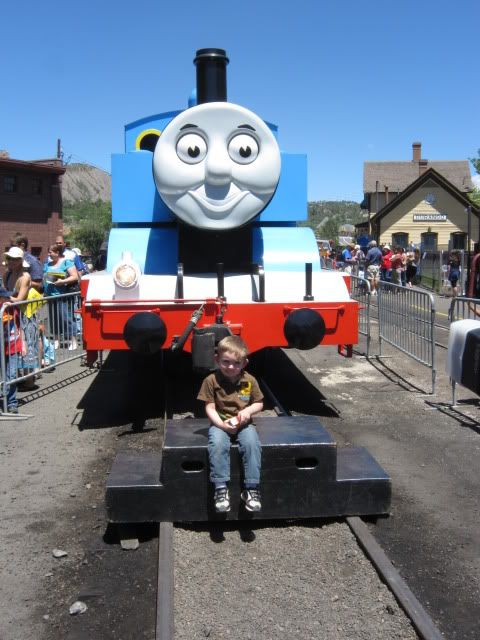 Comment! (7) | Recommend!
Sunday. 8.16.09 1:08 am
Tonight, I don't really have anything to say other than I had another large break which I said I wasn't going to take...blah blah blah
Okay, I'm going to go to bed - maybe tomorrow I'll have something new.
Comment! (6) | Recommend!
Surgeons, Birthdays, and Luxury Homes
Sunday. 6.28.09 11:04 am
I haven't posted for a few days, so here's the rundown...
Thursday - I went to the surgeon again for my stubborn wound. Just as I had feared, my entire incision that I thought was mostly healed had split open again. At that time, she put silver nitrate on it again. Silver nitrate is used to remove granulation tissue (new connective tissue and tiny blood vessels that form on the surfaces of a wound during the healing process). Once the non-healing tissue is out of the way, it promotes the healing all over again. Granted, we tried this on June 5th and it didn't really work. I asked her what would happen if this didn't work again. She said that I had a few different options. I could go and do the surgery again where they would surgically excise the portion of tissue and skin that wasn't healing and then start completely over again with an open wound. Option number two would be to go see a plastic surgeon and see what they have to say about what we could do. OR, option number three would be to try some of these gels that they have for healing. I'll find out on July 9th what we'll be doing. I'm crossing my fingers that it's healed by then and I can just go on with my life, but I'm not very hopeful. It's been 6 months since my surgery and I've had an open wound this entire time...I'm not hopeful in the silver nitrate working. My mom said that it worked really good for her burns when she was little. She was involved in a large accident where she had extensive burns on a large portion of her body and they had used silver nitrate on some of her stubborn burns and it worked for her. I've been reading that silver nitrate is good for other wounds that are not my wound though...ugh.
Okay, long paragraph...
Friday, it was my birthday. I turned a quarter of a century old (25). I don't feel any different though, so that's good. We went out to dinner at The Happy Sumo (
http://www.happysumosushi.com/index.html
). I had been wanting sushi for a long time and they opened that place about a year ago and we hadn't been there. Their sushi was so yummy! If you happen to visit the link and look at the menu, Brian had the Surf & Turf roll, I had the Lollypop Roll, and we share a Philly Roll later on. I'd love to go there and try some of the other ones.
Saturday - I went to work. Nothing eventful happened there. Brian let us know that he had to kill our other gerbil. It had latched onto his finger and it wouldn't let go and he thought it was being rabid because it had lockjaw or something when it bit down on his finger. I'm not happy that he killed it, but at least he did it in the other room...not in front of Greg. We do not have luck with animals, so I think we're done. Two gerbils (one of them killed the other one), three guinea pigs (Apollo died while I was on vacation, and then the other two died within a few weeks of getting them)...then we had a cat that we had to give away because he was very jealous of Greg and he'd scratch him for no reason and the last straw was when he totally peed on my couch just out of spite. NO MORE ANIMALS!
Sunday - we're going to the Denver Luxury Home Tour (
http://www.denverluxuryhometour.com/thehomes.php
). I put the link that goes to the homes page. These homes are between $1 million and $6 million dollars. They are just huge! It should be fun though and I hope I get to see lots of things that I'll never be able to afford.
I'll catch you later on...maybe with some pictures.
Comment! (3) | Recommend!
Today was most uneventful
Tuesday. 6.23.09 10:59 pm
It was actually going somewhat fantastic...until toward the end of the day. I got the worst problems thrust upon me at the end of the day. My manager told me that my name should be "The Cleaner." I don't want to be the cleaner...I always seem to find the big messes and get stuck in the middle of it.
Has anyone every heard of this site called
http://www.mentalfloss.com
? I stumbled across it literally when I was Stumbling on the Internet and I'm addicted to it. I've always been a knowledge buff, but this website is specifically where "Knowledge Junkies Get Their Fix." I definitely do...Here's a random fact I found there today:
Cockroaches can live up to two weeks without a head because their brain is located throughout their body.
Eww....that's gross.
Um...other than that, I'm out of anything to type about. My birthday is on Friday. I'm doing a whole lot of nothing other than working. I'm going to the Melting Pot on Monday for Ladies Night with a bunch of girls from my work. It should be lots of fun. Brian said that we're going to go out and eat sushi for my birthday. We'll see when that happens - it sure sounds yummy :)
Comment! (3) | Recommend!
Sunday. 6.21.09 12:41 pm
We're doing nothing...Brian's just sleeping. Greg woke up at 7am and all I asked was if I could sleep in until 9am because I never get to sleep in (I always go to bed after 11pm and I always have to get up at 5am). Needless to say, Brian did not get up either. Instead, he sort of held Greg in the bed until he went to bed again. Pissed me off...it'll be the last time I do that. If Greg gets up, I'll just get up. Why should Greg have to suffer in the bed because Brian doesn't want to get up.
We're watching Ni Hao Kai-Lan (It's this show that Greg likes to watch...it's sort of like Dora the Explorer...but instead of learning Spanish words, they learn Chinese words). It's the first she that he actually got into, so I guess I like that. He tries to say the Chinese words and it's cute. It's funny when he tries to say hello. You tell him to say "Ni Hao Mommy" and he goes "Ni Hao Kai-Lan Mommy."
Anyway, catch ya'll later.
Comment! (1) | Recommend!
okay...I guess I can finish my original thoughts from last night
Saturday. 6.20.09 11:35 am
I was just getting ready to write about my current obsession and then Brian dumped Greg on me. I guess I shouldn't view my own son as an inconvenience, but Brian told me I could have the night off from my motherly duties! Oh well.
Anyway, has anyone ever watched True Blood or heard of it? It is this HBO series. Granted, I do not have HBO, I still watch the show. You can find all sorts of sites on the Internet to watch it for free. If you've not heard of it, it is this show about vampires (I know, the latest trend in the world today) and humans and how they co-exist in this little town in Louisiana. The main character (Sookie) falls in love with one of the vampires (Bill). Lots of stuff happen and it's just an all around good watch.
The show is loosely based on the Sookie Stackhouse books by Charlaine Harris (I've read them all...I'm addicted). If anyone's looking for a good book to read, I suggest this series. I think I first heard about them when Brian was telling that he'd been watching a good show. He told me that they were based on these books and then I went out and got the books. Now that I've gotten so far into the books, I can see after the show and I wondering how things in the show are going to relate to things that have happened differently in the books or will happen later. I hate when I do that to myself. There are 9 books out so far. The last one came out in May and I finished it the same day I bought it. It left me on a cliff hanger and I want to know what the heck is going to happen!
Anyway, that's what I've got for now. Today will involve putting the booster seat in the car, cleaning up they yard and mowing the lawn, and hopefully taking it easy after that. Most of my activity will depend on how much pain I'm having. I had surgery back in January (ya'll missed out on that since I didn't post for 6 months). I've basically been suffering ever since. The location of my incision has left me in a lot of pain at various points in my recovery as well as the fact that it is still not healed up all the way. I've basically had an open wound for about 6 months now. Granted, after my surgery it was a large gaping wound...right now, it is this little superficial opening that just will not close. I've been going to my surgeon for months and we've been doing all sorts of stuff. A few weeks ago, I went back and they put silver nitrate on it hoping to stop the skin on the top from fusing together before the skin underneath is healed. To be honest, I am not sure it is working. It was good for about 2 weeks, but now it feels like it's doing the same thing that it was doing before they put the silver nitrate on it. The surgeon I talked to when I was there last time said the worse case scenario would be that I would have to do the surgery over again...but only on that small part that will not close. I can tell you, I'm done with this surgery...I don't want to do it again.
I won't describe what I had surgery on because it's not important (it wasn't life threatening or anything) and I don't think anyone wants to hear about it. SO, if you want to know (and want gory details...because it's icky), you can message me and I'll tell you. I have no shame.
Comment! (7) | Recommend!
Friday. 6.19.09 11:49 pm
I crept onto the most active list. GRANTED, I've not been her in a while...I had to catch up!
Nothing really eventful happened Thursday, so I didn't say anything. I went and looked at booster seats for the car and other things, but other than...nothing.
Today, yet again...nothing. It was a bit of the same except I actually bought the booster seat.
Greg's been really good about going potty in the toilet. I think he's found out that he has a little wee wee and that it does stuff. I suppose for the past year or even longer, he's realized that there's something down there and boy is it fun to touch. Constantly "Greg, get your hands out of pants....Greg, quit touching that...Greg, quit playing with that." Now, he can actually feel like he's getting some use out of it and he knows what it does. It's somewhat of a nice feeling. No more big diaper bag. Hooray!
Anyway, enough about potties and wee wees. I'm not sure if I'm liking the colors I put on my site. I am no genius when it comes to web related endeavors. I can make myself a banner (which I recycled from 2006) and I can change the colors. I'd love to have something cooler, but I'm too lazy or busy to figure it out. One of these days I'll sit down and figure it out.
I had some more stuff I wanted to write, but Brian sort of dumped Greg off in here for me to put him to bed...so I guess I'll have to finish later. Brian told me he'd watch Greg and put him to bed to give me a night off...hahaha...I see how that worked out. Mom...never time off for the mom.
Comment! (4) | Recommend!
Wednesday. 6.17.09 11:08 pm
Today, I felt a whole lot better. I got up this morning and felt like my cold was lifting, but then I got to work and it felt about the same. Now that I'm sitting at home, I feel great! I'm guessing tomorrow my cold will be gone.
Has anyone ever seen Wipeout!? That show is hilarious. Any show with a name like Wipeout just sounds funny. If you haven't seen it, the main goal is to make people wipeout when doing this crazy obstacle course. I don't think anyone ever completes the course without completely wiping out. Why do we get enjoyment out of people's failures?
That's sort of like the show they have on after it, I Survived a Japanese Game Show. It's this fake game show called "Majide" and they basically put a bunch of stupid Americans on this fake show embarrassing them thoroughly doing outrageous stunts. This episode tonight, they had this game called "Rabbit Fire." It was supposed to be a play on words, rapid fire. The teams basically had to walk across this balance beam thing while holding 10 bento boxes. The other team was shooting at them with balls with sticky stuff on them. If they got hit and fell off the balance beam, they would fall into this bubble pit. They had things to hide behind as walking across the beam. That one wasn't that crazy...the next game after that, they had this thing called "Wheel of Human Torpedo!" They had one guy sitting in the middle of this spinning circle thing and then three other team members were laying on the ground. The ground was lubricated with lotion or soap or something and they would spin around in a circle and they had to launch into these tin boxes and knock them over as they were released like torpedoes. After they hit the tin boxes, they fell into this moat of flour and it was just really messy. The end, they have this elimination round. Two people had to be dressed up as big spiders. They were connected to this bungee cord thing and the goal was to pop these big balloons full of bug parts, then they had to pick up the bug parts and run over to the other end of the screen and create bugs from these bug parts. At random times, the bungee cord thing would rip them back to the other side of the board. The loser gets carried off and shipped back to America. When I say carried off, I mean CARRIED off. This big group of guys in black business suits (they look like the secret service) come out and drag them off like they're crowd surfing their way out. I do not know if I would ever survive that show - I hope I don't ever make it on there.
Anyway, that's all I have for tonight...not very exciting.
Comment! (4) | Recommend!