This is how Real Bloggers blog!!
Wednesday. 6.3.09 11:51 am
To see who real bloggers blog, sign up for a free account over at Entrecard.com and see for yourself how bloggers the world all over blog. About friends, families, joys, worries, triumphs in their everyday lives. These are the bloggers whom I look up to when I need inspiration for my own blog posts and also thanks to wonderful and real bloggers at Entrecard.com, my once mundane life is even more colorful as I look forward to the time when I read about their blog posts on their thoughts, what had they been up to when I haven't got the time to check out their blogs for a day or two and so on. And also thanks to all these wonderful bloggers, I found much greater joy in blogging than never before.
It's true that sometimes I couldn't find the words to express what I wanted to say, I would do so by posting up music videos instead, these are the same bloggers who made my relish the moment when I could find some time to post up my feelings and thoughts of the day. And it is also thanks to this same group of bloggers who gave me so much untold joy when it comes to blogging. Yes, this is what blogging is about, and I meant REAL blogging, not just taking some photo shots of your own boobs, posing in sexy poses and thinking, "These photos will do the trick for me!".
These are the bloggers who not only share awards with other bloggers whom they think are great and cool, but also share their life with me through their blogs. So, please keep it REAL when blogging cos' that is what REAL blogging is!
Comment! (3) | Recommend! | Categories: This is how Real Bloggers blog!! [t]
Please Vote for Real Bloggers like me!!
Tuesday. 6.2.09 2:48 pm
For those of you who had read the Chinese newspapers (in Singapore) a couple of days back, there was this report about certain bloggers who use sleazy breasts shots to garner votes for themselves. This really hurt the integrity of bloggers like me who bothered to think carefully about what goes into a blog post. And the fact that bloggers like me, our efforts in blogging seem to have gone down the drain with such bloggers tainting the blogosphere with such unspeakable blogging ethics. So, do me a favor, vote my blog as the best by going to:
1) http://www.sgfriends.net/modules.php?name=MS_TopSites&file=in&id=1030
2) http://sgblogawards.omy.sg under Best Individual Blog category.
And if you happen to come across any blogs with these voting buttons but with lurid photo shots like bikini shots, breasts shots, etc, please help by voting down these blogs as they hurt the integrity of other serious bloggers in the Singapore blogosphere. Seriously, even Singapore's XiaXue wouldn't blog about herself with photos of her wearing nothing but bikini or bra & panties, right?
So, seriously please do help!!
P?S: Although it's true that posts like breasts shots do add some color to a blog, but using such shots to garner more votes to win a blog contest is something that shouldn't be though of, it just hurts a person's pride as a blogger who bothered about blogging. So, please pass this note to all your Singapore friends as well and remember to vote for my blog!!
Sincerely,
Pu Niao
Comment! (3) | Recommend! | Categories: Please Vote for Real Bloggers like me!! [t]
Sunday. 4.19.09 12:59 pm
Dang! I sure wish I was a Japanese sometimes, because of all the crazy concerts and
紅白歌合戦 (Kōhaku Uta Gassen)
especially. The last time I saw this program on TV, it was telecast after New Year but nonetheless interesting to watch. Until my dumbass father insisted I switched it off! At the beginning of the video, I had thought that it was a special video until somewhere near the middle of the video did I realise that it was a live performance. It's really impressive due to the fact that I see a couple of samurais (Gackt's band actually!) playing music instruments amid a sea of warriors. And by far, this video of Gackt performing on 紅白歌合戦 is by far, the best live performance I have ever seen, whether on television or on the Internet!!
Gackt - RETURNER ~Yami no Shuuen~ (Kouhaku 2007) -
Comment! (5) | Recommend! | Categories: Gackt [t], 紅白歌合戦 [t], Returner Yami No Shuen [t]
Creative & Unusual Candle Designs
Sunday. 3.29.09 12:06 pm
Such wonderful candle creations, almost made me want to go on the Internet, source them down and buy them home. Don't you all agree with me here?
Comment! (3) | Recommend! | Categories: creative candle designs [t], unusual candle designs [t], candle designs [t]
Those Whore Bags At My Workaplce
Monday. 2.23.09 11:21 pm
You see, it started with my big mouth and this Annie Reksic, who is such a B-Whore overheard me and indirectly threaten me. And her beloved Fruitcakes all promptly disappeared for god knows how dang long. Maybe to have their own Bitchy Koo, and it was like, "I almost got my ass kicked. Literally!"
I mean, both of them are like a WholeBigBunch of Whore Bags, while she herself is such a Road Whore that you simply can't give her anymore Props. Like god, they are (more specifically, the both of them) are like such Fuck Nuts.
I remember I thought he used to be a Stud Mongor, but he proved to be a real Slut Mongor instead with all that hurting. Heck, that is someone I wouldn't want to give Eternal Props. I mean Clap, Slap Forehead, Put Down, if you want to say Fah Q to me that badly, just say it in my face instead of trying to be a Bomb Shell. Yes, they both really are Wankers, and I mean big time WANKERS.
Yup, go on and take your holiday to go for some Bongtastic event like any of us actually care. Generally, you think you are a responsible person, but you're just a Cunfussed piece of Whore Bag trying to act all tough. All bark and no bite!!
P/S: Not that I don't want to name any names, I in fact had actually wanted to. But those whore-bags know my other blog address. And until I get a proper domain for my other personal blog and let everyone of my other readers know about it, I'll stick with not naming anyone.
Comment! (2) | Recommend!
Tuesday. 2.17.09 5:09 am
Who knew that the humble cardboard can be transformed into works of art?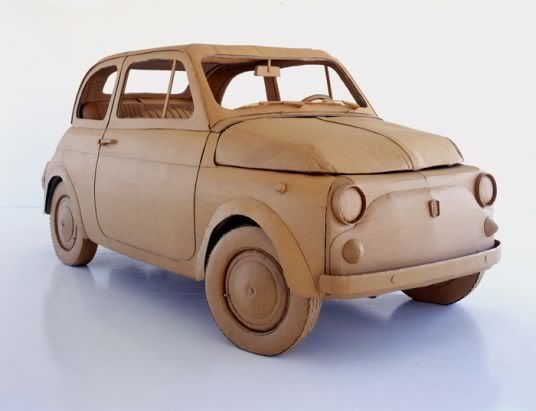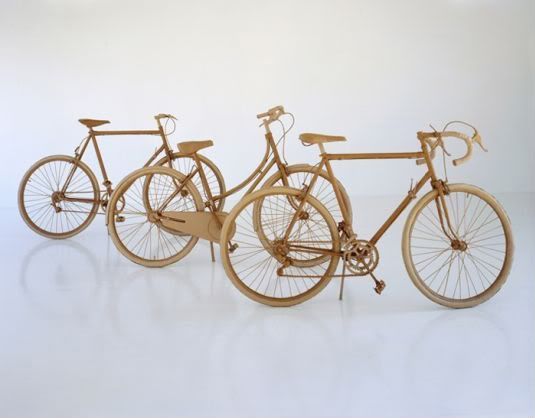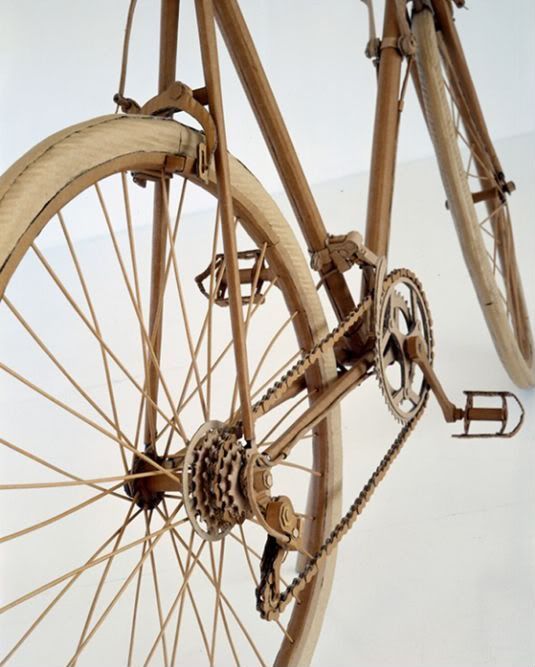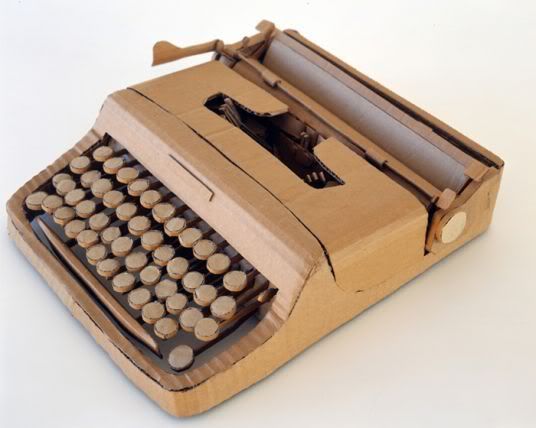 Comment! (2) | Recommend!
Wednesday. 2.4.09 8:10 am
Hmm, I really sometimes wish I have the artistic talents to do stuffs like that. How about you all?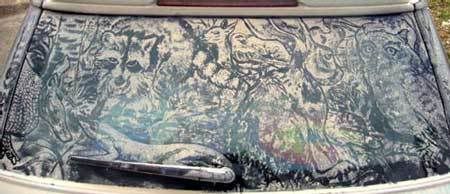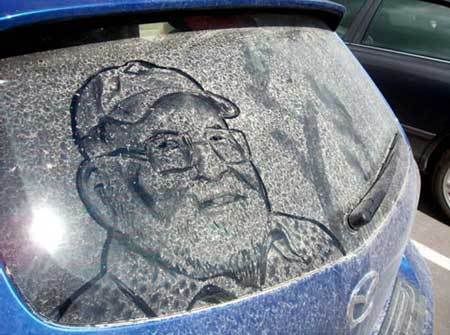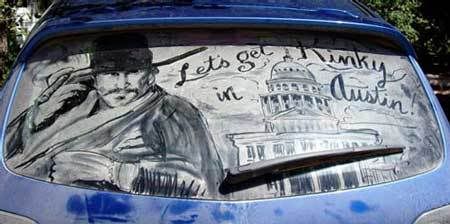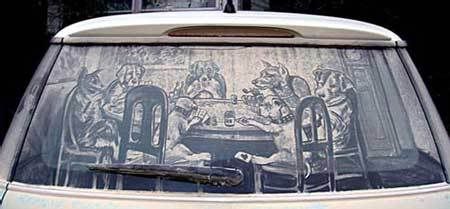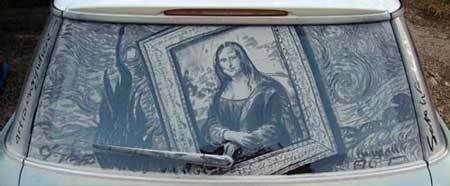 Comment! (3) | Recommend! | Categories: car dust art [t], car art [t], duat art [t]
Friday. 1.23.09 8:07 am
Wow! I really can't believe this, it's the 2nd time I got this award and it's from http://www.filipinolifeabroad.blogspot.com/ and I'm passing it to the Top 10 droppers to this blog. Much thanks and love to you!!
Here are the rules for the recipients:
1. Put the logo on your blog or post.
2. Nominate at least 10 blogs which show great Attitude and/or Gratitude!
3. Be sure to link to your nominees within your post.
4. Let them know that they have received this award by commenting on their blog.
5. Share the love and link to this post and to the person from whom you received your award.
And here are the current and most recent Top 10 EC droppers to have been making regular visits to my blog:
C'est La Vie - http://blog.little-miss.org/
Gewgaw Writings - http://gewgawwritings.blogspot.com
The Path to the Pegasus Letter - http://vigltd.blogspot.com
Computer Aid - http://www.computer-aid.com.au/blog
Pepper Spray, Stun Guns, and Tasers… Oh My! - http://www.worthprotectionsecurity.com/blog
Enjoy Work As Leisure - http://enjoymywork.blogspot.com/
Beyond Feron - http://beyondferon.com/
Time Recursion - http://www.timerecursion.com
Tiddly Winks -
http://tiddlywinks.imaginationmadness.com/
Politics 2000 - http://politics2000.today.com
Comment! (6) | Recommend! | Categories: blog award [t], triple award [t], Sisterhood Award [t], Lemonade Award [t], Best Friends Award [t]